Anna Karenina
Boris Eifman, music Pyotr Tchaikovsky
Eifman Ballet
London Coliseum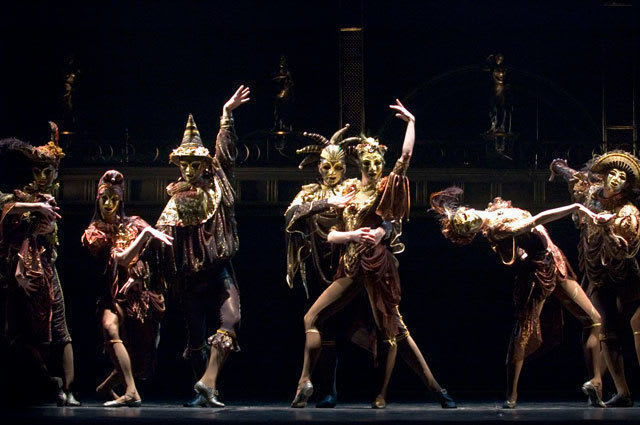 Boris Eifman has not set out to present a narrative ballet of Tolstoy's story of Anna Karenina. His interest is in presenting the emotion and conflict of its three main protagonists not the details of the plot, with the well-drilled chorus used to give a suggestion of context.
It may help if you already know the book or have seen one of the several stage, film and television versions. Indeed, Eifman assumes that you do for he begins with an ominous opening that only resonates if you already know how the novel ends. This first brief scene shows Anna's small son playing with a train set as his parents say goodnight before going out for a formal evening together.
He then places Anna's first meeting with cavalry officer Count Vronsky at an elegant ball. He is the man with whom she embarks on a passionate love affair, the third person in this dramatic triangle.
Eifman alternates full company public scenes with intimate exchanges, usually ending with a tightly-lit grouping as a new piece of Zinovy Margolin's elegant scenery moves into place at the rear of a stage kept clear for dancing. It all looks very beautiful with gold-decked architectural elements a striking background to Vyacheslav Okunev's costumes, often in black, white or silver grey, with a burst of rich carnival colour when the scene moves to Venice.
The striking choreography, often sudden-moving and angular, pushing bodies into extreme positions, is full of anguish, melodramatically expressive of emotions. Perhaps it is because the dancers are so concentrated on their movement that there is little actual real emotion or even erotic feeling in the relationship of the main characters. It is clearly signified but presented rather than felt.
The chorus dances, however, free of heavy emoting generate strong atmospheres. Fashionable Moscow showing off at a ball, the cavalry regiment seen drunkenly relaxing (though still maintaining balance in the demanding leaps of some fiercely active choreography) that develops into a wild ride suggestive of the wild hunt which causes the death of Vronsky's horse or the exuberant Venetian carnival that uses more conventional steps.
After Vronsky and Anna return from their stay in Italy and Anna has to face society's rejection, the choreography allows the characters to fully express their emotional state. Though highly stylised in its concept, the peak of Anna's distress is represented in a sequence that feels like something out of Dante's Inferno as she appears seemingly naked in fleshings with a writhing mass of similarly naked-looking dancers. This leads to her final suicide, the whole stage filled with black-clad dancers representing the railway train beneath the wheels of which she throw herself.
While too often in the earlier scenes between the Karenins and between Anna and Vronksy Eifman's choreography draws attention to its own cleverness, the final scenes are fully engaging as real drama.
Eifman makes big demands upon his dancers, both principals and chorus, and he is served by a strong company with a chorus who are a joy to watch. The score, drawn largely from Tchaikovsky's most dramatic music, includes much that will be familiar, though some of the tempi seem a little strange and it is a pity that it is amplified almost to distortion to emphasis its intensity.
Reviewer: Howard Loxton