Anna Karenina
Tolstoy, in a new dramatisation by John Clifford
Royal Lyceum Theatre, Edinburgh
(2005)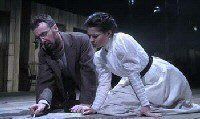 Tolstoy's Anna Karenina is widely regarded to be the greatest achievement of Russian tragedy, even more so than War and Peace, written a decade previous. Set in the late 1870s, it is the story of a young, fashionable, married woman, Anna Karenina, who arrives in St Petersberg to meet her brother who is suffering marital problems. With him is another man, the dashing Count Vronsky. He and Anna are immediately and intensely attracted to each other. Against all odds she decides to follow her heart and leaves her cold husband and son for Vronsky. She is then ostracised by Russian society and her choice leads to her inevitable misfortune.
Alongside this story are the tales of Anna's bother Oblonsky and his wife Dolly, superbly acted by Cara Kelly, and their struggle to recover from his adulterous affair with their governess. In contrast to Anna's plight the bittersweet romance between the young Kitty and the pensive Levin are also told. Their story almost steals the show as it is engrossing and beautifully enacted.
The tale of these three couples is intertwined with the political and economic differences between the cities and the hard labour of the agricultural struggles of the Russian countryside. This is very deliberately depicted by through the cleverly designed set. The actors storm through wooden doors, literally boxed in by society and convention. Behind the box is a deep woodland area, wild and dark - almost magical at times. It represents the raw and untamed emotions of Anna and the stage opens up more and more into the wild woods as the story progresses.
It is extremely well acted, but there are a couple of show-stealers. As previously mentioned, Cara Kelly plays the deeply distraught Dolly with subtlety and dignity, without succumbing to the ever anticipated wail of the wronged woman. Liam Brennan is superb as Levin as he adds fervour to a character that could quite easily be misconstrued as dull. He is wonderful to watch and never fails to get a laugh.
When such a grand tale of epic proportions is translated into a two-and a half hour play, there are bound to be fears. Having never experienced the novel first-hand is perhaps an advantage. Focusing mainly on Anna's tragedy, which could easily have been the case, has been abandoned for a more well-rounded version of the novel's content. The sub-plots of the other characters are fleshed out and intertwined with that of Anna and Vronsky, and it's great theatre, but due to the time factor there is little time to get to know Anna. The result makes for fabulous viewing but perhaps supplies no real reasons to sympathise with her choice to sacrifice her family for love. We never fully see how Anna recalls her cold-blooded and cynical husband, twenty years her senior, who never shows her any affection and considers her to be a trophy. Instead we are left with an overhanging question: Why did she do it? Even now society frowns heavily on a mother who abandons her child. Her choice to follow her heart seems unjustified and we are left wondering if her actions deserve anything less than what justice she receives.
But as far as adaptations go, playwright John Clifford's brilliant handling of the story makes it a wonderful piece of theatre laced with humour and style, and above all it is fraught with emotion. It is easy to see that a lot of heart and a lot of John Clifford have gone toward making this piece as unforgettable as possible. It bears the hallmarks of a classic and is without a doubt one of the best shows seen at the Lyceum in recent years.
"Anna Karenina" runs until 16th April
Reviewer: Georgina Merry