Annie
Book by Thomas Meehan, music by Charles Strouse, lyrics by Martin Charnin
Michael Harrison, David Ian
Curve Theatre, Leicester
–

Listing details and ticket info...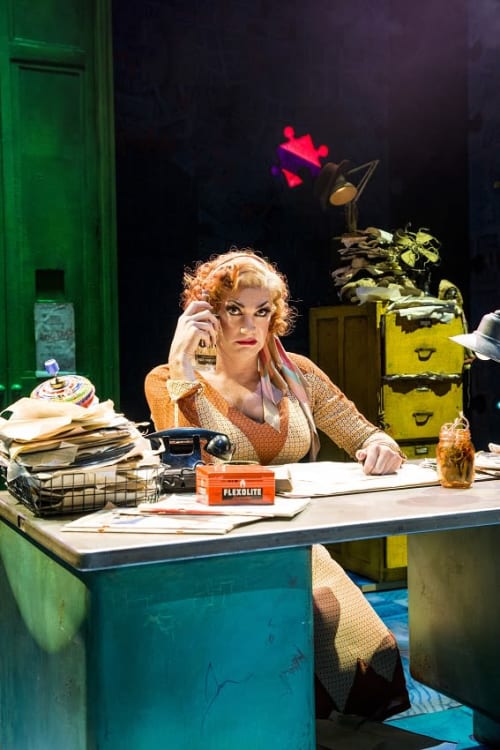 Never work with children and animals, they say. The ever-popular musical Annie does not heed this particular warning, featuring not only performers still in primary school but a dog (in this case, Amber with an understated performance as Annie's adopted stray Sandy).
Originally opening on Broadway in 1977, Annie boasts a Tony award-winning book and score, numerous productions over the years and two film versions. The acclaimed 2017 West End production now begins its third UK tour, opening at Curve with Craig Revel Horwood reprising the role of boozy, crooked Miss Hannigan (later shows in the run feature Paul O'Grady, Jodie Prenger and Elaine C Smith).
Annie is a well-known, much-performed musical; many love its escapist optimism, others not so much. Having previously been in the latter camp, this production has won me over—it oozes charm, humour and exceptional performances.
Set in 1930s New York in the midst of the Depression, Annie (Zoe Akinyosade) and her fellow orphans endure the cold-heartedness of Miss Hannigan's orphanage. But Annie never gives up hope that her parents will come back for her. A visit by Grace Farrell (Amelia Adams), personal assistant to billionaire Oliver 'Daddy' Warbucks (Alex Bourne), signals a change in Annie's fortune.
Warbucks, in a fit of philanthropy, wants to treat an orphan to a two-week stay at his mansion over the Christmas holidays. Annie is chosen and, while Warbucks is initially disappointed Annie isn't a boy, he is soon smitten by her charm and approach to life. However, Miss Hannigan and her dastardly brother Rooster (Paul French) and his girlfriend Lily (Billie-Kay) have other ideas and attempt to make financial gains at Annie's expense.
Director Nikolai Foster achieves a good balance between the desperate situations of the orphans and those struggling to survive in challenging times, and the humour and razzmatazz of a crowd-pleasing musical; endearing charm cuts through any issues around syrupy sweetness.
There are a few niggles with sound balance and lyrics lost in the "New Yoik" accents, but other than that, this is a dazzling production with a great cast.
Akinyosade gets the tone of Annie just right with her kind-hearted and determined spirit shining through. Her vocal performance too is particularly impressive, her powerful voice belying her nine years. Annie never gives up hope, she charms all she meets (except Miss Hannigan) and, hec, she even inspires FDR and his New Deal policies to invest in public services and work the country out of recession (someone give this girl a role in Number 10…).
Craig Revel Horwood plays Miss Hannigan as a man playing a woman (as opposed to in the style of a pantomime dame); it seems something of a natural next step, complementing his notorious role as the boo-hiss judge on Strictly. He is clearly at home with horrible Miss Hannigan, having fun with the accent, humour and her general wickedness—and a great voice too, with "Little Girls" particularly a real treat.
Colin Richmond's set and costume design are a sumptuous treat with jigsaw pieces framing the stage and signifying Annie's search to fit the pieces of her life and identity together, and costume hues of lilac, browns, pink and orange are pleasing to the eye. Choreography by Nick Winston is fun and energetic.
Times are hard for many at the moment and we live in a world of extremes, themes which are mirrored in this musical with the haves and have-nots in stark contrast.
Escape for a while in Annie's company, for a welcome and massive dose of optimism, fun and heartfelt emotion.
Reviewer: Sally Jack