Annie Get Your Gun
Music and lyrics by Irving Berlin, book by Dorothy and Herbert Fields
Sheffield Theatres
Crucible Theatre
–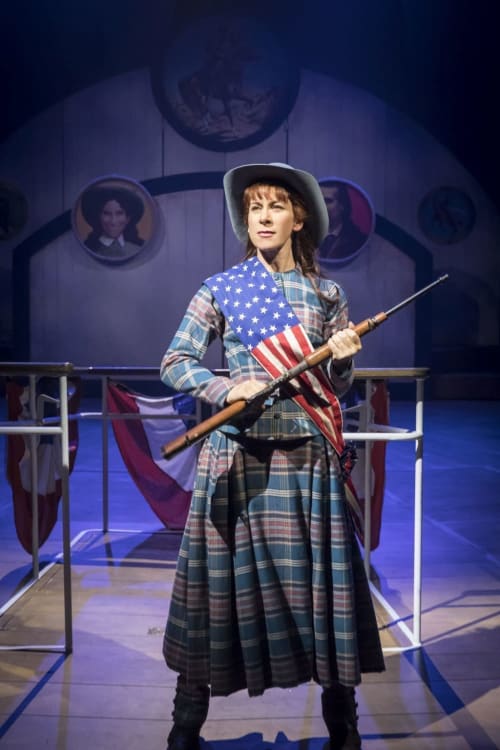 A thigh slappin', fast shootin', high energy entertainment hits the Crucible stage for the festive season.
The real Annie Oakley was the impoverished daughter of Ohio Quaker pioneers who was discovered by Buffalo Bill Cody in the 1870s and put into his Wild West show where she gained international fame and became known by the Sioux title 'Little Sure Shot'.
Irving Berlin's 1946 reworking of the story emphasises the relationship between Annie and fellow sharp-shooter Frank Butler and, while in real life they had a long and happy marriage, Berlin's scenario spices up the relationship to turn it into a 'battle of the sexes', a popular theme in films of the period.
Berlin was an internationally famous composer of popular songs—"Alexander's Ragtime Band", "Puttin' on the Ritz", "White Christmas"—but was initially reluctant to commit to a full musical on what he thought of as "a situation show".
But the music was a triumph, the lyrics full of wit and many of the songs as well-known today as they were 70 years ago.
In the original book of the musical written by Dorothy and Herbert Fields, Annie and Frank have a tempestuous relationship wavering between intense competitiveness, jealousy and love. This is reflected in songs like "Falling in Love is Wonderful" and "Anything You Can Do I Can Do Better".
In this production, Anna-Jane Casey is splendidly rough-cut and boyish as the early Annie and becomes increasingly gentle as a the action develops as she learns to how to wash her hands, wear pretty clothes and put on feminine airs. "You Can't Get A Man with a Gun!"
Nicolas Colicos is a convincing Buffalo Bill with a strong, striding stage presence and a full voice. Ben Lewis, an equally strong presence as Frank Butler, contrasts the lyricism of his singing with outbursts of jealousy and anger in his acting performance.
Maggie Service as the bitter and rejected Dolly Tate adds a touch of acerbity to counter the prevailing sentimentality, while Lauren Hall and Cleve September rouse sympathy as the thwarted young lovers, Winnie and Tommy.
The part of Chief Sitting Bull convincingly performed by Karl Seth seems to anticipate a modern understanding of Native Americans probably not common at the time of writing. This worldly-wise character is an advocate of reconciliation. Timothy Quinlan gives a spirited performance as Charlie Davenport.
There is strong support from the highly energetic singing and dancing ensemble who look particularly good in an array of costumes which change frequently as the action develops. The three young performers are sincere and convincing.
The band under musical director Paul Herbert delivers the familiar melodies with aplomb and has much to do with creating the joyful celebratory atmosphere which surrounds this production.
Reviewer: Velda Harris