Annie Get Your Gun
Music and lyrics by Irving Berlin, book by Herbert and Dorothy Fields, new book by Peter Stone
Ambassador Theatre Group
Opera House, Manchester
–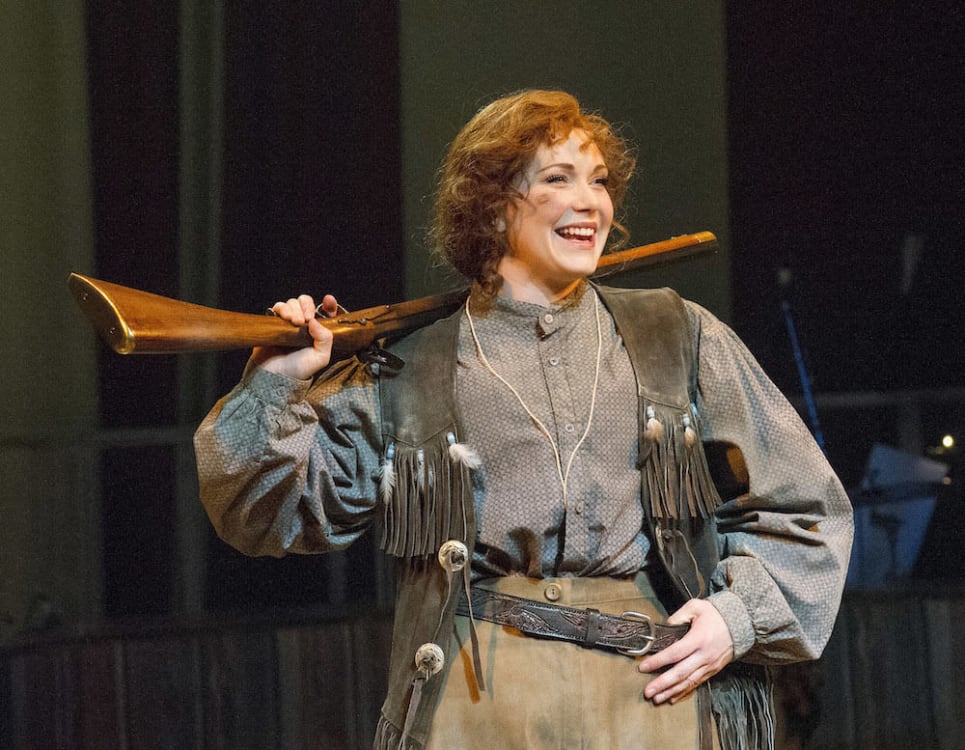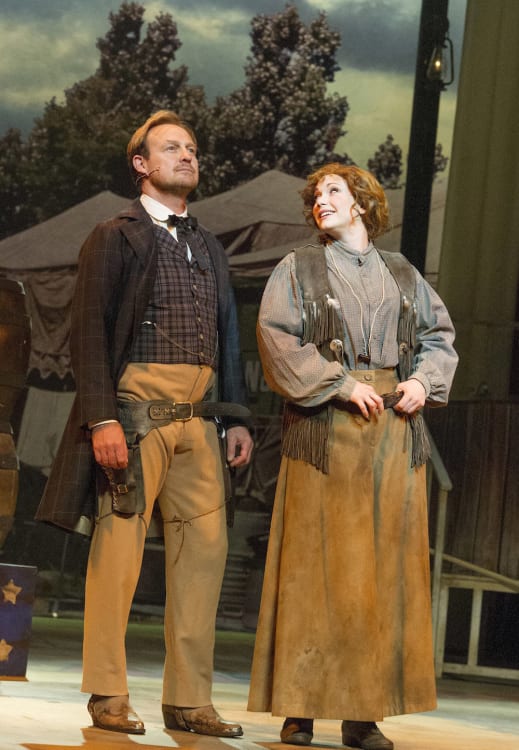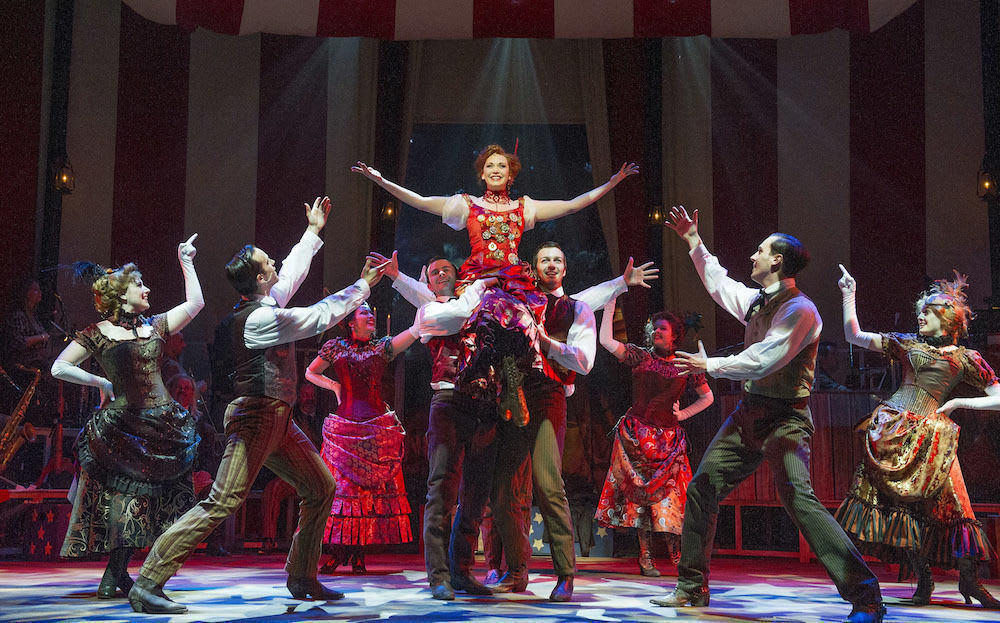 A rare professional revival—although still commonly produced by amateurs—of a nearly 70-year-old Broadway classic containing some of Irving Berlin's best-known songs opens in Manchester as part of ATG's "Manchester Gets It First" scheme.
The show is based on true events; Annie Oakley really was put up against travelling show marksman Frank Butler by a Cincinatti hotel owner and win $100 and they did later get married, but a few other details have been changed for the sake of a good musical comedy. For instance, Annie was only 15, she didn't adopt the name Oakley until she and Frank began performing together and they weren't part of Buffalo Bill's Wild West show until a decade later.
The book by Herbert and Dorothy Fields, updated by Peter Stone in 1999 for Bernadette Peters to be more sensitive over the depiction of the Indian characters, has Annie fall for Frank at first sight, but hearthrob Butler is more attracted to make-up and fashionable dresses than the dirty, common creature gazing adoringly at him. He also has an issue with being in a relationship with someone who has higher billing than he does.
So when Annie becomes the star of Buffalo Bill's show, Frank disappears in a huff to Pawnee Bill's rival show. After Annie has travelled the world receiving medals from world leaders, the show still has no money and so negotiates a merger with Pawnee Bill, raising the possibility of a merger between Annie and Frank, but it turns out the other show has no money either.
Of course it all ends well with mergers and marriages galore. Ian Talbot's production feels spare and modern in designer Paul Farnsworth's red and white striped big top interior set design, with the band and members of the ensemble visible on stage most of the time, but underneath the show still feels creakily old-fashioned with a lot of plotting-by-numbers in the book.
Emma Williams, celebrating her 31st birthday on press night, is sensational as Annie and the real reason to see the show. She slips effortlessly between speaking and singing as though it were all the same, and creates a character by whom it is impossible not to be charmed. She's a real class act.
By contrast, Jason Donovan as Frank appears to be struggling vocally, as his singing is underpowered and his pitching not always accurate, but he gets the arrogant swagger of the character.
Norman Pace looks and sounds perfect as Buffalo Bill, and there is another very accomplished performance by William Oxborough in the relatively small role of Charlie Davenport, Bill's second-in-command.
Kara Lane is suitably viscious as jealous and bitter Dolly Tate, and Yiftach Mizrahi and Lorna Want make a sweet young couple in the secondary forbidden love story as Tommy Keeler and Winnie Tate.
The production certainly hasn't found hidden depths in a show that was long overdue a revival, but it's fun and lively and has a few great songs, plus a superb central performance from a real star of the current musical theatre scene.
Reviewer: David Chadderton