Annie
Book by Thomas Meehan, music by Charles Strouse, lyrics by Martin Charnin
Michael Harrison and David Ian
Sheffield Lyceum
–

Listing details and ticket info...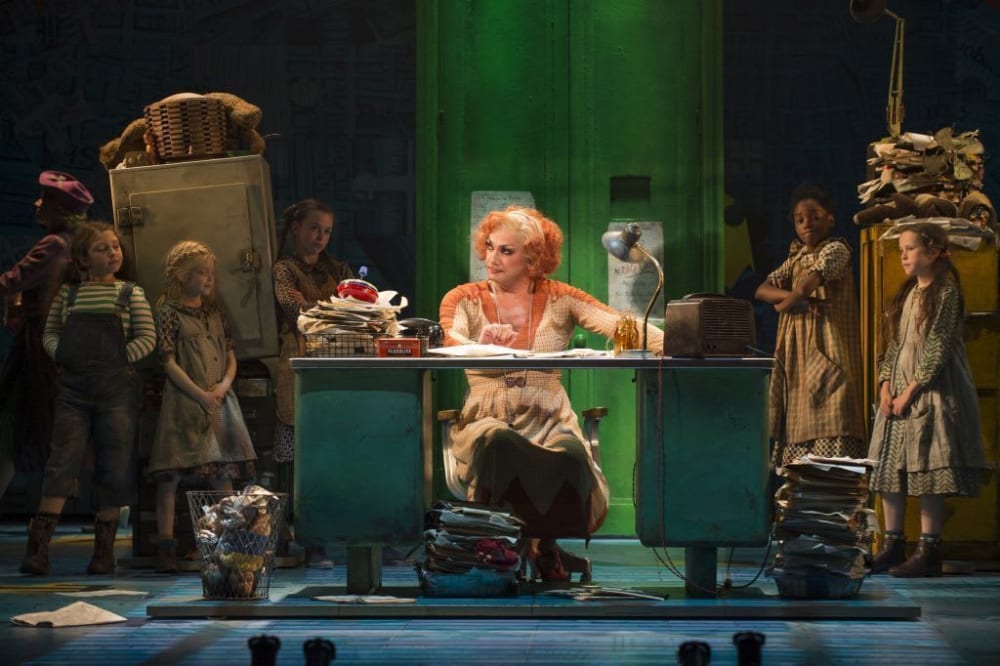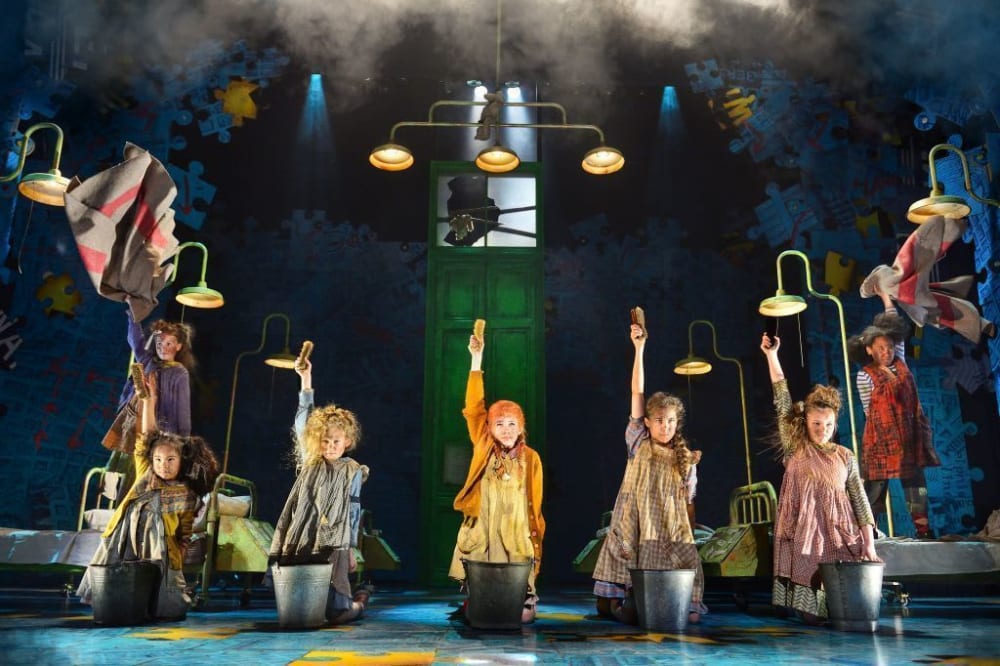 Many members of the audience will undoubtedly be drawn to this performance to see what Craig Revel Horwood can do as a performer rather than a judge on Strictly Come Dancing. Horwood is a complete professional, almost unrecognisable as a woman, but, despite the realistic costume, wig and convincing padding, essentially a pantomime villain with a stentorian voice, a powerful stage presence and excellent dance skills.
The musical is set in the American Depression of the 1920s. Horwood plays Miss Hannigan, a gin-swilling, vile-tempered, exploitative entrepreneur who runs an orphanage for young girls who are treated in Dickensian fashion, inadequately clothed and fed, threatened and bullied and required to work long hours in a sweat shop.
Taziva-Faye Katsande is a delightful Annie, the leading figure in the group of girls, who is determined to be reunited with the parents who were too impoverished to keep her and left her at the orphanage many years ago. She runs away, has various experiences on the streets of New York, eventually encounters billionaire Daddy Warbucks (Alex Bourne), his kind and beautiful secretary Grace Farrell (Carolyn Maitland) and most surprisingly President Roosevelt (Gary Davis) who is instrumental, after more plot twists, in drawing the action to a happy conclusion.
The group of six orphaned girls as well as Annie have impressive performance skills. There is attention to detail in the characterisation and they are always completely absorbed in their roles whether in the spotlight or on the periphery of the action. Their ensemble dancing is energetic, disciplined and faultless. For me, their singing was unnecessarily strident (a production style, I presume) and often drowned out by the loud orchestra, which make the lyrics of the songs incomprehensible.
It is a pleasure later in the action to hear more mellifluous and unforced singing from Alex Bourne and Carolyn Maitland whose acting performances are convincing and three-dimensional.
The adult chorus of singers and dancers play a variety of roles, impressive in their routine as a group of homeless people on the streets of New York, individually characterised as Warbucks's house servants, FDR's cabinet and members of a radio company. Particularly effective are familiar numbers like N.Y.C. and Easy Street.
The setting and costumes, as well as references in the book, provide a strong sense of the period. We hear about baseball star Babe Ruth and Al Capone as well as meeting FDR in his wheelchair.
Transitions, particularly in the Orphanage scenes are complex and effortlessly managed, with flats dropped in or pushed in from the wings, beds efficiently removed and sewing machines pushed on without a break in the action. In the transition to the homeless scene, a singer in a downstage spot holds attention while a whole complex street scene is quietly assembled behind him. Warbucks's billionaire home has an authentic Art Nouveau door.
Colin Richmond's authentic set design is carried through in the costume design of daytime and evening clothes for women, contrasts in clothing for the rich and the dispossessed and costumes suitable for particular dance routines. A feast for the eye.
A revival of a musical with much of interest to delight an audience.
Reviewer: Velda Harris