Annie Get Your Gun
Music and lyrics by Irving Berlin, book by Herbert and Dorothy Fields, as revised by Peter Stone
Sunderland Empire and touring
(2005)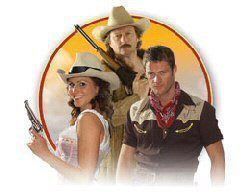 Annie Get Your Gun first hit Broadway in 1946 (with Ethel Merman as Annie Oakley) and the director of this production, Timothy Sheader, has set it in that period by having it performed in a PX (the American equivalent of the NAAFI, the Navy, Army and Air Force Institutes). There is a suggestion of a nissen hut in a kind of false proscenium and the back wall of the set, and a group of five GIs sit at tables stage right and left throughout watching the performance. Strangely, however, they also become part of the show occasionally.
Quite why Sheader has done this is not clear. It doesn't add anything to the show, apart from allowing choreographer Karen Bruce to use a bit of Jitterbug, although why she should need an excuse beats me: Broadway musicals have never been afraid of anachronistic dancing. There were also a couple of times when the girls' chorus sounded like the Andrews Sisters - it's a long, long time since I last saw the show, but I don't remember that!
Otherwise it is a pretty standard production with a mixture of the good and not so good. Among the good is Rebecca Thornhill's Annie. She makes the transition from gawky and scruffy to (comparatively) sophisticated believable and she has fire in her belly in the difficult relationship with Frank Butler. Unfortunately Steven Houghton's Frank did not convince to the same extent. This was mainly, I feel, due to the fact that his voice was not quite right for some of the songs. The traditional Broadway musical requires a particular style of singing and Houghton's voice is more suited to the more modern work he is most associated with. I was very conscious of this in "Bad, Bad Man" and even "The Girl That I Marry" didn't quite come off. What did work - and work splendidly - was the "Anything You Can Do" duet, undoubtedly (as always) a highlight of the show.
Of course guns are fired in a number of places in the show - there are, after all, two shooting contests - and on-stage gunshots are notoriously tempramental, so the production team decided to go with recordings rather than risk possible nasty silences. Unfortunately they sounded recorded and seemed, from where I was sitting in the dress circle, to come from upstage left, no matter where the gun was. And when Annie did her special surprise act - shooting balloons held by chorus members at the front of the stage while swinging on a saddle suspended from the flies, unfortunately her aiming, the gunshots themselves, and the bursting balloons got rather out of synch, which was, to say the least, a tad embarrassing.
But it would be wrong to surmise from this that all was not quite what is should be. Understudy Vikki Marie Ryan as Winnie Tate was excellent and played with tremendous energy and verve, whilst Simon Clark, in the small part of Foster Wilson, and David Burrows as Charlie Davenport made the most of their characters. Clark also played Pawnee Bill, a much less rewarding part. Corinna Powlesland was superbly grating as Dolly Tate, a part which is a gift to a character actress and Miss Powlesland is clearly talented in that area.
To be honest, it is not difficult to produce an acceptable performance in the other parts, although it is very difficult to be more than acceptable. Neither Buffalo Bill, Chief Sitting Bull or Tommy Keeler give the actors much to work with and Charles Lawson, Joshua Bancel and Peter Tyler did what they had to do with as much gusto as the parts allowed.
Annie Get Your Gun is not Berlin's best musical - it was even a bit old-fashioned in its day, coming, as it did, after Oklahoma! - but it does have some of his great songs: "You Can't Get a Man with a Gun" and, in particular, "There's No Business Like Show Business" really did get the audience going (I still have the latter going through my head now!). However this particular version is not going to ignite a resurgeance of interest in the show. It was a pleasant enough evening's entertainment but no more.
Kevin Catchpole reviewed this show at the Southampton Mayflower.
Reviewer: Peter Lathan