Another Country
Julian Mitchell
Chichester Festival Theatre
Chichester Minerva Theatre
–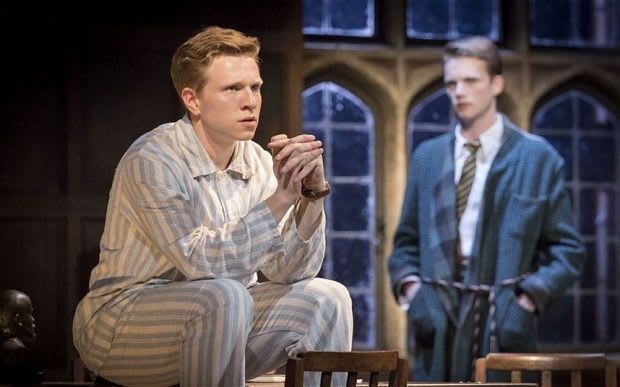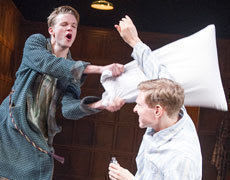 For the latest production in the Festival season, Chichester has revived Mitchell's 1979 play written after the discovery that Anthony Blunt (knight, Keeper of the Queen's pictures, and head of the Courtauld Institute) was a traitor and the fourth member of what became known as "The Cambridge Five".
The Cambridge Spy scandal hit the headlines in the 1950s when it was discovered that trusted members of Her Majesty's government had been passing secret information on to the KGB, the men involved having been recruited as spies during, or just after, their time at Cambridge University.
Mitchell has taken the story back to their time at public school and imagines what it might have been in their past which made these men become traitors and betray the country of their birth.
A bell tolls in a 1930s public school hall and the boys sing "I Vow to Thee My Country", but to which country will they owe allegiance, and is the country geographical or one of personal identity?
In the cloistered atmosphere of a school full of adolescent boys, it is a time for sexual exploration and a search for identity. Was it merely coincidence that those who later became spies were all gay, and at a time when homosexuality was punishable by imprisonment?
One boy has already committed suicide after being caught in the act. Ostensibly a forbidden practice, it seemed that the only rule was "don't get caught", something which the author believes taught the British ruling classes the necessity of hypocrisy, and something which has not changed over the years.
The threat of exposure doesn't seem to worry Guy Bennett too much at first and, in an impressive performance, Rob Callender slides from casually louche confidence and easy talk of his sleeping partners, to a hurt (physically and emotionally) realisation that he will never be "one of them", his sexuality barring him from general acceptance. To sleep with another boy is acceptable—falling in love with one is not.
Equally impressive is Will Attenborough as the hard-working Tommy Judd, an idealist rejecting his privileged background to embrace Marxism and believing in the Communist way of life. A bust of Lenin is never far from his side.
Jeremy Herrin coaxes some excellent performances from all these young actors. In a play which launched the careers of such as Kenneth Branagh, Colin Firth, Rupert Everett and Daniel Day Lewis, could the same happen here? It will be interesting to watch developments.
Herrin also brings forth the humour to be had in the story and another fine performance from Bill Milner as Wharton, the new boy in tears as he misses his mother. His anxiety to do the right thing as a 'fag', to the exasperation of his advisors, is very comical, but he gradually grows in confidence and you can see the 'ladder' of advancement looming from fag to prefect and a progression expected to continue in public life.
The first half is competent rather than earth-shattering, but as the cast grow in confidence the show really comes to life. Bennett's hurt and disillusionment is movingly upsetting, but the comedy is brought to the fore again when the only adult in the company, Julian Wadham as Bloomsbury writer Vaughan Cunningham, gives a mockingly glowing account of himself in particularly entertaining and very witty camp style.
An interesting and absorbing play, and one to make you wonder if our present leaders had the identical school experiences, and how it affected them.
Reviewer: Sheila Connor