Another Three Sisters
Directed and adapted from Chekhov by Ivan Cutting
Eastern Angles Theatre Company at Coggeshall Grange Barn, and touring until 31st July
(2004)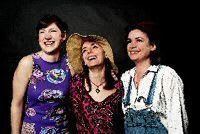 A bold relocation of Chekhov's Three Sisters from late 19th century Russia to Leiston, Suffolk, in the 1970s and '80s provides the basis of Ivan Cutting's convincing and absorbing adaptation. Cutting trims the cast list and draws on local associations - Sizewell, Summerhill, the asset-stripping of Garretts Engineering and the firm's 19th century family link with Elizabeth Garrett Anderson and her two sisters - to allow Chekhov's themes to illuminate some late 20th century concerns, both local and national. It may sound contrived, yet it not only works as a contemporary piece but also feels remarkably faithful to Chekhov's original.
Rosie Alabaster's set is the kitchen of the Prowse family, a bespattered sink, draining board and cupboard, with a table and chairs in the centre, and french windows to suggest a garden beyond. Irena returns here from university, full of plans for the future, to celebrate her 21st birthday, and the sisters recall their fashionable and happy early years in Chelsea, when their parents were alive. Family friends Nick Toucon-Baker and Soloman 'Solly' Edwards (Chekhov's Tuzenbach and Soliony) arrive to congratulate Irena, with whom both are in love, and they're joined by old family friend Vivian Alexander (Vershinin), who is drawn to middle sister Marsha. In Cutting's version the men are not army officers but engineers and scientists, and Chekhov's Natasha becomes Natalie, a local girl whose scarlet lipstick and revealing dresses distract the girls' brother Andrew from his novel-writing.
The play follows the disintegration of the family's hopes and fortunes over four years, against the background of a Britain that is embarking on its decade of Thatcherism. In this context the rise of Natalie, the 'grocer's daughter', from ridiculed outsider to first lady in the household, clearly has a specific resonance, as she pushes through her changes with little resistance from the idealistic sisters, whose focus is the wider world.
All three sisters simultaneously manage to suggest their Chekhovian counterparts whilst remaining thoroughly contemporary. Agnes Hutton is a marvellously patient and long-suffering Anna in her dungarees and cardigans, Catherine Gill brings a flamboyant theatricality to Marsha, and Irena is played with a curiously modern innocence by Charlotte Parry. Of the men, James Peck's Solly is a riveting modern Chekhovian figure: clown and desperado, singing snatches of Dylan songs as his anthem.
Chekhov always insisted that his plays were comedies, and it's only when they're performed in this spirit that the subtleties of the text are able to surface. A comic energy avoids the pitfall of portentousness, and the feeling that these privileged folk amidst the birch trees should pipe down and pull themselves together. Eastern Angles' adaptation offers an intelligent and thought-provoking account of this great play, transposing Three Sisters into a new time and place without sacrificing any of its integrity. Vivian's job re-location to John'o'Groats may not have quite the ring of Vershinin's transfer to Siberia in the concluding scene, but it's a small price to pay for the many pleasures of this adventurous and absorbing production.
Reviewer: Jill Sharp