Antony and Cleopatra
William Shakespeare
Chichester Festival Theatre and Liverpool Everyman and Playhouse
Chichester Festival Theatre
–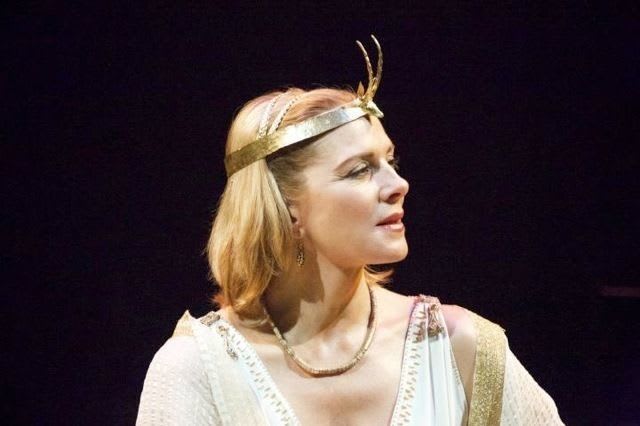 Janet Suzman's fast-moving production is high drama and spectacle from the beginning as, in conjunction with designer Peter McKIntosh, Cleopatra's court is presented as a thing of beauty.
Multiple oriental lights, black flooring and reflections give depth and mystery to the scene as Cleopatra rises from below to stand majestically erect, her back to the audience. This is, however, not exactly the Cleopatra I was expecting. Exquisitely but simply gowned, and with a plain blonde bob, this modern dress production is echoing the conflict between Rome and Egypt to match that between East and West today and, after the dramatic entrance, this was a bit of a surprise, but it all makes sense and soon I had my mind set into gear and began to enjoy.
There are comparisons with the Romeo and Juliet love story, especially in the manner of their deaths, but this is not young impetuous love but a Queen setting out to seduce in order to cement her right to rule. Antony becomes infatuated beyond reason, but perhaps she is not quite so in love as she professes.
How much is love and how much expediency is hard to tell. When Antony is away, she puts on glasses and gets on with the business of state—no pining for her—and when he dies she kills herself, but is this for the loss of her true love or more unable to bear the humiliation of being paraded through the streets of Rome as Caesar's captive?
Kim Cattrall here is no man-eating sex bomb as portrayed in Sex and the City and, according to recent historical research, neither was Cleopatra. That lady's promiscuous bed-hopping reputation was due to rumours spread by the Roman ruler Octavius Caesar, possibly to avenge the humiliation his sister Octavia suffered being deserted by her husband in favour of his lover, or possibly being denied the pleasure of parading his captive and demonstrating his victory.
Cattrall captures her feelings in expressions, funny when she is not enjoying the musician and shocked and annoyed when Antony orders a messenger to be whipped, ruining her chances of an alliance with Caesar; yet again her main concern is keeping Egypt under her control.
The excellent Michael Pennington as Antony is equally expressive—hopelessly infatuated and unable to help himself—yet the guilt he feels in his dereliction of duty is transparently obvious and the emphasis in the play centres more on the political aspect than the love affair.
The play is complex with characters constantly changing sides in the conflict, but there is a stand-out performance from Martin Hutson as the smart-suited Octavius Caesar who is very much the lawyer, putting his case as if in a courtroom drama clearly and concisely—however at Antony's defeat and death, and his own triumph, his attitude is of regret and sorrow that a man he once admired has been so ruined by his infatuation.
Sound and light play a huge part in this production, and thanks to the artistry and creativity of Sebastian Front and Paul Pyant the effects are stunning, the battle scenes being particularly effective, and the scene changes evolve from the etherial vision of Alexandria to the more sombre and solid brickwork and iron gantries of Rome in the blink of an eye.
A fine and dramatic conclusion to the Festival and the final show in the Festival Theatre.
Reviewer: Sheila Connor