Antony and Cleopatra
William Shakespeare
National Theatre
National Theatre
–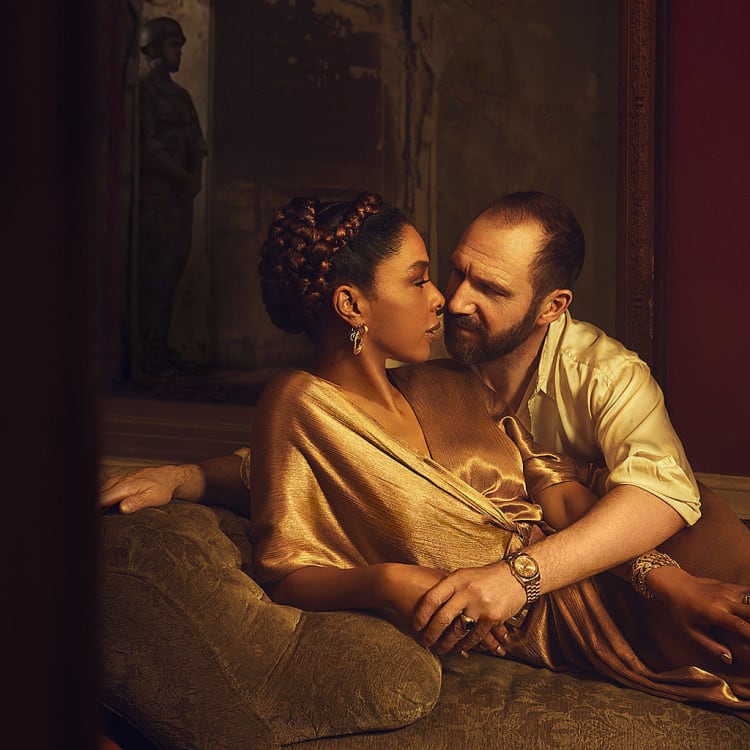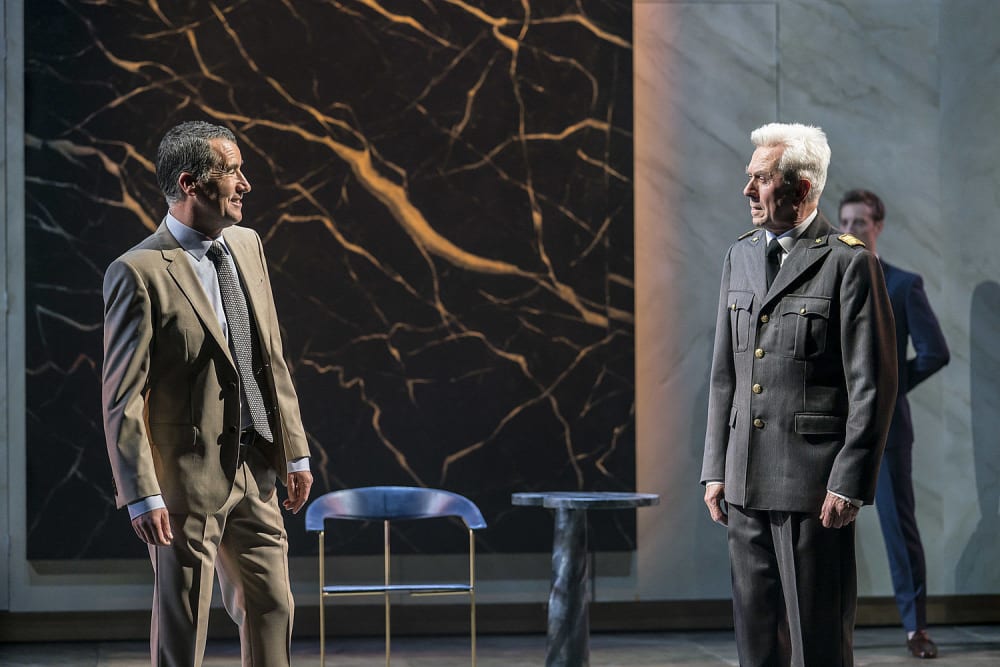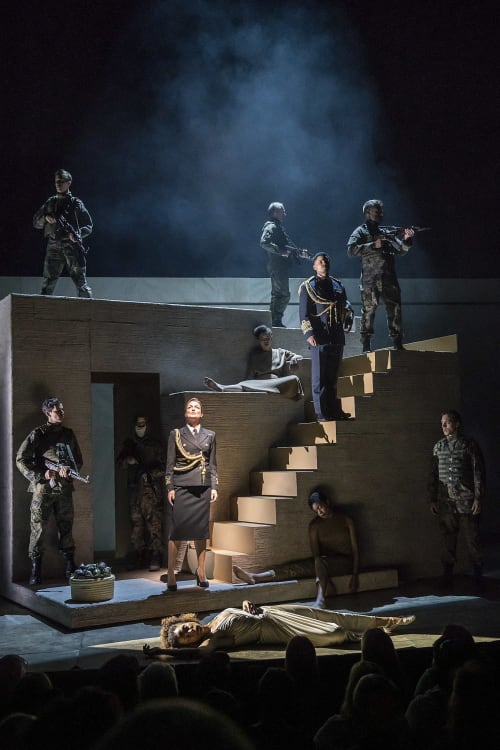 The NT's 2018 production directed by Simon Godwin begins where it ends, with Cleopatra dead and Octavius Caesar's panegyric to the "pair so famous" and follows with his lieutenant Agrippa delivering an adapted version of the description of it with which Shakespeare opens the play. It is a prologue that sets up the tragedy with a clarity that continues through its three-hour telling which now begins with Antony's arrival to wake a Cleopatra not dead but sleeping.
Intimacy in a blue-tiled pool room runs in parallel with political posturing and military plotting in a modern-dress production that contrasts that sensuality with Roman formality and the video screens of army headquarters with Antony and his entourage in Egypt in colourful leisure clothes while Rome is all smart suits and uniforms.
These actors must offer performances that match the Olivier theatre and at first they may seem too powerful if watched on a small screen but their scale is as much an expression of character as of projection. These are people who, even on intimate occasions, seem to live life in public and who live by their own rules.
Ralph Fiennes's Antony is in Cleopatra's thrall whenever he is with her; even when more rational in Rome, she is still his magnet. Only briefly do we see the leader who has earned such loyalty and respect from his men. Fiennes is at his finest as Antony faces his own weakness after the battle of Actium.
Sophie Okonedo's beautiful, quick-witted Cleopatra seems to dote on him more deeply when they are apart; together she can be fierily confrontational. Their relationship is as spirited and spikey as that of Beatrice and Benedick but passionate, not romantic, and the way it affects Antony makes this a tragedy for both of them.
These are blazing performances, but they are not alone. Kunji Kasim's good-looking young Caesar has a façade of diplomatic charm that hides a calculating ruthlessness, Katy Stephens's Agrippa is coolly efficient beside him and Nicholas Le Prevost a restrained Lepidus, a pawn in Octavius's schemes.
In Antony's camp, Tim McMullan is a fine Enobarbus, moving in his disillusion and his grief at his desertion of Antony, and Fisayo Akinade as Antony's body servant Eros (who gets pushed in the pool by his mistress) is touching in his devotion to Antony. Gloria Obianyo and Georgia Landers as Cleopatra's lively attendants, Charmian and Iras, create a relationship with her that shows the warmth that goes along with her flightiness.
This production captures a fiery relationship and presents the power confrontations with great clarity but three hours is a long attention span. Hildegard Bechtler's design uses the Olivier's drum revolve to make scene changes, which, when watching in a form where quick cutting is more familiar, may seem slow and make a through-viewing prove tiring. There is only a 30-second pause between acts: I suggest pressing the pause and taking a longer break, as you would in the theatre, would be a good move.
Reviewer: Howard Loxton