Antony and Cleopatra
William Shakespeare
Royal Shakespeare Company
Royal Shakespeare Theatre, Stratford-upon-Avon
–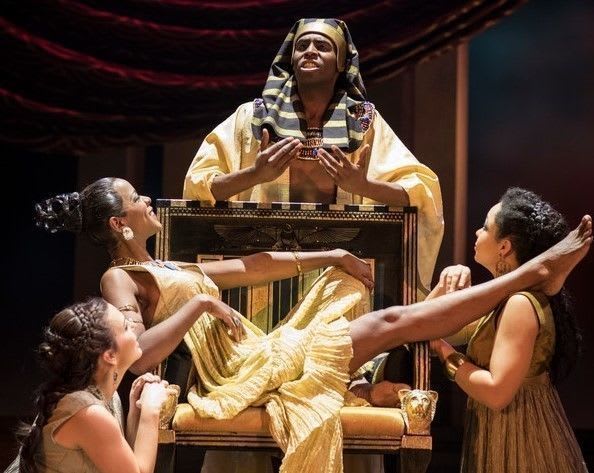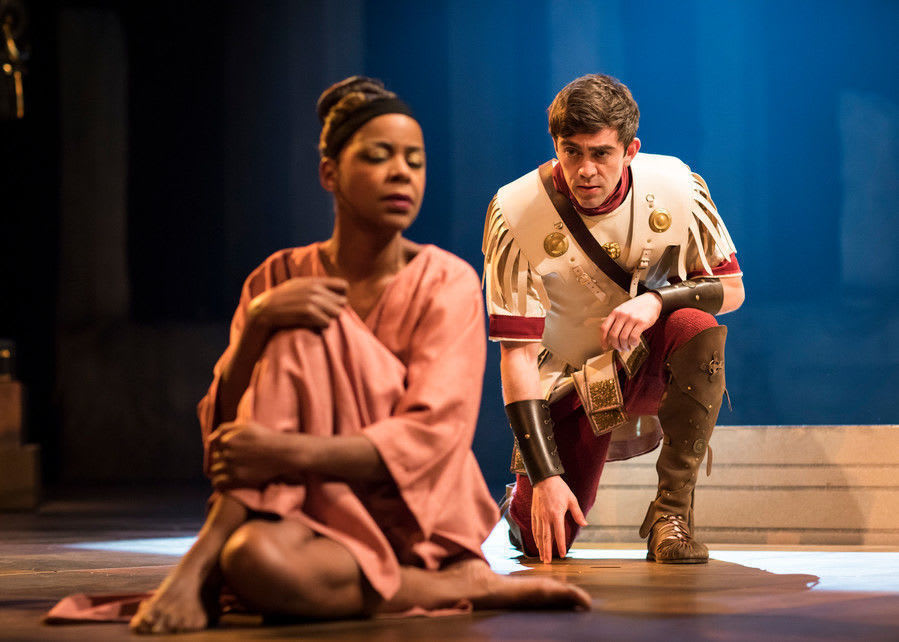 Fourteen years have passed since the assassination of Julius Caesar, turbulent times that have seen the once ascendant Mark Antony washed up in Egypt, the man of war now luxuriating in the arms of Cleopatra.
There's a loose continuity between Shakespeare's two works linking these events, so it makes sense that they should open the RSC's season of ten plays about ancient Rome. There's a continuity too of Robert Innes Hopkins's traditional design, but with some cast changes—Antony, Octavius and Lepidus—and a new director, Iqbal Khan's production feels different to what has gone before.
Josette Simon looks every inch the figure of the siren queen who would tempt the soldier / sailor to his doom. Wilful, playful, from statuesque poses to riding around on Antony's shoulders like a masked nine-foot monster, here is "infinite variety" indeed as she adopts little girl voices to mock her enemies.
It's a brave, risky performance, which occasionally totters too far, as Simon adopts some decidedly modern mannerisms as times of crisis, what look like deep-breathing "ommm" moments in a wimmin's self-confidence class.
Antony Byrne plays his namesake with a rough vigour, at his best when roused from the silken cushions on which one never feels he could have rested in comfort. As a result, the pair don't quite achieve that tragic, faded grandeur at the heart of the play.
Andrew Woodall, who played Caesar with lofty, patrician arrogance, now takes the part of Enobarbus with a thick East-End accent, in order one assumes to be more plebeian than his plebeian master.
The show opens with a hookah front of stage, a prop taken if I'm not mistaken, directly as a tribute from the now RSC artistic director Greg Doran's terrific 2006 production starring Patrick Stewart and Harriet Walter. There are some deft touches—Ben Allen's Octavius entering Cleopatra's sanctum chewing nonchalantly, and the arrangement of model galleys as if on the floor of a war room before the battle of Actium. Yet here too is a lack of discipline, as the vessels are pushed around like vacuum cleaners, then fly through the air, bashing each other in improbable combat like children's toys.
Conversely, Khan endorses an odd literalism in the acting: Vantage appears like a "pair of twins"—actor cradles imaginary twins; Enobarbus describes the royal barge with hands painting every detail; Cleopatra talks of single fight—and puts up her mitts like Henry Cooper.
There is much to admire nevertheless in the acting in a play that is difficult to realise entirely successfully given the complexity and volatility of its main characters. Even if this were a more successful production, however, it would still be marred by the dreadfully inappropriate, intrusive and overblown score by Laura Mvula, sounding horribly like awards night at an advertising sales conference.
Reviewer: Colin Davison