A Number
Caryl Churchill
Studio Theatre, Sheffield
(2006)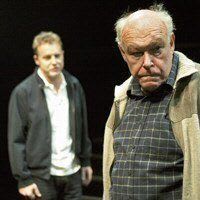 An exquisite two-hander with a Father and Son(s) played by a Father and Son, Timothy and Samuel West, and directed by Jonathan Munby deals with all the extremes of psychopathology when a father agrees that his son should be cloned to produce one son after the death of his mother but 'They' decide to produce a multitude of clones, and what effect does that have on a family?
In a small studio theatre, with a ceiling of two layers of test-tubes, and dramatic music and lighting, the two Wests interact in a vivid range of emotions, from the banal style of Albert and the lion - 'Someone must be summonsed!' through many delicate shades of disgust, anger, irritation, suicidal feelings and behaviour. The father, puzzled by what he has brought about, questions his sons, in turn, trying to understand their feelings, recognising their anger, and apologising for his own misbehaviour in his contribution to their upbringing without a wife to help him.
The complexities of modern life are hinted at rather than displayed, but the audience had no doubt that they were expected to identify a range of dilemmas confronting the 21st century and take them away for intensive study.
This miniature performance - small cast, small audience, short play - is one to relish, and is highly recommended.
Until 11th November
Reviewer: Philip Seager