Anyone Can Whistle
Book by Arthur Laurents, music and lyrics by Stephen Sondheim
JAY Records
Released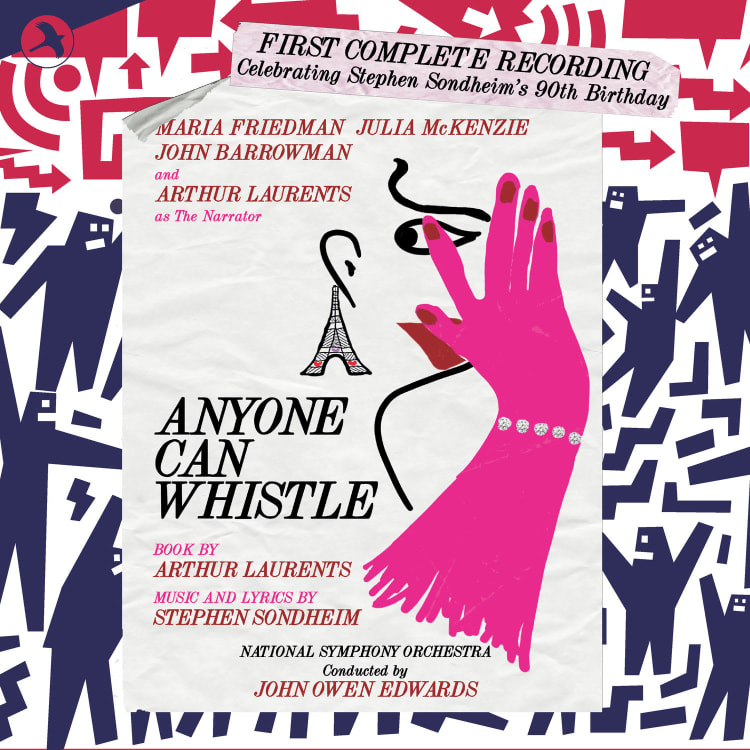 This new release from JAY Records is billed as the first complete recording of only the second Broadway show for which Sondheim wrote both music and lyrics (after A Funny Thing Happened on the Way to the Forum), which in itself surely makes it essential for any fan of Sondheim's work. Add to that a cast that includes Julia McKenzie, Maria Friedman and John Barrowman plus narration from the late Arthur Laurents himself and production for record by John Yap under the composer's watchful ear, and surely this belongs in the collection of any true musical theatre enthusiast.
The recording is billed as a celebration of Sondheim's 90th birthday earlier this year, but he was only in his late 60s when work on it began. The show itself hit Broadway in 1964, closing after 12 previews and 9 performances, but this particular version was recorded at Abbey Road Studios, London in 1997 and at Avata Studios, New York in 2013, only to be finally released at the end of 2020.
Laurents's book is set in a small town where everyone is broke apart from the corrupt politicians. The mayoress, Cora Hoover Hooper (McKenzie), is worried that she has become unpopular with the voters, but then a phoney miracle of water coming out of a rock, staged by Comptroller Schub (Bill Nolte) and Treasurer Cooley (Ian Burford) and marketed as a holy cure for all ills, puts her on top again. However Nurse Fay Apple (Friedman) from the Sanitarium for the Socially Pressured, nicknamed 'The Cookie Jar', threatens to expose the hoax by taking her 49 'Cookies' and showing that they are no better after taking the waters.
The town officials are unable to tell the Cookies from everyone else, so they bring in Dr J Bowden Hapgood to separate the mad from the sane. After a series of bewildering and sometimes politically charged questions, he decides, "you are all mad". Fay returns disguised as a French miracle investigator from Lourdes, while Cora and her cronies plot to avoid investigation by shutting down the Miracle Rock and blaming everything on Hapgood to take the shine off his popularity, but she is threatened with impeachment if she can't get the 49 Cookies back into The Cookie Jar.
There's plenty more in the three acts of this musical including a romantic liaison that takes the whole show to succeed, an unexpected response from rational Hapgood to Fay not to expose the hoax as people want the miracle and not the explanation, and then, when things seem to be going back Cora's way, the townspeople all run away as they've heard of another miracle in the next town. There are also lots of political, satirical digs from Laurents and Sondheim that perhaps didn't work with a 1964 Broadway audience but the booklet with this CD has an essay from Keith Merrill that draws parallels between Cora and President Trump, even putting similar quotes from the two of them side by side.
Musically, there are certainly some brassy Broadway melodies, but there are strong hints of a more experimental approach that would become Sondheim's style—I thought I detected echoes of Assassins and a few other later scores in parts—emphasised by Don Walker's orchestrations. His lyrics are meticulously crafted as always and fit perfectly with the bits of Laurents's book that we hear on the recording.
It's difficult to judge the whole show even from as complete a recording as this (I've been disappointed a few times by shows I've loved on record when I've seen them on stage), but this very well-produced and great sounding recording indicates that surely it is a show that's worth another look after more than half a century of obscurity.
Reviewer: David Chadderton