Anything Goes
Music and lyrics by Cole Porter, original book by P G Wodehouse, Guy Bolton, Howard Lindsay and Russel Crouse, new book by Timothy Crouse and John Weidman
Sheffield Theatres in association with Stage Entertainment
The Crucible, Sheffield
–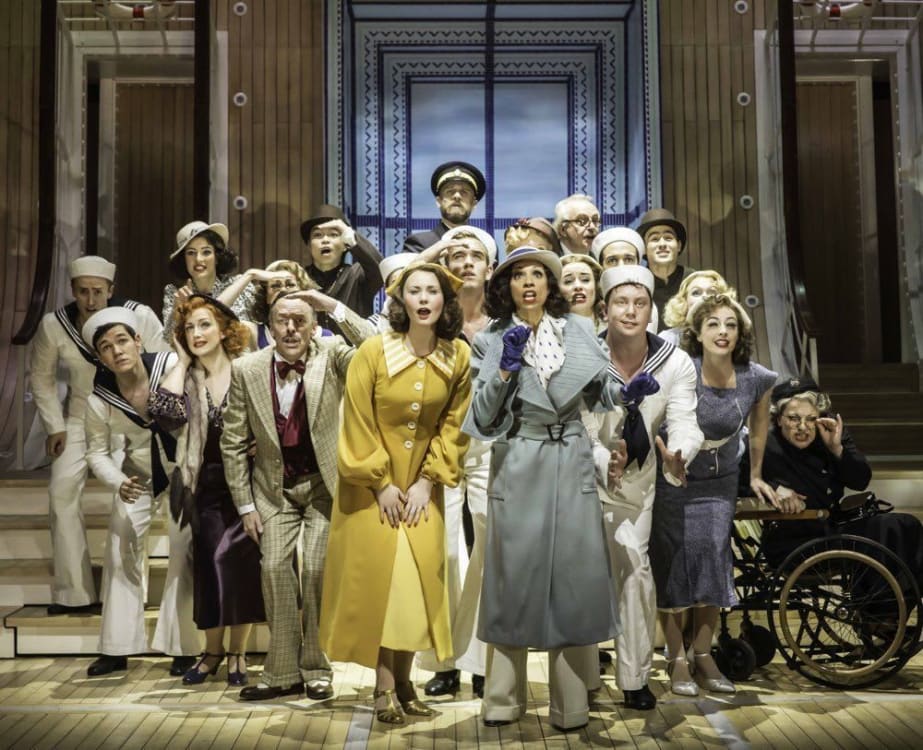 The Crucible's Christmas musical is a high energy, fast moving treat, brimming with delightful individual performances, cheerful visual effects and toe-tapping familiar music.
Premiered on Broadway 80 years ago, the original book was partly written by P G Wodehouse, whose dry British wit was the perfect foil to Cole Porter's outrageous and inventive lyrics and memorable score. A new book, by Timothy Crouse and John Weidman, maintains the spirit of the original.
Daniel Evans is an outstanding director of musical theatre, and in this show he has surpassed himself. The style of the production is of its time and completely coherent, with stunning Art Deco sets, stylish costumes, dynamic choreography and, of course, Cole Porter's music.
The hallmark of this production is its humour, which is ever-present in individual performances, details of costume, entertaining props including a stuffed chihuahua, the song and dance routines, witty direction ideas and even scene changes. Anything Goes if it raises a laugh.
Debbie Kurup holds the show together as Reno, looks great, sings powerfully with exceptional expressiveness, and dances with inexhaustible energy. There are strong lyrical performances from Matt Rawle as Billy and Zoe Rainey as Hope.
There are two memorable comic performances. As the gangster Moonface, Hugh Sachs is an indomitable stage presence, entertaining in every detail of his performance, bur particularly mesmerising in "Be Like the Blue Bird" where he holds the audience "with a glittering eye".
Stephen Matthews plays Lord Evelyn Oakleigh, initially as a rather seedy, repressed English aristocrat, but in a late solo number, throws off his inhibitions and his dressing gown to reveal "The Gipsy in Me".
There are strong supporting performances from Simon Rouse as the millionaire entrepreneur Elisha Whitney, and Jane Wymark as the gold-digging society mother, Evangeline Harcourt. The four "Virtues", who are also company dancers, add spice to the occasion.
The production is a visual feast. Richard Kent's set presents us initially with a stylish Art Deco bar, which gives way to the main deck, state rooms and dining room of the SS America, a huge, opulent, ocean going liner. Specific areas, like the state rooms, are quickly delineated by under-floor strip lighting. Complex scene changes are achieved by the small army of sailors.
But this is a song and dance show, and as such it delights. Choreographer Alistair David has devised a number of thrilling, high energy ensemble sequences, sometimes limited to the group of sailors, often involving the whole company.
The rhythmic, technical and athletic capability of the company is truly impressive, but it is Daniel Evans's direction which drives the show onwards at such a breathless pace.
What makes the evening a particular pleasure is the revisiting of familiar Cole Porter songs which have become standards, and have never lost their original gloss. Numbers like "I Get Kick Out of You", "You're the Top" and "Anything Goes" continue to delight because of the outrageously clever lyrics and lovely melodies.
With its high production values, this feels like a West End show.
Reviewer: Velda Harris