Anything Goes
Music and Lyrics by Cole Porter, Book by Guy Bolton, PG Wodehouse, Howard Lindsay and Russel Crouse
Ovation
Upstairs at the Gatehouse
–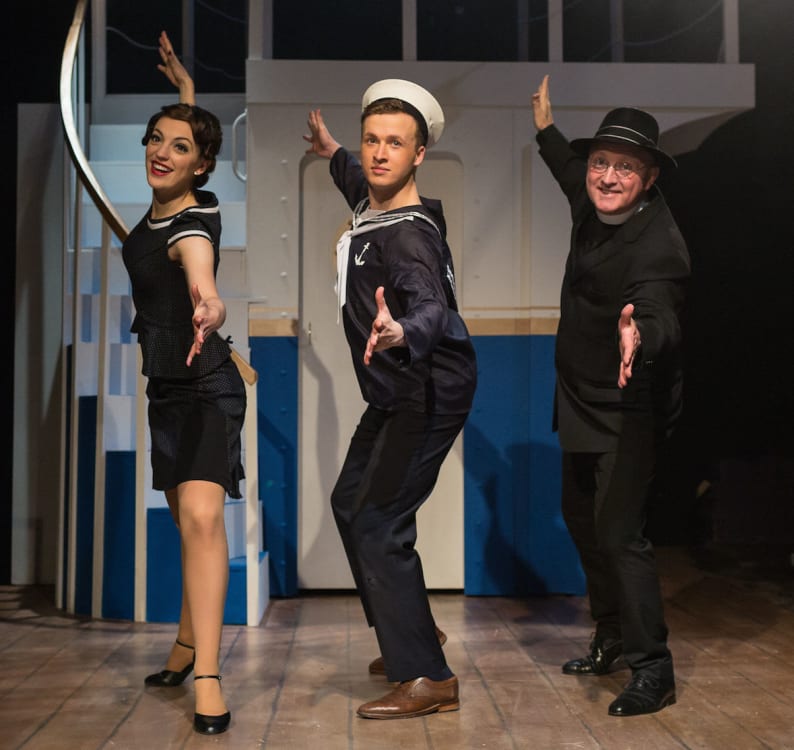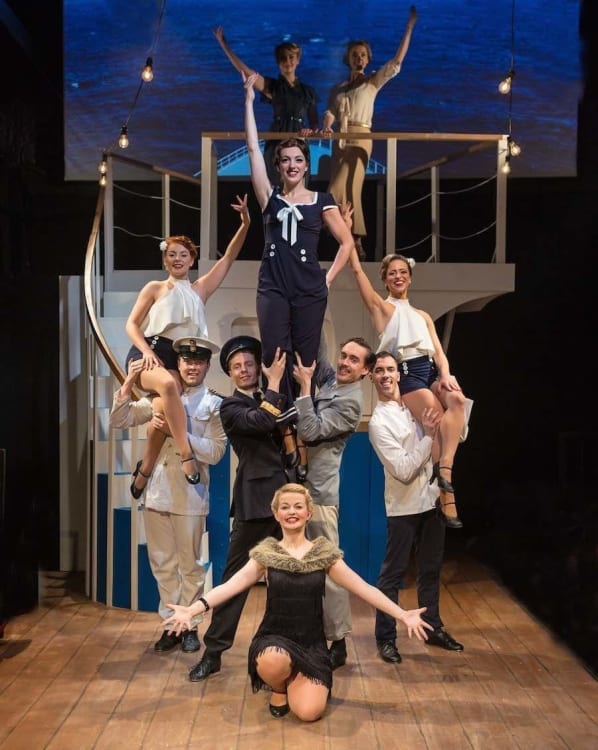 Upstairs at the Gatehouse becomes the deck of the SS American for this revival of Cole Porter's shipboard musical. It's a farcical fast-paced plot in which disguised stowaway Billy Crocker, aided by his cabaret singer friend Reno and a gangster called Moonface and his Moll Bonnie, pursues his romantic attachment to a young woman who is already engaged to marry English aristo Sir Evelyn Oakleigh when they reach England.
It's a madcap helter-skelter progress doesn't stand up to logical scrutiny but it has some great numbers – this boutique version (made for a 1962 Off-Broadway production) also includes some from other Cole Porter shows. It is one of several rewrites for even the first version, which featured a bomb threat, a shipwreck and a desert island, got massively rewritten between its Boston try-out and its Broadway opening when a disastrous fire on a US liner resulted in 137 fatal casualties and made it ill-timed.
John Plews stages it in traverse, the ship's rails running round the back of the audience, the pirouetting, toe-tapping dancers in touching distance, meticulously placing the high kicks of Chris Whittaker's choreography to avoid audience injury.
Billy Crocker was only on board to see his boss off when he caught sight of Hope Harcourt, a girl he had briefly met in a taxi and fell for. He stays aboard as a stowaway. You can't really take a man seriously who cuts a chunk out of the fur coat Hope's mother is wearing to fashion a beard to disguise himself from her, but Jack McCann gives the Wall Street broker an insouciant charm that outweighs his panicked effrontery as he find ways to be with Hope herself (charming Samantha Dorsey).
Nova Skipp gives hauteur to the mother, Mrs Harcourt, and Jack Kane is a Wodehouse silly-ass Sir Oakley, pedantically noting down transatlantic vernacular until brought to life a changed man by Taryn Erickson's Reno.
Erikson's singer lifts the whole show with her numbers and her vitality is matched by the energy of David Pendlebury's Moonface and Chloe Adele Edwards' broad (in both senses) Bonnie. Luce Horsfall and Chloe Porter (as Reno's backing singers) and Timothy Booth and Lewis McBean seem to dance straight out of a 1930s chorus line, pertly provocative and camply swirling.
When you have scarlet clad Erickson delivering "Let's Misbehave" at full blast, not to mention "You're the Top," "I Get a Kick Out of You" and other favourites you can forget the book and just enjoy the performance. It's Christmas, a time to enjoy the fun and this show is a celebration of strong show tunes with "Blow Gabriel Blow" and its trumpet drawing attention to the great band up above the action.
Reviewer: Howard Loxton