Anything with a Pulse
Eliana Ostro
Wonky Donkey in association with Park Theatre
Park Theatre
–

Listing details and ticket info...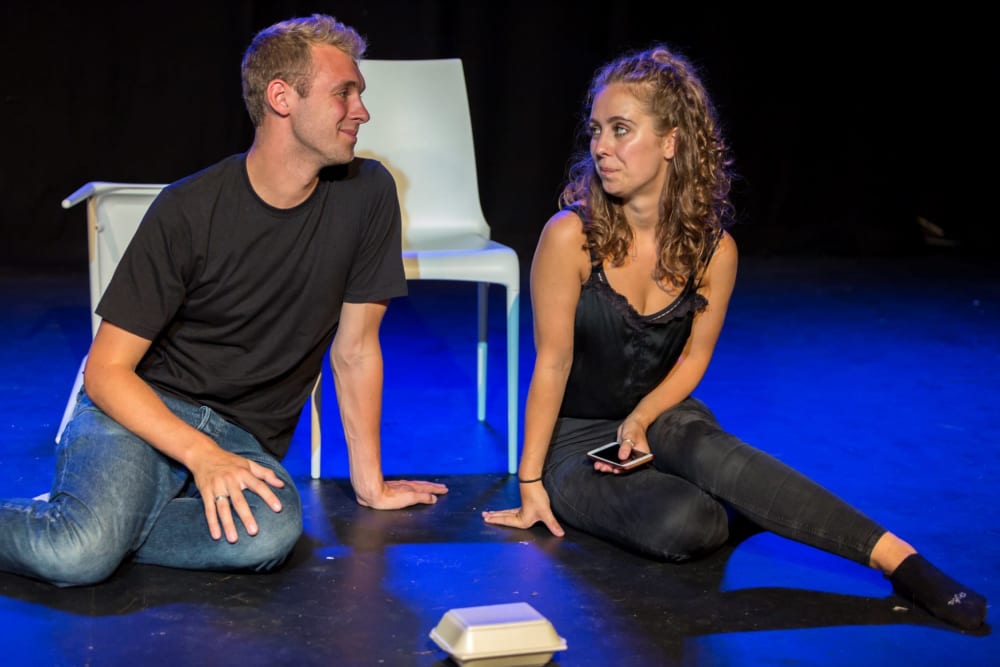 The course of true love never did run smooth, but in the 2020s, it faces additional hurdles including dating apps, unread Whatsapp messages, prying flatmates and exes who keep popping up on Instagram.
It's a messy dating scene and when we first meet W (Annie Davison) and M (Rufus Love), they're out clubbing with friends, desperately trying to actually have as much fun as their social media profiles would suggest. They're both wounded from breakups, cautious about letting their guard down, scared by the idea of love but tired of seeing sex as transactional.
It's not a new meet-cute—there are plenty of plays, films and even songs about unexpected meetings and eyes locking on dance floors but Anything With Pulse is a standout production which, thanks to a finely tuned script, excellent casting and immaculate direction, draws the audience in from the offset—audible gasps and plenty of laughs indicated how quickly and deeply everyone in Park90 started investing in W and M's story.
Told in the 3rd person, the characters are able to speak to each other and the audience, questioning their actions, making jokes at their own expense and reflecting on their expectations. It's funny, it's awkward, it's raw, occasionally crude and ultimately pretty realistic. The inclusion of multi-rolling paints a colourful picture of their friendship groups and allows for plenty of fun with accents and male/female posturing adding comedy without taking the focus away from the main narrative.
As writer and director, Eliana Ostro hits all the right notes and Without A Pulse provides a glimpse into the lives of two people striving to connect whilst being cool and current but crucially not clingy. Will they, won't they and can Mr Brightside bring them together?
Reviewer: Amy Yorston