Anything Goes
Original book by P.G. Wodehouse; Music and Lyrics by Cole Porter
New Victoria Theatre, Woking
(2006)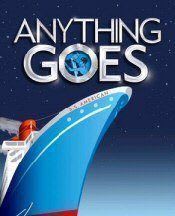 From the golden age of musicals comes this story of a journey on a transatlantic liner in the thirties. The story may be ridiculously farcical with its twists and turns of plot but it's none the worse for that, and, like any good musical of that time, there is a happy ending and it sends you out with a smile on your face.
The passengers are an eclectic mix, ranging from eccentric millionaire tycoon Elisha Whitney (splendidly portrayed by Barry Howard) to gangster Moonface Martin and stowaway Billy Crocker who has disregarded his boss's instructions in order to be near the love of his life, Hope Harcourt. Hope, of course, is already engaged to be married to rich, slightly ridiculous Lord Evelyn Oakley (Antony Read) who delights in writing down all the 'Americanisms' in his little book – but usually gets them wrong. 'Rats pyjamas' and 'fleas knees' were bad enough but 'hot pants' really had him confused.
Add to the mix raunchy evangelist and torch singer Reno Sweeney played by Ria Jones and the show really takes off. Sweeney gave a superb comic performance as the wisecracking reporter in High Society and she steals the show here too – ably abetted by Michael Starke who has discarded his native Liverpudlian accent in favour of gravely-voiced 'gangster-speak'. Their song and dance duet 'Friendship' was a joy to behold, voices blending surprising well, and Sweeney's rendition of 'I Get a Kick out of You' manages to switch from enjoyment to a sad and lonely yearning for her lost love.
It would seem that obsession with celebrity was as widespread in 1934 (when the show premiered) as it is now. The Captain (James Paterson) finds it extremely important to have celebrities on his ship in order to attract other passengers, and is overjoyed to find Snakeyes Johnson aboard. No matter that he is Public Enemy Number One – notoriety will do very nicely, thank you – until he discovers this is stowaway Billy (Chris Ellis-Stanton) in disguise. In fact the two main transatlantic ships at that time – the British Queen Mary and the French Normandie – were great rivals and they did compete for the best passengers, so the show is based (very loosely) on fact, and this is the world of the rich and privileged Cole Porter
Angela Rippon is Evangeline Harcourt, mother of heroine Hope (Ashley Lilley) and – in sharp contrast to her usual serious role of journalist and newscaster – overplays her part with delightful enjoyment, She first surprised us in the 1974 Morecambe and Wise show when she emerged from behind her desk and revealed that she really did have legs, and here she enthusiastically joins in with the tap dancing and even treats us to a high kick at curtain call.
Ian Talbot's expert direction keeps the pace fast and furious while still playing up all the comedic elements. Bill Demer's choreography tends towards the tap dancing style of the period – not so brittle and over drilled as the modern fashion – and is performed with enormous vitality and evident enjoyment.
Socialites in those days expected to change their clothes several times a day and Bob Bailey has provided some sumptuous costumes, as well as a rather challenging multi-level set for the performers, and with the advantage of Cole Porters marvellous music this turns out to be a tremendously enjoyable show and – I have to say it – delightfully, deliciously, delectably de-lovely!
At Woking until 18th Februray, then touring
This review was first published in Theatreworld Internet Magazine
Katharine Capocci reviewed this production in Newcastle
Reviewer: Sheila Connor