Anything Goes
Original book by PG Wodehouse; music and lyrics by Cole Porter
Theatre Royal, Newcastle, and touring
(2006)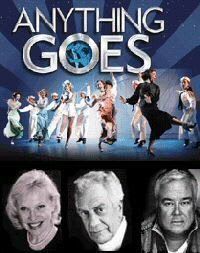 It's all aboard for a breath of fresh sea air as the most de-lightful, de-licious and de-lovely show berths at Newcastle's Theatre Royal this week. Absolutely Anything Goes as we are taken on a musical voyage of discovery aboard the luxury 1930s transatlantic liner, the SS American.
This enduring romantic comedy with its classic show-stopping Cole Porter numbers offers two-and-a-half hours of sheer escapism. And the enthusiastic sell-out audience at Newcastle loved every minute of it.
This sparkling, fun-filled show with its peppering of witty one-liners may be seventy years old but it's still pretty shipshape today under the expert direction of Ian Talbot.The toe-tapping numbers from "You're the Top" and "It's De-lovely" to "I Get a Kick out of You", are a joy to watch and are sure to have you humming away the next day. "Blow Gabriel Blow", with its fantastic trumpet accompaniment, and "Anything Goes" are particular highlights.
Stowaway Billy Crocker - a strong performance by Chris Ellis-Stanton - is pursuing Hope Harcourt, played with some panache by Ashley Lilley, the debutante fiancée of English aristocrat Lord Oakleigh. Throw in a gangster, his moll, a drunken millionaire and you have all the ingredients for a farce full of twists and turns.
Singer Reno, played by the charismatic Ria Jones, steals all her scenes thanks to her knock-out singing voice and sheer stage presence. For somebody so petite, she's got one BIG voice. And Michael Starke, formerly of Brookside, is a revelation as gravel-voiced gangster Moonface Martin. He's very funny, his comic timing a joy to behold. Sandra Dickinson as mother Evangeline Harcourt, plays it for laughs, as does Barry Howard as the eccentric millionaire Eli.
The sumptuous and elegant costumes evoke the stylishness of the era and add to the big-show feel.
It's farcical - and frankly ridiculous at times - but hugely entertaining.
Sheila Connor reviewed this production in Woking
Reviewer: Katharine Capocci