Anywhere
Elise Vigneron, Hélène Barreau
Théâtre de l'Entrouvert
London International Mime Festival at Barbican Pit
–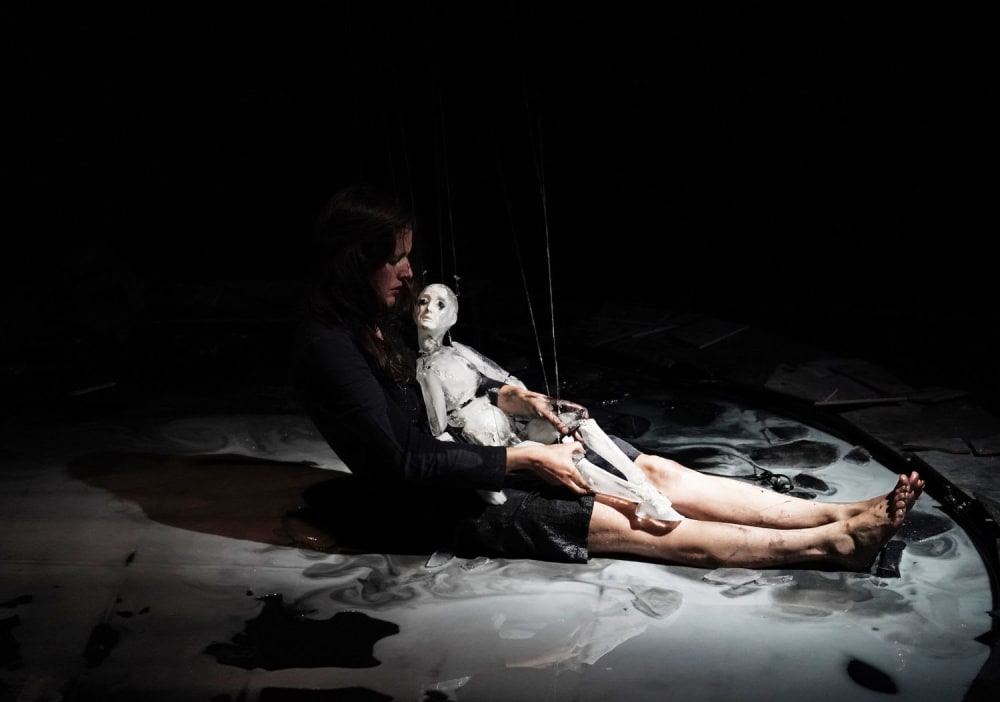 Anywhere, a surreally poetic creation from French company, Le Théâtre de L'Entrouvert, is nothing short of astonishing, in the sense that puppeteers breathe life, literally, into ice.
Here as part of The London International Mime Festival, Elise Vigneron and Hélèle Barreau's piece is at once an intimate, yet expansive re-imagining of Oedipus, a ghostly marionette chiseled out of ice. Vigneron plays Antigone and she accompanies Oedipus on his journey, loosely based on the story of Oedipus on the Road by Belgian author Henry Bauchau.
As Vigneron physically embraces, protects, cradles and plays with the puppet creating powerful shapes in movement, the two are bound together; even though one is made of ice, both appear to have beating hearts.
How can this be? How can an object made of ice induce emotion? Vigneron tells the audience afterwards, "it is as if I am working with a fellow actor onstage," not a block of ice, and it's this emotional connection that is so clearly resonant watching the performance unfold.
While she moves with the puppet, Vigneron hardly manipulates by strings. It is Barreau who controls the creation offstage by way of a sophisticated pulley system. This only adds to the sense that this puppet has been given a life of his own: he appears to walk out of the shadows as a fully formed thing, not a puppet.
The pair build beautiful shapes and allegorical imagery that allude to ancient journeys through shadows, mist fire and ice. As the performance begins, the audience is bathed in darkness and a monk (Vigneron) appears from the shadows, scrawling words on a suspended canvas of ice using black ink that dribbles. The noise of the ink scraping up and down the canvas sounds like a lone figure skater carving up the ice. As soon as the writing appears, words start to melt into a dense, black landscape framed in white.
When he finally appears, Oedipus moves with the pace of an ailing man, walking stick at hand to guide him, while sonorous jazz saxophone expands the size of the Barbican Pit as the puppet slides and slips on the ice. Then the plucking of single guitar strings reverberating around the auditorium from Pascal Charrier heightens anticipation of drama.
And there is real anticipation built into the pace of this short piece, as we try to steal a better glimpse of this mysteriously blanket-clad figure shuffling around the stage. Moodily lit by Cyril Monteil and Thibaut Boislève, a single white spotlight marks out the puppet's features in fierce, reflective light that renders it so authentic, it almost looks human when the material is pulled back to reveal its face.
Particularly memorable is when Vigneron is on the floor with her legs pointing upwards towards the sky, mirroring the mechanisms of the puppet hovering above her: an icy white spectre floating above; a fading presence, soon to melt and disappear forever.
There is something poetic about this, an object that lasts the length of performance, only to melt away into nothingness. And then the following night, it starts anew—a different puppet with altered facial features as two cannot be the same, rendering each performance a unique and memorable experience in its own right. Brilliantly original.
Reviewer: Rachel Nouchi