Any Which Way
David Watson.
Only Connect
Only Connect Theatre, Kings Cross
(2008)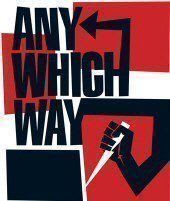 North London: a disused, vacuous church building, darkness. A man the size of a small bungalow holds a knife (equally well endowed) to my throat. Killing is an "easy ting" he tells me. I believe him.
David Watson's Any Which Way brings the street to the stage in a full-throttle theatrical attack on London's knife-crime endemic. Hold onto your wine.
Commissioned by Only Connect (a charity-company that works with ex-offenders, prisoners, and those at risk of facing a criminal future), Watson has penned a play as sharp and uncompromising as a knife's edge.
Performed promenade style by a cast of ex-cons (the audience are manhandled, mishandled, barged and bundled without apology - in fact, ever deferent, those displaced actually apologised to the hefty, knife-wielding tanks that dislodged them), Any Which Way is so unsettling, so boldly delivered, and so criminally good that it deserves to be arrested, interrogated and handed a life-sentence.
Conventions are wilfully demolished. As Stefan (Kareem Dauda) fleas the feds, his best friend and stab-victim Akin still warm with death, the audience are cast as eye-witnesses. By removing the customary division between spectator and performance, implication is achieved. Knife-crime is everyone's problem.
Indeed, the hostile juxtaposition of an audience that (myself included) smacked of privilege and security, against a cast all too familiar with the travails and deeds of their characters, was a disturbing piece of dramaturgy.
The text is a feat of ventriloquism: a pungent mix of idiomatic dialogue and unpolished, urban poetry. Watson successfully adopts the voice of a culture not his own, delivering it with gravitas, impact and dark humour: "You look rough." "I'm dead innit."
Any Which Way (directed with unnerving aggression by Maggie Norris) is not standard theatre fare; it is a rude, valuable awakening.
Stefan's odyssey toward incarceration is propelled by the corrosive absence of his late father, a damaged sense of self-worth, and a tragic perception of crime, violence and material acquisition as viable, venerable means of self-betterment.
Watson rightly avoids offering social diagnosis; he does, however, intimate what social conditions provide the fertile, self-replenishing soil from which crime, disillusionment and social alienation bud.
The violent inclinations of gangs and disaffected youths, Watson's argument runs, are a fragile yet deadly façade. Stefan, so bent on proving himself the "bad man", invulnerable and stoic, concedes "I'm always scared". Murder is an act of weakness; behind every killer a forlorn, self-loathing, ill-tutored child.
As the action struts toward its dénouement, Stefan seeks concealment in an abandoned church. A police helicopter's predatory, self-righteous presence can be heard.
A lost soul, prey to the law.
A life of imprisonment beckons - and not just for Stefan. His unborn child is to grow up, as he did, fatherless: a portent of a future that has learnt nothing from its past. Reformation through incarceration? Repetition through incarceration.
After all, it is a fecund cycle - crime begets crime. It is a cycle that Any Which Way strives to upset. By touring seventeen secondary schools in London, reaching close to four-thousand students, its outreach strategy is shrewd and purposeful.
Post-performance the audience are invited to a subterranean lounge where the cast are available for conversation: another brick removed from convention's wall - audience and actor, fiction and reality, victim and culprit, all inextricably conjoined. An effect of such merger is the facilitation of empathy and the erosion of apathy. Only Connect provide no sand to bury heads in.
Philip Clarke, who plays Akin, seems to weaken as he recalls the response of local students to the play: "Some kids walk in, all attitude like 'I'm a bad man and what's this drama nonsense', but then they listen and they watch, and they leave, you can see it, with tears in their eyes."
Are tears enough to plug streams of blood? Let us hope they are the first brick in the dam.
Until 29th November
Reviewer: Ben Aitken