Apartment 40c
Libretto and lyrics by Ray Rackham and music by Tom Lees
London Theatre Workshop
St James's Theatre Studio
–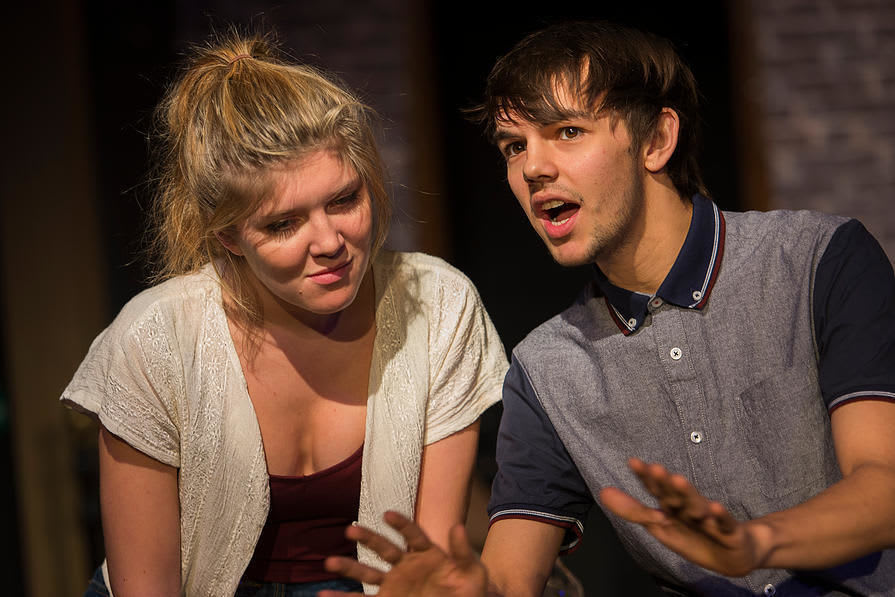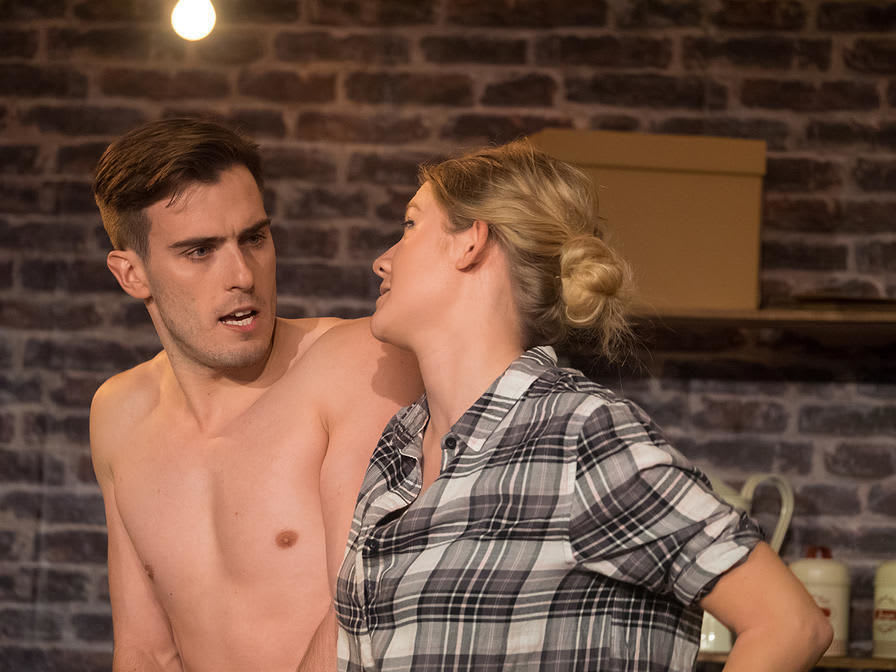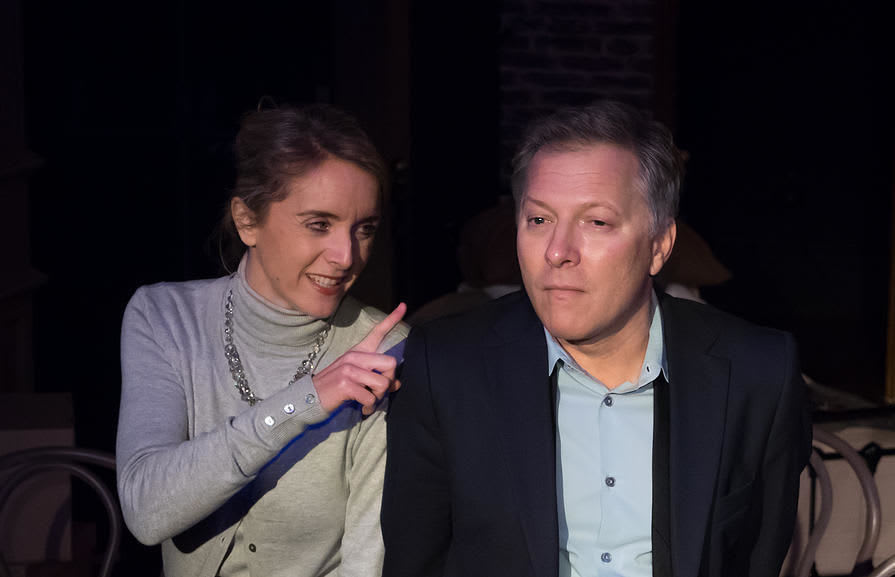 First seen last year at the London Theatre Workshop, of which its writers are the artistic directors, Apartment 40C comes to the St James's in a new version that includes changes to lyrics and dialogue and four new songs.
Over the years, a house or a flat may contain many different households and witness much. This new musical is concerned with three couples from three different segments in the timeline of a New York apartment. It shows us just one significant evening for each pair but presents them all at the same time. Attention shifts between pairs, the others becoming the background to another's time zone though physically present, even in complex proximity.
As director, Ray Rackham manages this deftly with the help of highly disciplined actors and Tom Kitney's lighting. That's quite a challenge in this intimate venue and at times he makes clever use of it for comic or confrontational effect.
It starts with a woman on the phone to her mother. It is Kate, a restaurant critic cooking dinner for her husband, a lawyer who is late home. Then there is Katie, just moving into the apartment, who has started a job as an intern at the New York Times, phoning her ma to reassure her everything is OK. Then there is an older woman, Kathryn, telling someone she may stay over and fly back to the mid-West (where she has a TV food show) in the morning.
After Katie goes off to shower, a young man arrives. That's Eddie, a young lawyer who has just flunked his finals, who is also moving in. When Katie comes back, there is a problem. He is in the same time zone: they are both there on the same evening; they both think that they have the tenancy.
The restaurant reviewer's husband eventually turns up. They are packing up home to move to Connecticut. Then the third husband arrives, or rather ex-husband. That pair are packing up to sell the flat in which their son has been living. This information doesn't all come easily; it is acquired gradually.
The first pair excepted (their relationship is only just starting), Apartment 40C gradually reveals each couple's back-story together and how they relate to each other—though put as compactly as this, that may now be obvious. That unravelling and the way it shares its character's feelings are the story and the whole cast play it with great sensitivity.
You can't help but feel sympathy for Alex Crossley and Alex James Ellison's Katie and Eddie, a young couple already having to face life's challenges but falling for each other. Kate and Ed want to adopt, one reason for moving to the country. They seem an ideal pair but is Lizzie Wofford's gentle Kate losing patience with Johnjo Flynn's Ed, caught up in career? The older couple, both now married to others, are mourning an only child: theirs is a back-story full of love and regret that brings everything together.
Tom Lees writes melodies that match emotion and sound natural. These are songs about feeling, not hit tunes for the pop parade. Though voices may overlap, they don't conduct conversations in music. These people mainly share thoughts and feelings with the audience. They are launched above a ripple of piano with lush cello and violin adding extra emotional colour.
Sometimes, that piano ripple seems to grow into a tsunami. The audience is stretched wide and, for those at the band end, in louder passages it quite swamps their voices, despite individual radio mics. Quieter passages show how carefully Lees has set the lyrics; it is a pity his playing sometimes overpowers them but enough gets through to follow the story.
A first performance in a new venue can cause problems; that one has probably been sorted, but in such a small venue and with everything acoustic one wonders why mic at all.
Reviewer: Howard Loxton