Apples
Adapted from the novel by Richard Milward by John Retallack
Company of Angels and Northern Stage
Empire, Middlesbrough
(2010)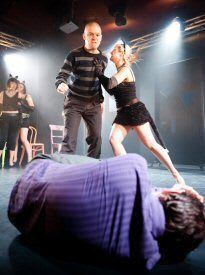 I am always wary of stage adaptations of novels. The process of adaptation is fraught with difficulty and very often there's either too much exposition so that the pace can be slow or there's too little included so that those who have not read the novel lose the plot. I confess that I haven't read Apples, even though it is set in Middlebrough, which is very close to me, so when Northern Stage announced that it was to co-produce it with Company of Angels I thought I had better read it. Then I changed my mind: I decided it would be better to approach it completely fresh so that I could judge how it works purely as a play.
The good news is that adaptor and director John Retallack's version works very well. There will almost certainly be things missing from the play which feature largely in the novel but the play is self-contained, no prior knowledge required, and the characters are fully rounded and believable.
Middlesbrough Empire, formerly a theatre, is now a nightclub and there is much mention of it in the play, so to be sitting there watching the events of the play unfold gives an added reality to a piece which is already gritty and realistic.
Apples takes a snapshot of the frantic lives of a group of hormonally-driven 15 year olds as they come to terms with life through sex, drugs and drink. OCD sufferer and porn addict Adam (Scott Turnbull) is totally infatuated with sexy Eve (Therase Neve); would-be hardman Gary (Louis Roberts) takes any opportunity for sex he can get, including raping the unconscious Eve; Claire (Jade Byrne) finds herself pregnant to Gary; Ben (Dylan Edge) and Debbie (Abigail Moffatt) complete the cast of this incredibly sad and desperate teenage generation in a milieu which is very far from the Garden of Eden.
It's a horrifying picture of life at the bottom of society's heap where gratifying their desires is the only way its inhabitants can see to give meaning to their lives. Eve's mother's cancer represents what she is escaping from through her drugs, alcopops and one-night stands.
This is not a play for the faint-hearted: the language might be considered shocking by many people but it is accurate, a true reflexion of the generation it portrays, and boys' obsession with sexual gratification is absolutely typical. And it builds to an unexpected (at least until the last few minutes) and horrific climax which is the inevitable outcome of the action as exemplified by the final moments as the lights fade.
Director Retallack keeps the piece moving at a cracking pace, reflecting the lifestyle, but also stirs our sympathies for the characters, essentially children beneath the surface, so that the final horror is compounded by an odd mixture of revulsion and deep regret at the lives of these lost souls.
He is well served by a superb cast who totally inhabit their roles. These are real people, from which which even the almost Brechtian alienation effect of watching them change the set or directly addressing the audience does not detract. They are a young cast, too, all twenty-somethings, which augurs well for the future of theatre in the North East. Special mention must be made of Neve whose Eve is hard as nails on the surface but desperately happy underneath and Turnbull who exactly captures the insecurities of a young lad trying to come to terms with growing up. And Roberts gives Gary that sense of low self-esteem which attempts to grab respect in the only way he knows.
This is not to undervalue the others: they simply do not have the same chances to impact on the audience but what they do, they do well, providing strong support.
Anyone wanting to understand - or, at any rate, to begin to understand - the pressures young people face in growing up at the bottom of our society's heap should see Apples. But don't expect an enjoyable evening of theatre - moving, illuminating, superbly well done, certainly, but "enjoyable" is definitely not the right word!
And yes, I am now going to read the novel.
"Apples" runs in Middlesbrough until 4th June, and then tours to Taunton (8th & 9th), Coventry (14th & 15th), Deptford (16th & 17th), Wasington (19th), Kingston (21st & 22nd), Oxford (23rd - 26th), Bristol (28th - 30th), Harrogate (1st - 3rd July), Chesterfield (6th & 7th July), the Latitude Festival (16th & 17th July), Whitehaven (23rd -& 24th July), Hull (26th & 27th July), Stirling (30th & 31st July) and the Edinburgh Fringe (10th - 28th August). It then runs at Northern Stage from 8th to 25th September.
Peter also reviewed this production when it arrived at Northern Stage.
Reviewer: Peter Lathan