April in Paris
John Godber
Derby Theatre, April in Paris Ltd and JAM Pictures Ltd
Derby Theatre
–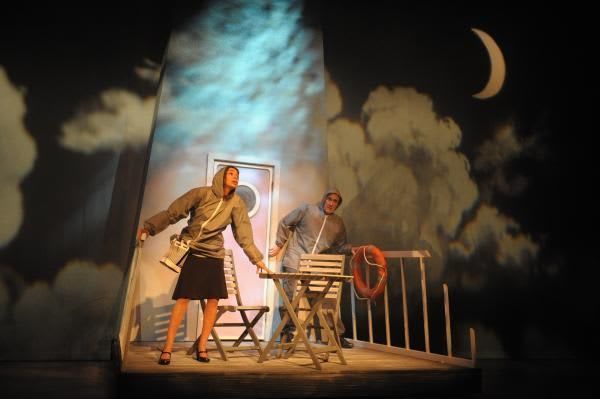 Back in the 1990s, Derby audiences and John Godber had a seemingly unbreakable bond: whenever the old Derby Playhouse put on one of Godber's comedies, the "house full" signs appeared outside and theatregoers clamoured for a longer run.
Now Derby Theatre is turning back the clock by staging Godber's 1992 two-hander April in Paris.
There is a sense of nostalgia in the building; on the night I saw the play, some members of the audience applauded enthusiastically at the end of each scene, made encouraging sounds when the set was unveiled at the start of the second half and rose to their feet at the end.
The writer/director has updated the play, not only to freshen it up and bring it into the 21st century but also to suit Shobna Gulati and Joe McGann who are totally at home in their roles as a bickering married couple.
April in Paris features Bet and Al who have been married for nearly 30 years and whose relationship is at a rocky stage. Al has been made redundant from his job with a building firm and he feels he might as well be dead because of the effects of the recession.
Bet works in a shoe shop and has dreams but is fed up with her husband's negative attitude and lack of purpose—"you're one grunt short of being a pig," she accuses him at one point.
When she wins a break in Paris in a magazine competition, they have the chance to reassess their feelings for each other and expand their horizons.
Godber's success is due to his ability to create credible characters; everyone can say they know a couple like Bet and Al.
Gulati and McGann pitch their roles to perfection and really could be a couple whose love for each other has become bogged down by their mundane lives.
There's sympathy for Bet who wants to do something exciting only to be thwarted by Al's miserliness and his disinclination to change, while many people can identify with Al who does not like to be taken out of his comfort zone and is reluctant to try anything new.
When we first see Al, McGann sports a vest, shorts, black socks and trainers. When the action moves to Paris, he is the stereotypical Englishman abroad. Yet you really feel for this personification of the working class when he confesses he is unable to enjoy the break because he has not earned it.
You might think that, because Godber has both acted in and directed April in Paris over a number of years, he would be out of ideas to give it zest and flair. Not a bit of it.
Gulati and McGann are able to extract the maximum laughs, poignancy and profundity from the script which never lets up throughout its duration of just under two hours.
Highlights of the production for me are Gulati's disco dancing on the boat across the Channel and McGann's erratic behaviour on the Metro which he finally decides to take despite his fears about being mugged.
When Gulati is violently sick after drinking too much wine on their way to France, I thought she might have been slightly over the top—until she proceeded to wipe vomit from her face, hair and clothes, prompting knowing groans from the audience.
April in Paris is a sheer delight and as good as anything seen on the old Playhouse stage in the '90s. A pity then that a few seats were left empty. The production is, as Al would say, an arc de triumph.
Reviewer: Steve Orme