Apartment 2012
Julian Sims
White Bear Theatre
(2010)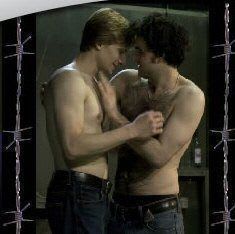 A couple of years from now and after a nuclear war that's obliterated the capitalist world, we are in an apartment block in Russia in one of the few places where it is still safe to live. It is now the home of a family of American refugees.
Don't ask how they got there, who dropped the first bomb or who fought whom. Although there is a brief indictment of US methods of bringing peace to the world from Vietnam through to Iraq and one character looks back to the happy days of communism before the Mafia took over running everything, this isn't a play about politics or a ban-the-bomb type warning. It's a Jewish family comedy!
There is an added frisson is seeing a formerly well-heeled family from Queens or Brooklyn coping with a degree of deprivation, though somehow mama Barbara (Sue Kelvin) seems to have managed to fly in with a shipload of her favourite shoes. Now she works as a fruit picker while husband Sam (John Guerrasio) makes washers in a factory. They have a minimal amount of Russian but fortunately next door neighbour Mrs Belakov (Bernice Stegers) seems to have fluent English and son Victor (Drew Horner) has been a quick learner. He's a fast worker too when he finds himself a Russian boyfriend Oleg (Benny Maslov).
Did I say comedy? It's more accurately farce: don't question the situation and it runs like clockwork and piles on the laughs from a running gags about Russian beer that makes you fart to an hilarious sequence when Victor is trying to make out with the diffident Oleg while his mother is shrieking like a hyena next door as Sam brings hers to climax.
Will they succeed in making their escape to Israel (don't ask how Israel of all places managed to stay radiation free!)? Will Barbara have to give her body to the Mafia man (Joe Ferrara) who is demanding money they haven't got? Did Mrs Balakov steal Sam's savings? Will they ever be able to vary their beetroot diet? Will Ivan and Oleg find happiness? One thing I can promise is a kosher sentimental ending to this romp of an evening which Michael Kingsbury's direction keeps moving quickly so that you never have time to question anything and his cast do him proud.
Of course the characters verge on cliché, but you don't have to be Jewish to enjoy it and, if you are, I bet you know a family just like this.
Until 25th April 2010
Reviewer: Howard Loxton