Arabian Nights
Toby Hulse
Watermill Theatre Company
The Watermill Theatre Newbury
–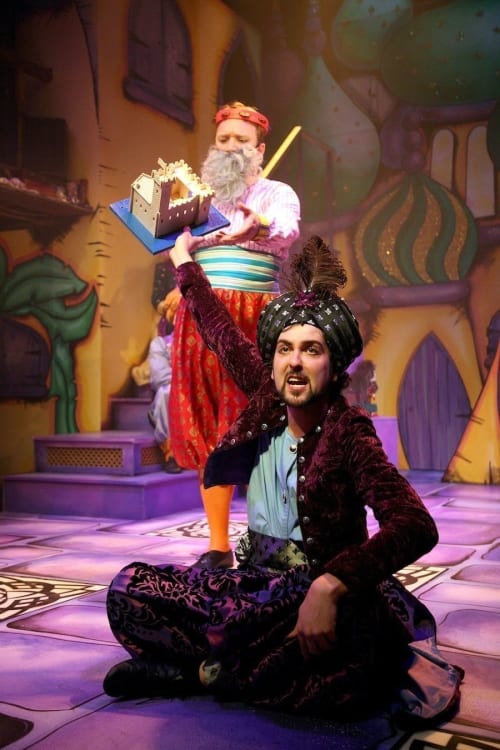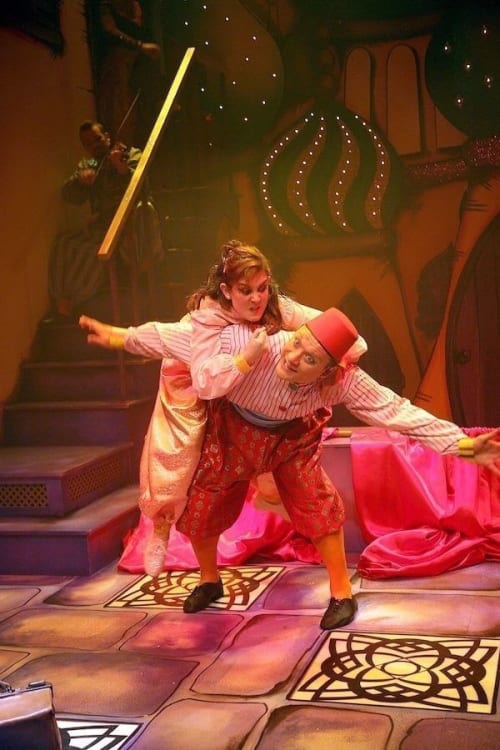 The Watermill Theatre's Christmas show Arabian Nights is a delicious slice of 'Turkish Delight' served up by six highly talented actor musicians who brought smiles to the eager enthusiastic children and their parents and grandparents.
Even the rising flooded river Lambourn that surrounds the theatre and the torrential rain could not dampen the many youngsters' spirits, and what a treat was in store for them.
This is Toby Hulse's third Christmas season at the Watermill and he has chosen some wonderful tales, some well-known and other less so, to adapt. Also returning for a third year is Robin Benfield who brings a freshness and excitement to this production that he inventively and skilfully directs.
Karen Mckeown's colourful, glittery set of purple and green Eastern turrets with large 'dressing up' boxes that contain props and costumes and hanging lanterns in the auditorium perfectly sets the scene.
Tarek Merchant is impressive as King Dara Al-Saeed whose heart is "frozen." He has heard 1001 stories but none of them is the "true one" that will melt his heart and the luckless storytellers have been put to death.
He has married Princess Cyra, a captivating performance from Amanda Wilkin who is imprisoned in a dungeon and forbidden to retell any tales for fear of being killed.
Kit Orton plays Hakawati, the storyteller, as well as several genies including a Welsh one with a gleeful confidence because, "once the story has started it cannot be stopped before it reaches the end", and the stories are a joy.
There is the tale of the flying ebony horse with some effective magical puppetry and the hilarious story of the rubbish fisherman that is great fun with Morgan Philpott savouring every moment. He has a great rapport with the audience and plays many characters with finesse including a belly-dancing uncle.
I loved the short tale of the golden bag which had an unexpected and laugh out loud ending.
There are some wonderful one-liners that appeal to the adults such as one actor saying, "I went to RADA" with the witty response from another, " well I went to ASDA"—all great fun.
All the actors take turns in telling a story. Samantha Sutherland as Kashifah and Rosalind Steele as Shada are superb as the animal-coated chav princesses in a version of Cinderella with Wilkin as a tortoise with an incredible shell. There is a repeated mantra of "beauty isn't all as we know it" and some classic pieces of slapstick, much to the delight of the audience.
The King is eventually persuaded to tell the story of Aladdin that includes some enthusiastic belly dancing audience participation.
The versatile cast seems to be enjoying the storytelling, with some entertaining asides, as much as the audience and Simon Slater's original score is performed with gusto by the cast.
If you are looking for an alternative to the traditional pantomime then you could do no better than this fun-filled family entertainment. The Arabian Nights is pure magic.
Reviewer: Robin Strapp