The Arab, the Jew and the Chicken
Conflict Relief members
Conflict Relief Theatre
Courtyard Theatre
(2008)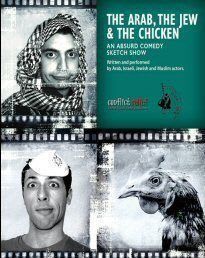 An Arab, a Jew and a chicken marinated with absurd images and laced with ridiculous conversations served by a talented group of five actors guarantee an entertaining evening.
The fifteen sketches gravitate towards a central theme of the absurdity of socio-political conflicts. The group use mime, clowning, exaggerated gestures and singing to reduce these conflicts to a pathetic, yet sobering, reality.
Each of the five actors comes from a different background; Jana Zenadeen a Lebanese-American, Ofer Yatziv an Israeli, Nour Alkawaja a Palestinian-Canadian, Rebecca Gross who is English-Jewish and Adam Elabadaly, an Irish-Libyan. This diversity translates comfortably into an almost even-handed mockery of all parties of the different conflicts. They highlight in a droll manner how much those parties have in common and the extent to which their differences are based on long-standing prejudices.
The prelude sketch is on an imaginative "Loveboat" hosted by sexy Roberta (Zenadeen). She introduces her guests with exaggerated charm, a Rabbi (Yatziv) and a Sheikh (Alkawaja). When it comes to peace, an attempt is made to cool the heated confrontation. Roberta asked the panel members their views on Britney Spears. Well, on this subject the opposing parties disagree but there are signs of some common ground.
Several cameo roles seem to provide a link between other vignettes. There are sketches of cardboard caricatures depicting a "typical" individual representing either an Israeli Jew or an Israeli Arab. It works, though the dialogues in places would benefit from better editing to weed out frills that undermine the punch lines.
The group does not shy away from having a scene where Hebrew and Arabic are the sole languages used. The two characters' inability to understand each other is shared by an audience that can understand neither. It is a poignant feature underlining the misunderstanding between Arab and Israeli that can prove fatal.
The current popular TV programme, the X-Factor, was the inspiration for the "Land-Factor" sketch, which uses a song competition to win land. The contestants come out with illogical responses, emphasising the absurdity of the struggle over land. In the "Teacher" sketch, children gather in London to learn about peace and harmony, but the sad reality is that they arrive brainwashed and parrot the well-furrowed clichés that perpetuate the antagonism. In the "Mediation" scene, the peace talks are hijacked by a sexual liaison that develops between the Israeli and Palestinian delegates, but the outcome is no different from the political reality and likewise ends in mutual recrimination
All in all The Arab, the Jew and the Chicken provides a highly entertaining evening by stripping the Middle East conflict to the bare bones. This production is a promising start for the Conflict Relief Theatre Group, who write, direct and perform with considerable verve.
Reviewer: Rivka Jacobson