Arcadia
Tom Stoppard
Birmingham Rep
(2004)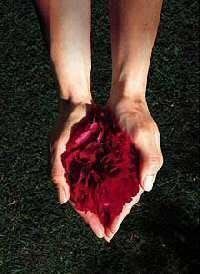 The cast of this revival of Stoppard's Olivier Award-winning play must have thought that someone backstage had mentioned the Scottish play by name - several times.
Just before curtain up, the computer which controlled the music and sound effects crashed and wouldn't re-boot. After 20 minutes the management decided the show must go on and they'd try to repair the offending hardware during the interval.
The actors must have struggled at times because they didn't have sound cues but, to the cast's credit, no one in the audience noticed anything was wrong until there were a couple of references to someone playing a piano and a steam pump starting up. It didn't make the play any less entertaining.
The publicity for Arcadia describes it as "part detective story, part love story, a comedy of mathematics, literature and landscape gardening." That may put some people off but it's soon apparent why it was voted best new play in 1993.
Arcadia examines what happened on a weekend in 1809 at Sidley Park, the Derbyshire country estate of the Coverly family. Lord Byron, who we never actually see, and Septimus Hodge are both lovers of Mrs Chater. Their relationships become entwined with her husband when he finds out about the affairs.
In the present day, Bernard Nightingale uncovers a sensational theory which will make his fortune if he only he can find proof.
Rachel Kavanaugh's production moves effortlessly from the 19th century to the 21st and back again, with modern theories expounded and later shown to be true or false.
In many ways Arcadia is a typical Stoppard, with a couple of literary heroes, humour co-existing alongside seriousness and a philosophical theme thrown in for good measure.
The problem with the play is that at times it's too technical. There are only a certain number of one-liners you can put in about the advance of science and mathematical formulae before it becomes too dry, too convoluted. But if you hang in there, you can get all sorts of pleasure from the parts of the play which don't go too far over your head.
There are some excellent performances from the cast of twelve. Loo Brealey is totally credible as the innocent, precocious 13-year-old Thomasina Coverly and Blake Ritson excels as promiscuous poet Hodge. I enjoyed Simon Coates' cameo as gullible cuckold and budding writer Ezra Chater, although he can hardly pass for 31, as the script suggests.
In the 21st century scenes, Hermione Gulliford is relentless in her pursuit of the truth through her research and Nicholas Burns is touchingly vulnerable as Valentine Coverley, the scientist who nearly gives everything up because of his lack of progress.
However, I am uncomfortable with John Hodgkinson as Nightingale. He gives a fine performance as the academic hack but seems to have an identity problem which is probably more of Stoppard's making. That's surprising when you consider the playwright started his career as a journalist.
With more than a passing resemblance to Alistair McGowan, Hodgkinson is too suave and too much of a spin doctor to be a hack, yet relying too much on his instincts and not enough on facts to be a don. He has the aura of an advertising executive, exaggerating the events of the past as he would one of his client's products.
At the end of the press show the music almost magically started up just in time for the actors to waltz majestically off the stage. There were some forced smiles at the curtain call - the evening was probably much better than some of the actors imagined.
"Arcadia" runs until November 13th
Reviewer: Steve Orme