The Archbishop and the Antichrist
Michael Ashton
Part of the Convictions festival
Synergy Theatre Project Soho Theatre
(2011)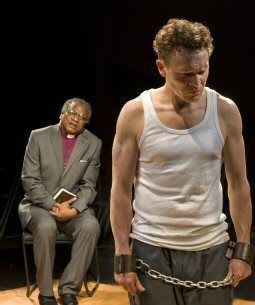 When Michael Ashton was sent to prison in 2007, having served in the army and been a human rights lawyer, theatre was probably the last thing on his mind. But the opportunity to attend a playwriting course courtesy of Synergy Theatre Project soon changed that. Ashton writes, "I was never quite sure what I stood for, but I always knew what I stood against." Having spent a number of years in Africa he adds that injustice is everywhere, but "only in Africa do we see it manifest at every level."
The Archbishop of the title is Desmond Tutu and the recent disappearance of a young boy is playing on his mind. The Archbishop and the Antichrist is not a depiction or re-telling of any particular real-life event during or post-South Africa's Apartheid, but it does strongly echo the case of James Seipei, also known as Stompie Moeketsi, a fourteen year old activist who was murdered after being kidnapped by Winnie Mandela's bodyguards.
On death row, self-declared monster Piet Blomfeld awaits Tutu, having written him a letter. An aggressive white South African, Blomfeld recounts how he enjoyed slitting throats as he fought for 'his' country and would soon pay the ultimate price sentenced to hang. Head to head, the men learn much from one another and an interesting relationship forms, which in itself turns heads from both Tutu's wife and secretary.
In the role of Tutu Jeffrey Kissoon captures the very essence of this religious celebrity. His calming voice enlightening those in need. Kissoon performs well, physically embodying Tutu's posture and vocal intonations, although still appears a little unsettled with his lines and occasionally slips into caricature.
As Blomfeld, Oscar Pearce commands attention. With fire behind his eyes, he successfully portrays this racist menace scared of his ultimate fate. There is great intensity in his convincing performance of a lost soul full of pent up aggression and his Joker-esque chilling laugh is truly unnerving. But Pearce is also able to show the character's weaker side and his touching call for help and breakdown in the second act is most moving.
Director Lucy Kerbel has taken the decision to present the play in the round, which works almost perfectly. Each audience member receives a different view of affairs and thus sympathizes with certain characters more, depending on where they're seated. The only downside comes during the Truth and Reconciliation Commission scenes, where, seated at extreme opposite ends of the acting area, words alone fly across the space. This is the perfect opportunity for dramatic showdown between Tutu and Winnie Mandela and last State President of Apartheid era South Africa F.W. de Clerk, but little tension is achieved due to the characters' seated static nature. Although at this point the audience assumes the role of the public gallery, affording actors the opportunity to respond and gesticulate to their 'people', the large void of space in the centre of the 'arena' leaves the proceedings rather empty of any intense emotion or atmosphere.
A series of conversations, The Archbishop and the Antichrist successfully explores what it means to forgive. As one character says, 'Forgiving is harder than hating' and Ashton's play truly exemplifies and embodies this adage throughout. Good theatre should be a springboard for discussion and judging by interval and post-show conversations, The Archbishop and the Antichrist most certainly achieves this.
Playing as part of Synergy Theatre Project's 'Convictions' festival at the Soho Theatre until 21st May 2011
Reviewer: Simon Sladen