An Argument About Sex
Pamela Carter, a response to Pierre de Marivaux La Dispute
Co-production between untitled projects, Traverse Theatre and Tramway
Traverse Theatre, Edinburgh
(2009)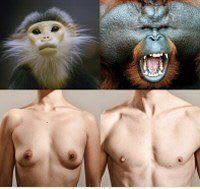 Matt Ridley proves very eloquent on how human biology affected the financial crisis, though perhaps if the former chairman of Northern Rock had spent more time on banking than biology we might not even be in the mess we are today.
Pamela Carter must surely include Ridley in the video interview of act three for this delicious irony, but it is odd that Ridley is treated as an eminent scientist and his catastrophic deficiencies in other fields are left untouched.
While the piece appears to miss a trick here, it does score in other areas. It makes excellent use of the Traverse, with the audience herded to a garden in Traverse One from an office in Traverse Two.
Carter's writing is strong in the duel of words between City workers Charlie (Stuart Bowman) and Helen (Selina Boyack) in the first act, but in sticking to Marivaux' text in the second act it feels like the play is driving into quicksand.
Sparks fly between Bowman and Boyack, both sharp-witted actors; there is a definite sense of intimacy in the little office and their deep-cutting insults. The clinical pastoral second act was less intimate despite having the audience very much sitting in on the action.
The second act was the experiment: two girls and two boys thrown together after an upbringing free from the knowledge of gender roles to see how much gender differences are inherent. At the start the innocence of the children was both charming and hilarious, but the interaction swiftly became repetitive.
The second act could have been considerably shorter with the same or greater impact but instead it attempted to ram the point home over and over. The point of the exercise in fact, despite the interminable length of the act, never did seem to be reached.
The Ridley interview, that forms most of the third act, was an amusing theatrical device as the audience was suddenly confronted with the play's writer and director (Stewart Laing). Even if they didn't confront Ridley over Northern Rock, it was still a great discussion and Ridley does have a real talent for explaining science.
A really ambitious project that does succeed in many areas and was certainly a production that will be remembered for some time to come.
Reviewer: Seth Ewin