Ariadne auf Naxos
Richard Strauss, libretto by Hugo von Hofmannsthal
Met Opera on Demand
Metropolitan Opera, New York
From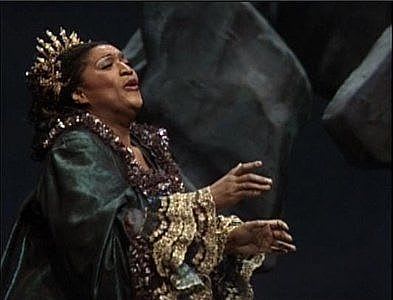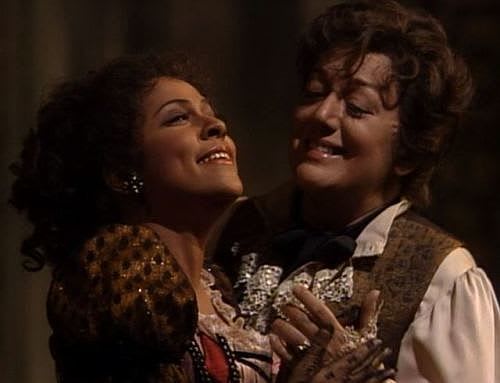 I've seen many different treatments of Richard Strauss's 1916 opera Ariadne auf Naxos but I've not seen one as traditionally staged as The Met's since my earliest opera-going days in the mid-1970s. There's something comforting about the 18th century sets and costumes without any of the tricksy concepts that can mar as well as enhance this work.
The production dates from 1988 and the line-up of singers is staggering: Jessye Norman, James King, Kathleen Battle, Barbara Bonney and, best of all, Tatiana Troyanos. It's a gathering of some of the greatest singers of the late 20th century.
The libretto is by Hugo von Hofmannsthal, who collaborated with Strauss on a number of works including their greatest hit Der Rosenkavalier. He was one of the finest librettists ever to work in opera and for this one he came up with an ingenious conceit: to let high-brow and low-brow culture smash into each other.
Set in 18th century Austria, it is in two parts: The Prologue lasting for about 40 minutes and The Opera which runs for 80 minutes. The Richest Man in Vienna is putting on an entertainment consisting of fireworks, a commedia dell'Arte play and a new opera commissioned from an excitable young composer.
During the Prologue, he decides, to save time, they should perform both the comedy and opera simultaneously, which throws everyone into confusion. In the second part, we see that play out. While The Soprano pours her heart out in a long lament, she's constantly interrupted by the commedia characters, anxious to have their moment of glory. The comedy eventually fizzles out and paves the way for a gloriously romantic ending to The Opera (in which Ariadne, abandoned on the island of Naxos, is reunited with her lover Theseus).
I always found the late Jessye Norman a bit cold vocally and her acting perfunctory, as it is in the busy Prologue, but there's no disputing she was a huge star, which is exactly what is needed for The Soprano. James King was a tenor of considerable heft but little dramatic instinct. Norman's emoting is rather generalised but at least she tries. King just stands there like a log, although he does deliver the right sounds when he needs to.
Zerbinetta, a variant of Columbina, is one of the most spectacular coloratura roles in modern opera and Kathleen Battle pulls it off magnificently. She has to hush the audience towards the end of her big number in The Opera, as they're about to erupt prematurely. When she does finish (with the words "Stumm, Stumm"), they go wild.
The other comedy characters tend to be a bit annoying. The dancing and prancing is a bit twee and not at all what commedia was about but they do liven the otherwise static second stretch.
It can often happen with this work that The Opera is a little bit of a disappointment after the rollicking Prologue and that's slightly the case here. The first 40 minutes dazzle with the speed and busyness of backstage dilemmas and The Opera then unfolds at a much slower pace, although the music is ravishingly beautiful.
The shining moments of the whole evening are those when Tatiana Troyanos appears as the impetuous young Composer. Her effortless singing and acting are just stunning and she stands out in a cast that vocally could scarcely be bettered.
Long-term musical director of the Met James Levine (until his fall from grace) could be very variable but here he conducts a furious and voluptuous account of The Prologue, and languishingly lovely performance of The Opera.
All told, this is a trip back to a different world of opera from today. It may only be 32 years ago but the backward-looking production makes it seem longer. That's no bad thing. It's a thoroughly enjoyable two hours and a great reminder of how effective traditional opera could be.
There are a number of ways of tapping into this opera and others at will. The Met Opera On Demand service offers annual ($149.99) and monthly ($14.99) subscriptions as well as a one-off payment ($4.99) for those who have limited time or only want to watch the occasional opera.
Reviewer: Simon Thomas