Aristocrats
Brian Friel
Donmar Warehouse
Donmar Warehouse
–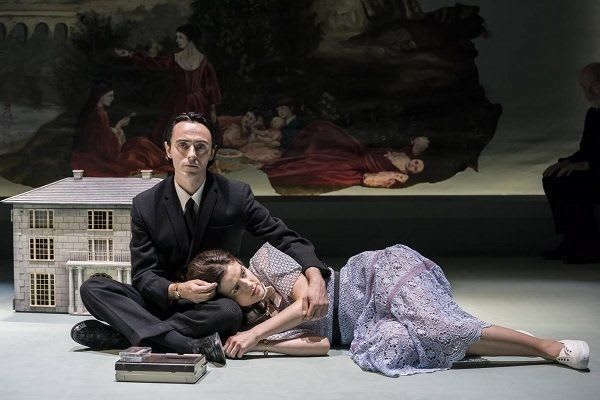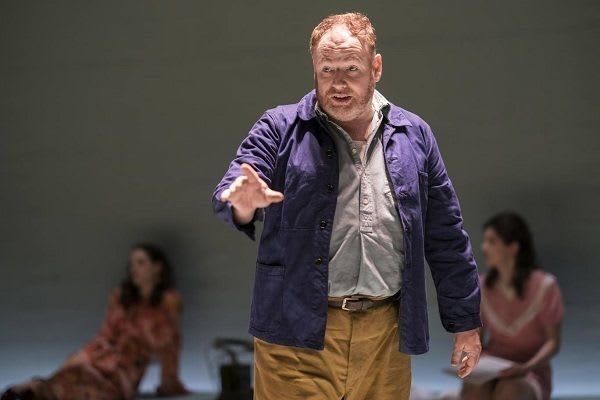 "God help the poor man if he thinks he's heard one word of truth since he came here," says Alice O'Donnell—the "poor man" being one Tom Hoffnung, an American academic who has come to Ireland to research, in his own laconic words, "recurring cultural, political and social modes in the upper strata of Roman Catholic society in rural Ireland since the act of Catholic Emancipation".
Alice is one of four siblings who, in Brian Friel's Aristocrats, are gathered in the family's ancestral home in Ballybeg, Donegal, for the forthcoming marriage of the youngest sibling, manic depressive Claire, to local greengrocer, Jerry McLaughlin—fat, bald, old enough to be her father and a widower with four children and a live-in sister.
In Aristocrats, Friel revisits perennial themes: place and identity, emigration and homecoming, memory and history. Characteristically Chekhovian, the play is essentially a drama of place rather than plot, as Friel explores the way that his characters' sense of self, and their relationships, are shaped by their symbolic affiliation to the upper-class, Catholic O'Donnells' once splendid, now crumbling, manor house.
Tom has explored and digested the contents of the library of Ballybeg Hall but it's family lore and reminiscence that he's seeking. And the arrival from England of Alice and her husband Eamon, and of Casimir, who has left his wife Helga and three children in Germany, to join the youngest sibling, Claire, and the eldest, Judith, promises to release the flood-gates.
But the family's memories of life at that Hall, where their father, District Justice O'Donnell, ruled with a rod of domination and fear, are constructed, misleading and delusory. And Tom himself has a rose-spectacled view of the Irish as a tragic nation of the political engaged; he's not necessarily the best 'historian' to document life of the "gentry" in the "big house" or to unravel the knots of fictionalised memory.
This is what the sharp-tongued, but no less sentimental Eamon—whose grandmother was a servant in the Hall for fifty-seven years—perceives when he advises that Tom should write, "a great big blockbuster of a gothic novel called Ballybeg Hall—From Supreme Court to Sausage Factory; four generations of a great Irish Catholic legal dynasty; the gripping saga of a family that lived its life in total isolation in a gaunt Georgian house on top of a hill above the remote Donegal village of Ballybeg".
The former patriarch is now sick, senile and near death and the house itself is similarly afflicted by physical decay and a disintegration which is symbolic of wider Irish political, social and cultural currents. When Casimir plays a tape-recording of the voice of Anna—the fifth sibling, who is a nun at the St Joseph's mission in Kuala in Zambia—it turns past and present upside-down and Father O'Donnell dies of shock. The wedding gathering becomes a funeral wake, releasing the characters from the destructive grip of their 'aristocratic' past.
Lyndsey Turner has previously directed acclaimed productions of Friel's Philadelphia, Here I Come!, Faith Healer and the playwright's adaptation of Turgenev's Fathers and Sons at the Donmar Warehouse. Here, she adopts un-naturalistic minimalism, the central trope being the peeling away of artifice: thus, in "a house of reticence, of things unspoken", there is gradual disclosure and exposure, symbolised by the stripping away of the bland wallpaper to reveal a historic painting of ancestral heritage and homeliness—which is itself, ironically, a representation of the false self-construction of the O'Donnells who were and are, in truth, isolated by class and by their Catholicism.
Friel's text provides characteristically detailed set descriptions and these are relayed to us at the start of each act. The precise features of the lawn, gazebo, pagoda roof, alongside the interior spaces—a study, with a writing desk and fireplace, for example—are not merely decorative but provide evidence of the Hall's prime and decline. Designer Es Devlin's abstractions and symbols only partly compensate. We have a symbol of the family's fantasies—a miniature manor house on a square 'lawn', where the family gather to picnic and play imaginary croquet—and a few props: a telephone, a chair or two. But, there is little sense of decline and decay. The lawns should be unkempt but are blandly pristine under Paule Constable's bright lights.
It took a while for the cast to get into their stride, but there were some strong performances, most especially from David Dawson as Casimir and Eileen Walsh as Judith. Dawson conveyed Casimir's nervousness and gawky lack of grace without undue caricature, and captured his innocence, gauche enthusiasm and delusory optimism with tenderness. His account of his father's cruelly honest remarks about Casimir's 'peculiarity' would surely have had psychologists in the audience champing at the bit to diagnose and cure this 'damaged' and disturbed young man.
Eileen Walsh's Judith is first heard as a disembodied voice relayed via the baby monitor that Willie Diver, a local chap who courts and supports Judith—renting her unprofitable land to supplement the father's pension which is her only income—has fitted to make her life easier (with painful irony, it also enables their father to sustain his surveillance of his clan). Though Judith doesn't have much to say, Walsh makes her words tell. We learn from Alice that she fought in the streets in the local Battle of Bogside—hence her father's accusations of 'betrayal'—and had a baby by a Dutch reporter of the political events. But, Walsh's account of Judith's mundane and monotonous existence as a carer and coper afflicted by economic and personal constraints is deeply affecting.
As the alcoholic Alice, Elaine Cassidy is fragile and vulnerable but ultimately resilient. Her husband Eamon might be presented with more unpredictability and edginess by Emmet Kirwan, but David Ganly's Willie Driver is convincing. Ciaran McIntyre's Uncle George lingers in the shadows, a silent judge of both past and present. James Laurenson thunders imperiously making Father O'Donnell's eventual appearance and collapse all the more poignant.
Turner doesn't make enough of the music played by Claire, a talented pianist, through which Friel articulates the dramatic structure and the characters' emotions—as epitomised by Casimir's declaration at the start of the play: "when I think of Ballybeg Hall, it's always like this: the sun shining; the doors and windows all open; the place filled with music." The Chopin waltzes, preludes and sonatas are as vital a part of the fabric of illusion as the imaginary croquet game played by Aisling Loftus's painfully raw Claire and first Casimir, then Willie—who is sucked, with surprising elation, into the fantasy.
The final act is a Chekhovian leave-taking à la Cherry Orchard, but it is a departure that offers a hope that is absent from the Russian play. Casimir opens up to Eamon—"I'd really like to talk to you because I think you—I think you understand… (He gestures towards the house) …what it has done to all of us" and Uncle George finally breaks his silence, agreeing to travel with Alice and Eamon to London: "haven't been to London since... the week Edward the Seventh died… Another visit's about due, I suppose. I'll pack."
Finally, the characters choose to push aside their psychological myths and the past, present and future are brought into fragile but hopeful balance. Unfortunately, Turner's distancing abstractions mean that we don't care as much as we should.
Reviewer: Claire Seymour