ARM
Kathleen Wijnen and Erik Bassier
Mireille & Mathieu, Richard Jordan Productions, Theatre Royal Plymouth in conjunction with Big in Belguim and Summerhall
The Drum, Theatre Royal Plymouth
–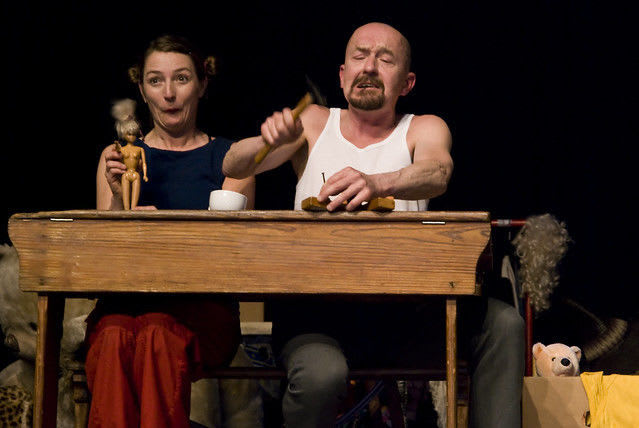 As talented and personable as Kathleen Wijnen and Erik Bassier may be, this was just not for me.
The brilliant premise of myriad objects unpacked at a flea market provoking stories and absurdity is diminished by a series of self-indulgent ridiculousness, most of which had a glimmer of promise and humour swiftly drowned by being overlong or just missed the mark.
Bounding about the stage like overgrown children, Belgium's absurdist company Big's long-serving duo deliver fast and frequent—often clever—sketches with galloping ironing boards, a plethora of yellow Y-fronts and ever-smaller dromedaries galore.
Agile puppetry with blankets, bunnies and Barbies, stinky socks escaping from a suitcase and teddy bear hide and seek give way to garden gnomes fishing in landscape paintings, dog walking and grotesque singing dolls. There's a crucified pumped Ken whizzing about performing aerobatics on his cross, frantic fatal flamenco repeated ad tedium, falling over and water thrown.
Vignettes and skits strung together by no more than a glut of discarded detritus screech to a halt after a very long 50 minutes—although I'm sure the matador mangling would have been extended to the full hour had there been a sufficient show of hands.
Tedious and divisive but, love it or not, there is no denying the talent of the players.
Reviewer: Karen Bussell