#Arming the World
Christine Bacon and Ben Chessell
ice&fire theatre and Teatro Vivo
Theatre Square, Stratford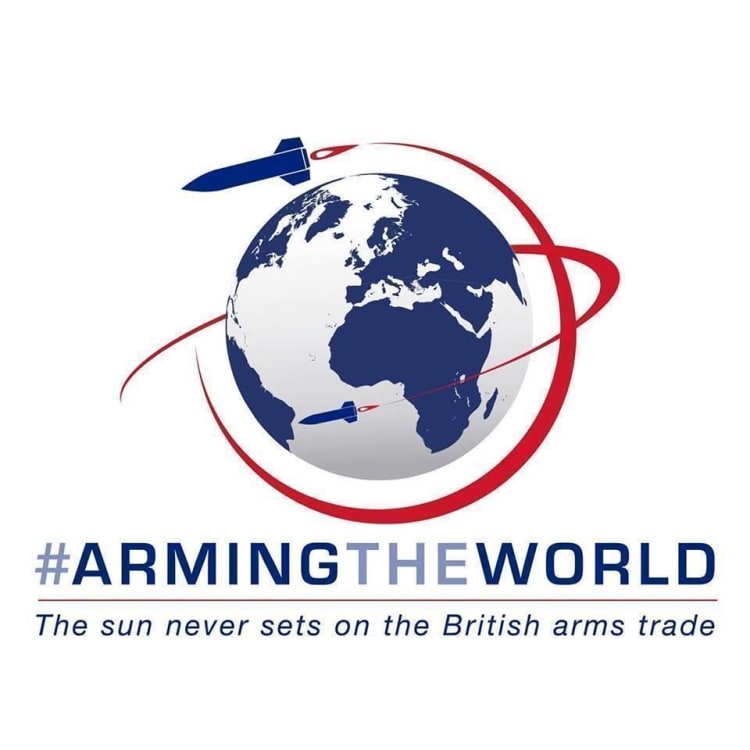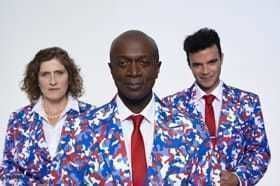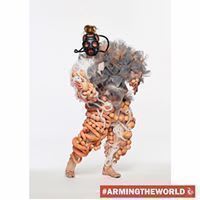 All this week, at the Excel Centre just a few stops away on the Docklands Light Railway, the world's arms buyers and sellers have been gathering at the DSEI, an international arms fair supported by the Ministry of Defence and the Department for International Trade.
It is open to official delegations, media and trade visitors who are engaged "in legitimate areas of defence and associated industry, government, equipment procurement, defence colleges and research establishment" and they have to be invited. It certainly isn't for Joe Public. Would you qualify to see what is on sale and to share knowledge in its conferences and seminars? It is unlikely.
But Arming the World gives a glimpse of some of the goodies on offer. Its team of ambassadors wants the public to take pride in an industry that makes such a contribution to the UK economy (and the arms makers' income). After all, the taxpayer supports it.
The team has been meeting and greeting the public at several places this week already; now they are at Stratford with an interested crowd gathered beneath their umbrellas who are enthusiastically welcomed by a threesome in patriotic read white and blue outfits.
There's Sir Rex Henderson (Mensah Bediako), Operations Manager, elegant in style and clearly the boss here—and a clever piece of PR in his being obviously BAME, a youngster full of enthusiasm called Zac Z (Tom Ross-Williams) who is Social Media Manager and Robyn Colia-Fetcher (Rebecca Peyton), Head of Brand, whose extravagant body language seems infectious.
These three seem very much part of the business and present it in glowing colours with its awe-inspiring astronomical price tags and profits. This isn't just a recital of facts and figures; Sir Rex reveals his multiple gold card waistcoat and gives a rendering of "Goldfinger" to put over the industry's value to those who aren't used to handling millions as they proudly remind us that "the sun never sets on the British arms trade"—you can find our weapons all over.
Of those weapons, they each have a favourite product of which they have brought an example to give us ordinary people a real taste of what the visiting VIPs find at DSEI. These are weapons of character, with real personality.
For Brand Head Robyn, it's a plane: the jewel in the crown of weapons systems she thinks. The Eurofighter Typhoon (Samantha Lawson), first conceived during the Cold War when taxpayers put up £7 billion for research (and over 40 years a further £30 billion for development), though the aircraft feels it's bad manners to mention her age and is far from happy and being presented to what she calls "riff-raff" when she's used to Heads of State and other VIPs as her audience.
She certainly looks very stylish and, since each one of her gets a price of £125 million, she has been sold to many countries including Oman, Kuwait and Saudi Arabia (where Prince Charles went along and did a sword dance to encourage her purchase) it is not surprising she's snobbish: nevertheless she is coaxed into giving a demonstration flight.
For Zac Z, the weapon of choice is the Paveway IV laser-guided bomb (Jason Eddy), which can be launched from a plane like the Typhoon and then controlled to reach its target and its detonation set off. The demand for this one was such that in 2015 some meant for the RAF were diverted to Saudi Arabia who needed such accurate weapons for use in the Yemen. They have a good track record for their use, claimed Zac. Only 1 in 3 times has its use breached international law.
Zac perhaps lets his enthusiasm go too far as he goes on to explain how this industry operates. A customer places an order (perhaps after a fair like the one down at Excel) and half up front but it takes time to build and before it is ready they cancel the order. But the brilliant thing is that doesn't matter; there is something called the Export Credit Guarantee Scheme, so the Government—that means the taxpayer, that's you—coughs up.
What gets really thrilling is when one of the audience gets the chance to operate the Paveway IV in action, sending it rushing around. Where will they detonate it? A single explosion could create casualties from Theatre Square to Stratford station. In fact they don't, which nearly gives the weapon a nervous breakdown since his whole existence reaches a satisfying climax on detonation.
Sir Rex's choice is something very different, its importance too easily underestimated: CS gas (Mark Stevenson) comes in a canister like a spray paint can. It too gets a demonstration which releases a some-wreathed figure of pipes, bobbles and flounces that suggests all kinds of diseases, not just a tear gas that affects the eyes and the breathing (and it is a costume that designer Takis can be proud of).
The Geneva Convention bans the use of CS gas in warfare but that doesn't stop it being used against civil disturbance and demonstration, as it was against Hong Kong pro-democracy demonstrators, in the Arab Spring and even against refugees in the woods around Calais.
Sophie Austin's director gives a tongue-in-cheek face to a very serious message. Of course, there is no attempt to provide a "balanced" view; this is the kind of clear-cut agit-prop I haven't seen in the theatre for a long time. Intriguingly, Joan Littlewood's statue was looking down on it, a link back to McColl's "Red Megaphones" of the 1930s.
Arming the World is performed with tremendous conviction and, though some things work better than others, it holds its audience despite continuous rainfall—it is a free show for which you just turn up. This isn't an audience that has paid for a ticket and wants to get its money's worth. Some will have planned to attend; others have simply been passers-by yet they stay for over half an hour on hard benches under dripping umbrellas or standing in the rain. What could be a better endorsement?
There are further performances in central London on Saturday 17 January at Trafalgar Square (North Terrace) 12:30, Leicester Square (by Tkts) 14:00 and The Underbelly (outside theatre) 16:30.
Reviewer: Howard Loxton