Around the World in 80 Days
Toby Hulse, based on the novel by Jules Verne
Leeds Playhouse
Pop-up Theatre, Leeds Playhouse
–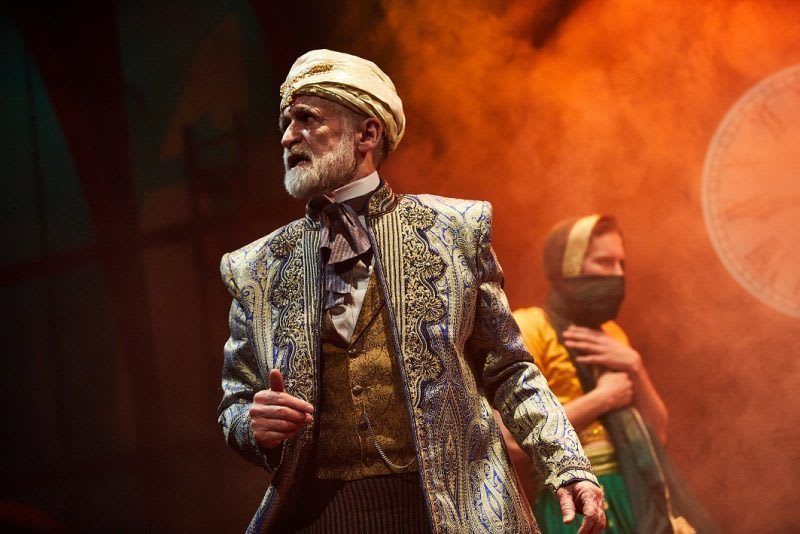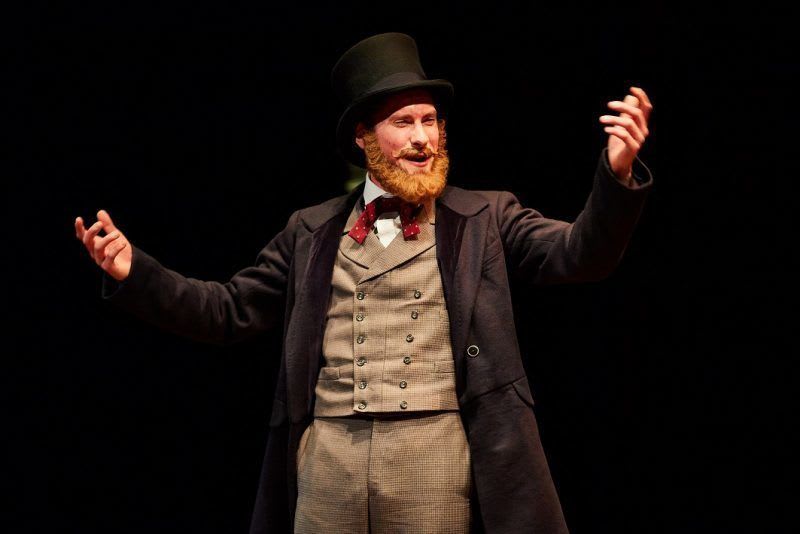 I suspect that Around the World in 80 Days might be one of those novels (like Frankenstein or Wuthering Heights) that everyone feels they know, regardless of whether they've actually read the book or not.
The image of Phileas Fogg traversing the globe in a hot air balloon has become iconic thanks to the 1956 film starring David Niven and Shirley MacLaine. However, there was no hot air balloon in the original novel, as the novel's author Jules Verne (Dan Parr) takes pains to point out in this madcap, metatheatrical production.
Much like Patrick Barlow's farcical take on The 39 Steps, Toby Hulse's adaptation of Around the World in 80 Days relies on the versatility of four game performers, lighting-fast costume changes and the ingenious use of props to tell a thrilling tale of adventure.
When Victorian gentleman Phileas Fogg (Robert Pickavance) wagers that he can travel the world in 80 days, he immediately sets off with his new manservant, Passepartout (Joe Alessi).
The stakes are high. If Fogg loses the bet, he will be financially ruined. Not only must he withstand the travails of 19th-century travel, he's also being pursued by an irrepressible detective, Fix of the Yard (Darren Kuppan), who suspects Fogg of perpetrating a recent robbery.
It becomes clear early on that Toby Hulse has no interest in offering us a straight adaptation of the Verne classic, and I think the show is all the better for it. This is an unabashedly irreverent piece of work that constantly winks at the audience, and I found myself utterly swept up by its jolly sense of mayhem.
I enjoyed the device of having Jules Verne comment on what the actors were doing, but I felt that he interjected a bit too often in the beginning. That being said, the show hits its stride once Fogg and Passepartout set off on their voyage, and—notwithstanding a slight tendency to over-milk jokes—the laughs come thick and fast.
It was a pleasure to see the actors let rip after watching them in Amy Leach's moody production of Hamlet. Robert Pickavance plays Phileas Fogg with a twinkle in his eye, and Dan Parr brings an almost dog-like enthusiasm to the part of Jules Verne. Furthermore, when Parr dresses up as an Indian princess (with a full beard), the two actors form a surprisingly touching love-match.
There's inspired clowning from Joe Alessi who, in one hilarious sequence, has to run back and forth across the stage to play both Passepartout and an officer at the Consulate of Suez. Equally impressive is Darren Kuppan as the nervy, put-upon Fix, who throws himself across the stage with an admirable disregard for his own safety.
Director Alexander Ferris has put together a hugely enjoyable show that everyone in the family can enjoy.
Reviewer: James Ballands