Around the World in 80 Days
Jules Verne, adapted by Laura Eason
New Vic Theatre in association with Royal Exchange Theatre
Yvonne Arnaud Theatre, Guildford
–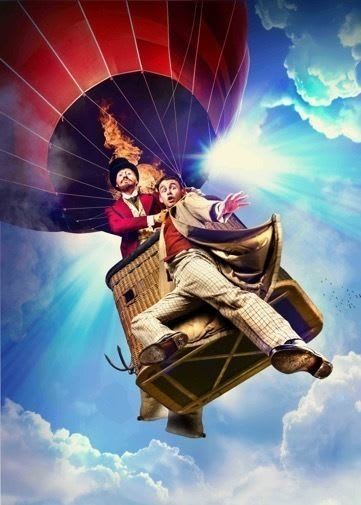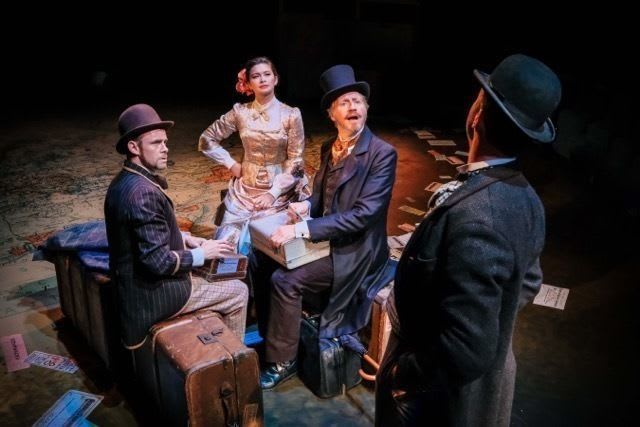 Director Theresa Heskins comments in the programme notes how difficult a concept it is to stage this story with its multiple venues, numerous methods of travel, 125 characters—and one elephant.
She's not averse to rising to a challenge but does need a little help, so brings in designer Lis Evans as well as the whole creative team and all the actors to give their input and the result is—well it's not quite a pantomime, not quite a musical and not quite a drama but somehow a mixture of all three with a lot of both visual and verbal comedy thrown in.
You could say 'something for everyone' or just a confusing mixture, but it ends up being very entertaining and often very surprising. You do however need to bring along your own imagination to visualise what you are meant to be seeing—especially the elephant.
The life of Phileas Fogg (a strangely dignified Andrew Pollard) is one of mathematical precision and runs like clockwork, demonstrated musically by 'tick tock' get out of bed, 'tick tock' exercise, 'tick tock' cup of tea, the clockwork theme continuing as he comes down from his apartment to his club, has his daily game of cards, and returns home before starting the whole procedure again the following day.
A man who, like our director, cannot resist a challenge, he wagers £20,000 that he can travel around the world and arrive back at his club precisely 80 days later. The fact that he is a very rich man must be a big help in his endeavour, but adds complications when Inspector Fix of Scotland Yard (Dennis Herdman, comically frustrated at every turn) is on the trail of a bank robber and is convinced that Fogg is his man, following him around every venue attempting to make an arrest.
Fogg, having dismissed his valet for bringing in shaving water at 84°F instead of 86°F, immediately hires another one, Frenchman Passepartout (Michael Hugo), who turns out to be the real star of the show getting into and out of trouble at every stop along the way while coping with luggage, passports and the inspector. He also deals with the audience, especially those in the front row, with a lot of comical repartee, praising or berating (the latter more often than not).
The backdrop is a map of the world showing all the places visited and the set is composed practically all of luggage—even the stairs to Fogg's apartment are suitcases and trunks. A few tables and chairs are whisked in and out when appropriate and, really, what else do you need, apart from eight diverse actors who can cope with the 125 equally diverse roles adding versatility, comedy, a great deal of athleticism and a multitude of impossibly speedy costume changes.
There is a lot of bouncing up and down (rail travel) and swaying (sea voyage), the latter activity helped by two young people from the audience trying to keep table and chairs together, and the story, and fact the whole show, is eccentric, quirky and great fun, with James Atherton's unconventional music adding to every aspect of venue and action wherever they are in the world.
A real classic, and presented with ingenuity and invention—a show for old and young alike to enjoy.
Reviewer: Sheila Connor