Around the World in Eighty Days
Freely adapted by Phil Willmott from the novel by Jules Verne
Theatre by the Lake, Keswick
(2007)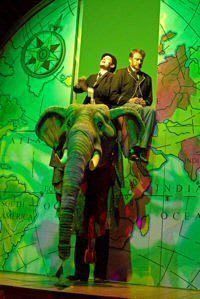 Phil Willmott's version of Jules Verne's famous novel retains the familiar premise and central character but then plays very freely with the story itself, which is rather thin in Verne's original.
Phileas Fogg has accepted a challenge to travel around the world in eighty days exactly, and he sets off from London with his manservant Passepartout aiming to return on Christmas Day. However the wicked Captain Fix, who has placed a bet on Fogg's failure to complete his mission, follows them and does his best to stop them from succeeding. Along the way, they rescue Princess Aouda from being cremated alive with the body of her dead husband, and she joins them on their journey.
On designer Martin Johns's bright and colourful set with all its secret doors and hatches, nine actor-musicians play a huge number of characters from all over the world, including some who actually existed or are from other novels like Queen Victoria, Benjamin Disraeli, Sherlock Holmes and Doctor Watson, Jesse James, Dr Livingstone and Stanley and Phineas T Barnum.
There are some great touches in this adaptation and some parts that are very bitty and underdeveloped; similarly there are some songs that are great fun and some that are a bit odd or that don't rhyme where they are clearly supposed to. Structurally it is all over the place; perils that could threaten the whole mission sometimes appear and disappear in a very short time before they have had chance to have any impact, and the big moment with the hot air balloon used for all the show's publicity happens very early on and is over quite quickly.
Having said all that, this production is great fun for spectators of all ages, and it seems as though the performers are having a great time as well. Just nine actors perform a script originally performed by 23 actors with great energy and infectious enthusiasm as well as singing songs and playing various instruments. Some scenes and songs are absolutely hilarious, the funniest probably being the one sung by the Mormons in Salt Lake City. The elephant, full-sized and very expressive, also deserves a mention, as does Angela Bain's rather bizarre Queen Victoria in a picture frame.
Toby Gaffney makes a very good Fogg, stiff-upper-lipped, organised and xenophobic, and Nicholas Goode provides a good contrast to Fogg as Passepartout, who introduces elements of emotion and chaos into his master's life. Heather Phoenix is wonderful as upper class Miss Fotherington, and Andrew Whitehead plays a hilarious array of different nationalities of railway guard amongst many other parts. However this is a real ensemble production and the whole cast works superbly together.
Despite the flaws in the adaptation and a few elements that are perhaps a little too close to pantomime, Ian Forrest's production is hugely enjoyable and at this performance was enjoyed by an audience with a very wide age range, from young children to the long-retired, and is ideal family holiday entertainment.
Reviewer: David Chadderton