Art
Yasmina Reza, translated by Christopher Hampton
David Pugh & Dafydd Rogers present Old Vic production
Festival Theatre, Malvern
–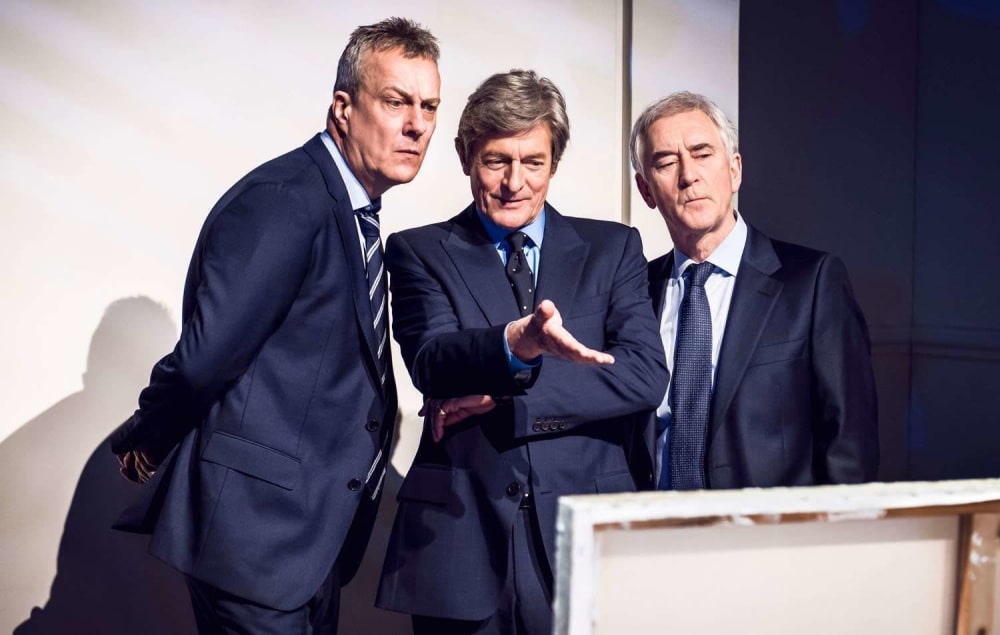 Christopher Hampton, that pre-eminent translator of great plays, was quick off the mark when he came across Yasmina Reza's comedy Art in a Paris theatre.
He knew a hit when he saw it and called his London agent to buy the rights. But someone else had been even quicker—Sean Connery. But all was not lost. A few days later, the actor called him, a deal was done and Hampton's English version of Reza's French play was set to reign in London's West End for years.
It was a marriage made in heaven. Here you have a brilliant, acute, laugh-a-minute show from the moment that friends Serge (Nigel Havers) and Marc (Denis Lawson) stand around silently contemplating a painting, on which the former has spent all his money, which is completely white.
Add to that you have Hampton's wonderful feel for the atmosphere and characters of the original script in phrases that roll around these aesthetes' mouths like a fine Burgundy.
The rhythm and edginess of the dialogue makes the whole thing seem somewhat like Harold Pinter, but without the gloom. They laughed at the start, and they laughed on the way out.
But they never laughed louder than for a great tour-de-force by Stephen Tompkinson as Yvan, the bien pensants' more conventional buddy, as he reels off the hazards of reconciling mothers, mothers-in-law, stepmother and wife-to-be in his wedding invitation. Tompkinson wheels about, arms flying, making the audience too spin in helpless mirth.
Havers is a modernist, elegant, refined, but with a few insults to pull out of an inside pocket if necessary, Lawson the debunker, for whom 'deconstruction' is something from Builders' Weekly, shoulders twitching with an irresistible urge to fire the dart that will burst the other's bubble.
Yes, it's a play about loneliness too, but only to a sufficient degree to make the comedy credible and to make the evening a satisfying as well as a hugely enjoyable one.
The play's tour continues to Richmond from 4 March, Cheltenham 11 March, Shrewsbury 18 March and Aberdeen 25 March.
Reviewer: Colin Davison