Art
Yasmina Reza, translated by Christopher Hampton
David Pugh & Dafydd Rogers and the Old Vic
Leeds Grand Theatre
–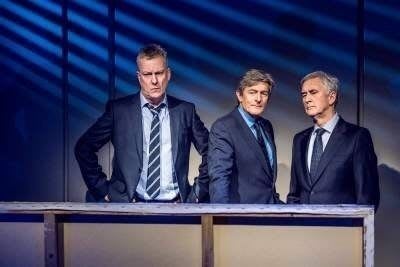 Art is a theatrical phenomenon. Since it was first staged in France in 1994, it has toured the world, slaying audiences and critics alike both in the West End and on Broadway. Not only has it won an avalanche of awards—including the Olivier for Best New Comedy and the Tony for Best Play—it has also earned over £200 million at the box-office.
Yasmina Reza's play has become a familiar part of the English theatre landscape since it was first performed in English at the Wyndhams Theatre in 1996 in a production starring Albert Finney, Tom Courtenay and Ken Stott. On a personal note, I remember being intrigued by Art's iconic poster as an adolescent, so it's a pleasure to finally tick this play off my theatrical bucket list.
Set in contemporary Paris, Art focuses on the relationships between three close male friends. Serge (Nigel Havers) has recently purchased a painting—a white canvas, with a few white lines on it—for the gobsmacking sum of 200,000 francs. Serge is delighted with his latest acquisition, but Marc (Denis Lawson) is horrified that his good friend could spend so much money on what he scornfully describes as "a white piece of shit".
The final part of the triumvirate, hapless Yvan (Stephen Tompkinson)—who is feeling the pressure of his upcoming nuptials and an unsatisfactory career change—gets drawn into his friends' heated argument over the painting, but only exacerbates things with his attempts at peace-making.
There is much to enjoy in Art. Reza is undoubtedly a talented comic writer, with a gift for dialogue, a sharp satirical eye and an incisive understanding of the power dynamics that underpin friendships, particularly male ones. Art is slick, well-paced and doesn't outstay its welcome at a sprightly 90 minutes. All that being said, I am slightly mystified by all the fuss the play has attracted.
Although I laughed often and had an enjoyable evening, I walked away from the theatre with a sense that Art doesn't really amount to much. Sure, it's amusing to watch Serge and Marc clash over their differing perspectives on art—the former is open-minded to the value of "modern art", whereas the latter has more conservative tastes—but this idea might have been explored with greater intellectual rigour.
The counter-argument to my grumble is that Reza only uses the characters' aesthetic debate in order to probe the underlying tensions in their relationship. The play is far more successful in this regard, particularly with the revelation that Marc is really angry at Serge because his eccentric purchase demonstrates a greater degree of autonomous thought than he would have expected from his old friend. Again, however, I feel that Reza could have developed this idea further.
Despite my reservations about the play, the production itself is a lot of fun. There is very good work from the ensemble cast, particularly Stephen Tompkinson as the put-upon Yvan. His delivery of a lengthy monologue in which Yvan explains why he was running late for a prearranged cinema-trip brought the house down. Nigel Havers brings an effortless élan to the part of Serge and Denis Lawson does a fine job of conveying Mark's incredulity and escalating irritation with his friends.
Inspired by Matthew Warchus's original staging, director Ellie Jones has produced a fluid and engaging production. Mark Thompson's sterile set design, with its white furniture and high white walls, offers a pleasing contrast to the psychological drama that unfolds between the three men. Indeed, one might view the set as a sort of enlarged petri dish, in which we view Reza's human specimens.
Reviewer: James Ballands