Art
Yasmina Reza, translated by Christopher Hampton
David Pugh and Dafydd Rogers present the Old Vic Production
Yvonne Arnaud Theatre, Guildford
–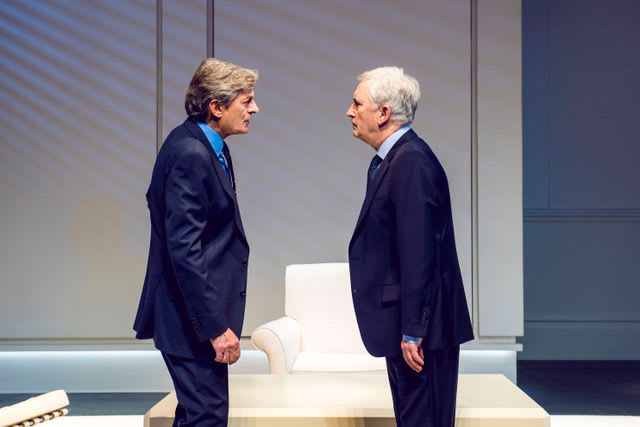 Originally written in French for a Parisian audience, and first produced in 1994, Yasmina Reza considered her play to be a serious study of human behaviour. "Theatre is a mirror," she says, "a sharp reflection of society".
Rather unfortunately for her beliefs, audiences other than the French have found this "sharp reflection of society" to be hilariously funny and Art has been playing to capacity audiences around the world ever since. This week's run at the Yvonne Arnaud has completely sold out—if you haven't got a ticket you can only hope for returns and I've never seen the car park so full. It took some time to find a space.
The three men in this story have been close friends for around 25 years, yet they are so very different. Serge (Nigel Havers) is a bit of a pretentious poseur and thinks to impress his friends with his latest acquisition, a painting by a famous artist for which he has paid £200,000. He only has to turn this large canvas to the audience to start the laughter—it is completely white! His more classically minded and snobbish friend Marc (Denis Lawson) regards it as "a piece of shit" believing he has more taste, and the arguments begin.
Yvan (Stephen Tompkinson) is the conciliatory one trying to agree with both men and keep the peace, but he has other things on his mind with a forthcoming marriage and an 'exciting' new job selling stationery, a job which depends on the goodwill of his bride's family. A particular highlight of a very entertaining production is Tompkinson bursting in with an exasperated tirade about his problems with the wedding invitations—everyone (particularly mothers) causing confusion with their demands. This speech, given at great speed and seemingly without drawing breath, goes on for several minutes and gains spontaneous applause, not only for the comedy and the expert delivery but also in admiration that he can remember what must be multiple pages of dialogue.
Mark Thompson's pure white set is minimalist in style with the furniture (also white) comprising only a large coffee table and three chairs, one comfortable, one traditional and one ostentatiously modern. and a panel in the wall switches to display a picture reflecting the differing tastes of Marc and Yvan. The atmosphere becomes extremely heated as tempers flare and fights break out. Can their friendship survive any longer? Tension is high when Serge gives Marc a blue felt-tipped pen and suggests he 'improves' the painting. Will he dare? The audience holds its breath…
A scene I particularly enjoyed was Serge and Marc trying to make up and be polite to each other while frequently turning to the audience with their true thoughts. Does anyone really know anyone else?
The painting is finally hung on the wall—with Marc's 'improvements' and friendship restored—much more important than any painting, whatever price!
Director Ellie Jones keeps the pace fast and furious and the show lasts only around 90 minutes, but no one feels short-changed as it's an hour and half of pure delight with these three eminent actors giving full value to every aspect. Superb!
Reviewer: Sheila Connor