Arthur and George
Adapted by David Edgar from the novel by Julian Barnes
Birmingham REP and Nottingham Playhouse
Nottingham Playhouse
(2010)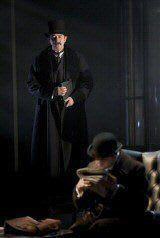 Julian Barnes' semi-fictional novel about the relationship between Sir Arthur Conan Doyle and Birmingham solicitor George Edalji, who was the victim of a deplorable miscarriage of justice, earned the author a nomination for the Man Booker award. So the work needed someone with similar gravitas to Barnes to adapt it for the stage.
David Edgar who'd never read the book nor seen any reviews of it was chosen for the task. The first thing he did was jettison the first 293 pages which catalogue the two men's upbringing, so the stage adaptation begins when Arthur and George meet for the first time.
What follows is a gripping, absorbing analysis of two men's almost obsessive desire for retribution, one to compensate for his incarceration in prison and the other for the more impersonal reason of proving that a court of law came to the wrong decision.
Arthur and George is set in London and the West Midlands in late 1906 and early 1907. Arthur is a writer and campaigner, known above all for his Sherlock Holmes stories rather than what he perceives as his finest work, The White Company. George, a 27-year-old solicitor of Indian descent, has just been released after serving three years of a seven-year sentence for mutilating animals - although the evidence against him was flimsy.
Arthur sets out to prove George's innocence, finding along the way racism and prejudice throughout society including the ranks of the police who are accused of fabricating evidence.
Eventually George was exonerated by the Home Office but was never compensated for his spell in prison. His case led to the setting up of the Court of Criminal Appeal.
Adrian Lukis gives an excellent portrayal of Sir Arthur, the good judge of character who displays tenacity, stubbornness and irrepressibility reminiscent of Sherlock Holmes himself.
Chris Nayak is a suitable foil as George, the young man who's had an austere upbringing and desperately needs to clear his name so he can resume practising as a solicitor.
The two actors give commendable performances; however, I found a limited amount of warmth in the character of George, perhaps because he's been hardened by his childhood and the time he spent in prison. Sir Arthur's transparency and a touch of eccentricity are more attractive qualities, so I was hoping for a successful conclusion for Arthur's sake rather than George's.
There's good support from Kirsty Hoiles as Jean, the woman Arthur had a long relationship with before she became his second wife; Anneika Rose as Maud, George's sister; William Beck as Arthur's secretary Woodie; and Richard Attlee, Simon Coates and Daniel Crowder who play multiple roles and switch effortlessly from one to another.
Rachel Kavanaugh, artistic director of Birmingham REP, is responsible for a slick, atmospheric production enhanced in no small way by Ruari Murchison's versatile revolving set.
Arthur and George is a quality production throughout. That should be no surprise bearing in mind the team behind it. Its success is after all elementary.
"Arthur & George" runs until 8th May at Nottingham Playhouse
Reviewer: Steve Orme