As Is
William M Hoffman
Trafalgar Studios 2
–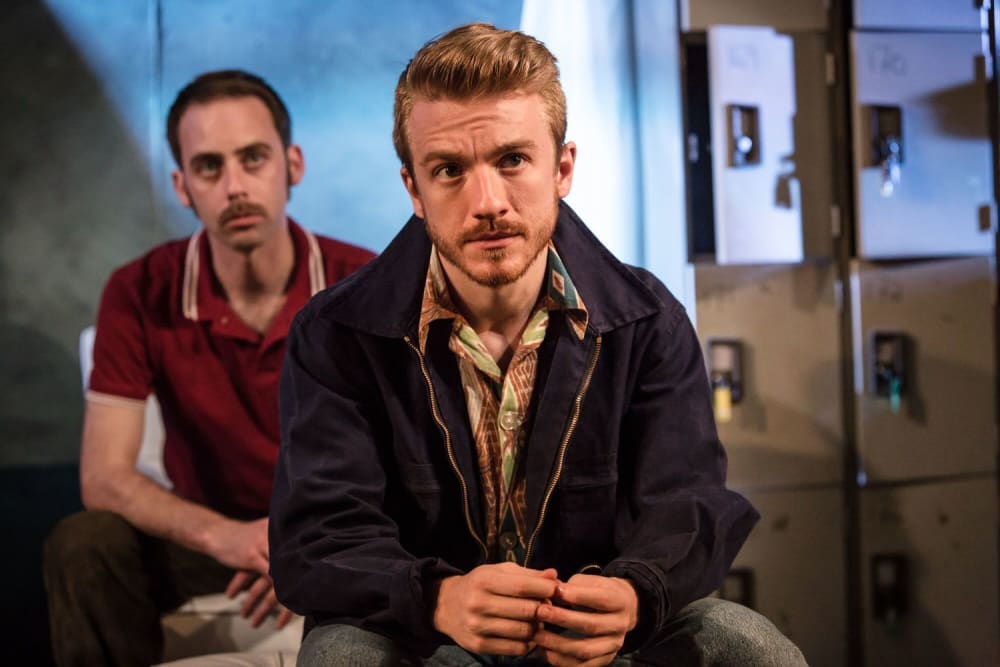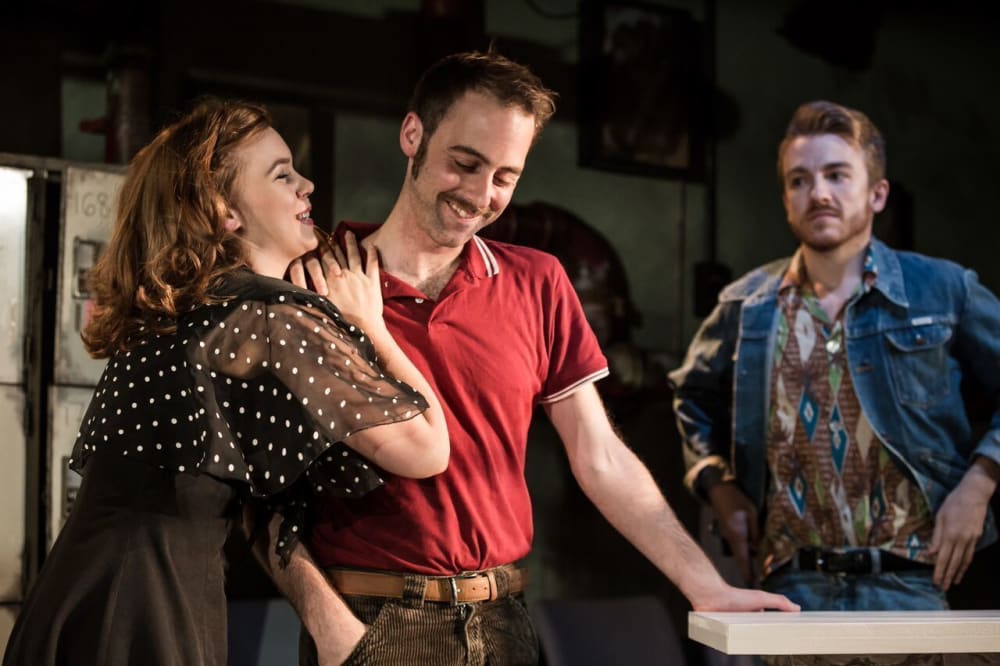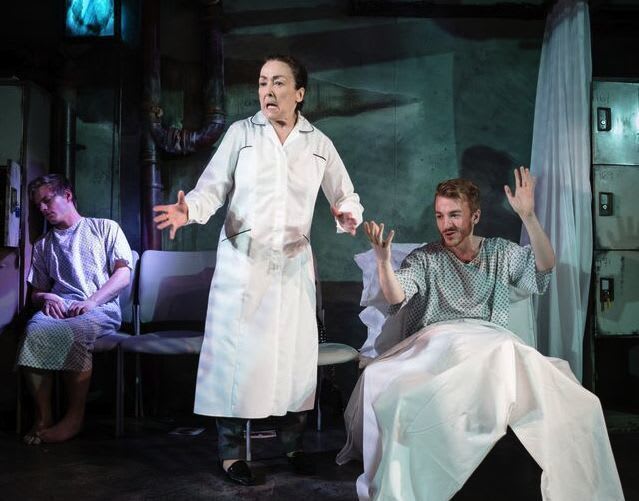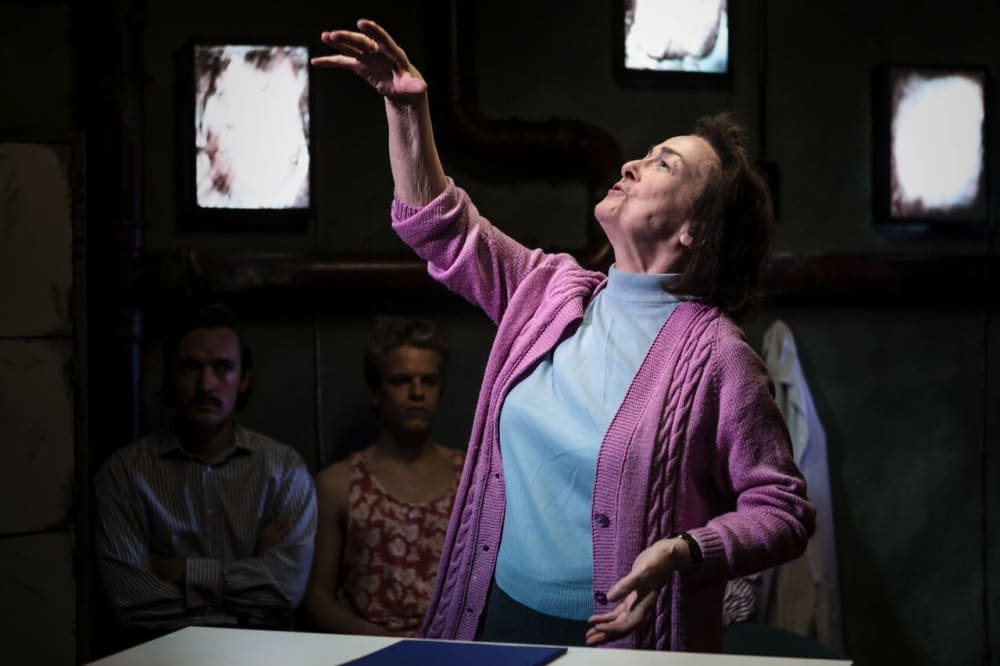 Probably the very first play about AIDS, As Is opened in New York in 1985 a few weeks before Larry Kramer's A Normal Heart. It is not a solemn propaganda piece but a fast-moving drama that is very funny. It is never soppily sentimental but it had tears welling up at least twice.
It presents a kaleidoscopic picture of early '80s Greenwich Village gay life that is hard-edged and realistic as it moves from opportunistic leathermen to group therapy sessions, hospice and hospital.
It gets a form of framing with an Irish ex-nun become hospice worker sharing her thoughts with the audience as she knocks back the hard stuff. A lovely performance from Jane Lowe establishes an intimacy with the audience that is engaged throughout the show.
It encapsulates attitudes in those first years of plague from denial and irresponsibility to the terror of contact even among family and medics, as with an hispanic hospital auxiliary (sharply characterised with a change of heart by Russel Morton) and Dino Fetscher as the key victim's brother.
At the centre of the plot are village gay couple Rich, a newly successful writer, and photographer Saul. Some of their earlier story is given in flashback but now Rich is splitting—he's fallen for the brother of their friend Lily (Natalie Burt).
The two men are dividing possessions: with a Barcelona chair and a Paul Cadmus painting among them they don't seem to be paupers. But… Rich finds he has AIDS, so it's all over with new lover Chet (Giles Cooper). Saul welcomes him back and looks after him. How they handle that becomes the story.
David Poynor as homebody Saul and Steven Webb's more hedonistic Rich are an excellent pairing with performances that never play for sympathy but are always full of vitality. The rest of the cast are kept busy doubling and creating characters. It may take only a pose and a costume to suggest a bar back room leatherman but Natalie Burt makes a HIV patient who is a pregnant a poignant reality and in a rapid-fire double act Dino Fetscher and Russell Norton as volunteers on an AIDS helpline raise a smile while simultaneously establishing the disease's advance and the confusion of callers.
Tim McQuillen-Wright's design suggests a background of bathhouse locker rooms and basement fetish bars behind the fashionable furniture that morphs into a hospital bed and Matthew Strachen's music is a reminder of an early '80s disco beat which all add to the success of Andrew Keates's well-paced production. It plays 90 minutes without interval and never loses momentum.
This production may be a dark reminder of the continuing rise in AIDS infections despite medical advances and the need to increase awarness and safe practices—but it feels like a celebration. A play that is positive in the other sense.
This production (seen at the Finborough Theatre in 2013 with a largely different cast) marks the 30th Anniversary of the original staging of As Is. It is dedicated to all those who have lost their lives to AIDS and all the supporters of those affected by HIV and AIDS. A series of post-show events will include talks and discussions with the director, other dramatists, AIDs activists and others including Jonathan Blake who was one of the first people to be diagnosed with HIV in 1982. Rapid HIV testing will also be on offer every Friday of the run.
Studio 2 has also become a temporary memorial as audience members are encouraged to cover the walls with messages, names and memories of all those lost to AIDS.
Reviewer: Howard Loxton