As You Like It
William Shakespeare
Storyhouse
Grosvenor Park Open Air Theatre
–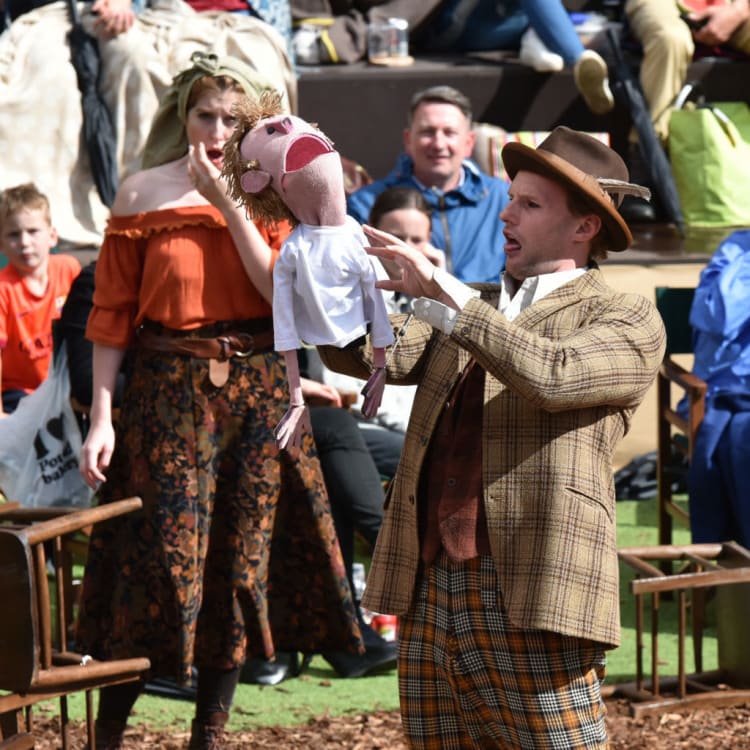 One of the many joys of spring and early summer is seeing again the rise of 'wooden O', the open air theatre in Grosvenor Park Chester. Surely one of the country's most beautiful settings is open for business again and the flags flying proudly over the venue indicate the pleasures that await: Stig of the Dump, Two Gentlemen of Verona and today's performance of As You Like It.
These are troubled times; the notion of fleeing your troubles to live in a forest would probably appeal to many of us and this production is a blissful slice of escapism. The tranquil setting of Grosvenor Park is a perfect evocation of the Forest of Arden, although this forest does have the gentle chiming of a clock to "detect the lazy foot of time".
Alongside birdsong, there is the reassuring sound of gently popping corks to precede the performance and remind you that an afternoon or evening spent at Grosvenor Park Open Air Theatre is an experience rather than simply a visit to the theatre.
The Forest of Arden is home to disparate characters including Duke Senior played by Ian Harris, who displays impressive versatility by also playing his usurping brother Duke Frederick ,sometimes in split-second scene changes. Orlando is fleeing from his elder brother Oliver who, unusually for elder brothers, seems to hate him simply for being born, accompanied by his loyal but aging servant Adam. Fred Lancaster is making an impressive Chester debut as Orlando and his love affair with Rosalind is the central theme of the play.
Rosalind is one of the great Shakespearean female roles and Rose O'Loughlin delivers a performance of wit and control. The character of Rosalind, also banished by Duke Frederick, is something of an enigma being a girl who disguises herself as a boy when banished, then pretends to be whom she actually is to counsel Orlando in his love for her. Charlotte Miranda-Smith is the perfect foil to Rosalind as Celia, her cousin who has fled alongside her, encouraging her in love and eventually finding it herself.
Also in the forest we meet the character of Jacques played by John Seaward who can "suck melancholy out of a song as a weasel sucks eggs" and appears as a cynical contrast to the optimism of Rosalind. Touchstone the fool has the audience in stitches as he pursues love and there is a delicious subplot of unrequited love among the shepherds in the forest.
Artistic Director Alex Clifford has again assembled a superb cast and creative team to match the beautiful surroundings, within the City Walls yet tranquil still. Philip Wilson, directing As You Like It, has captured the essence of the location and delivered a slice of pastoral perfection in an urban arcadia.
Reviewer: Dave Jennings