As You LIke It
William Shakespeare
Guildford Shakespeare company
Racks Close, Quarry Street, Guildford
–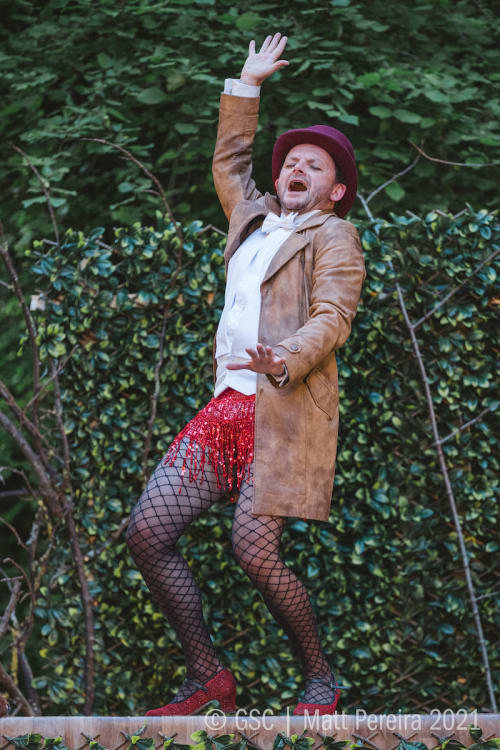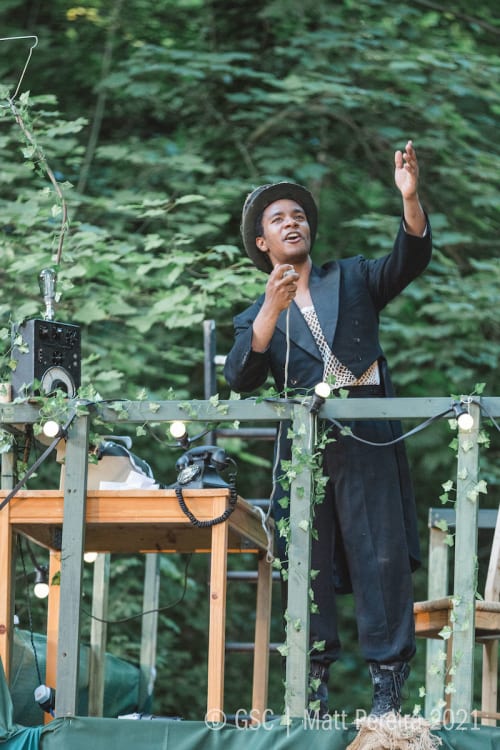 Set at the time of Weimar Germany, just after the First World War when all was chaos and confusion and Kaiser Wilhelm II was forced to abdicate, this play follows the theme as Duke Frederick takes over control as head of the court from his own brother Duke Senior forcing him to flee to the forest of Arden to set up camp there with his band of loyal courtiers. I'm not sure how the Kaiser coped.
Racks Close is a magnificent venue for this show. Being a former chalk quarry, it is a vast area with rough grassed areas, hills and valleys and many beautiful trees, and the play begins in an open area where the team have cleverly created 'stalls and circle' with a raised stage. The cast arrive from the woodland backdrop led by Matt Pinches's cabaret clown Touchstone, and the laughter begins. This is a Matt Pinches never seen before—encapsulating the decadence of the period, he wears fishnet tights, red court shoes and a red, glittery fringe of a miniskirt and sports a red wig and a belligerent expression. I must say, he has very good legs.
The story is quite complicated: Rosalind, despite being Duke Senior's daughter, is allowed to live at court for the sake of her beloved cousin Celia and, to the strains of "Keep Young and Beautiful", Celia poses for photographs with the two of them constantly on the move, full of youthful joie de vivre, until Rosalind meets James Sheldon's Orlando and falls instantly in love. A tremendous performance from Natasha Rickman here with every nuance of the shyness, the hesitancy, the pretending no interest that most young girls go through, all well supported by a delightful Rachel Summers's Celia as the girls giggle and shriek with delight at the idea of a love affair.
Duke Frederick now decides to banish Rosalind so Celia insists on going too, but two young and beautiful girls would not be safe so Rosalind becomes Ganymede, a boy, and Celia "in poor and mean attire" becomes Aliena—and Touchstone comes too.
Having established the basis of the story, we are then led "over hill, over dale, thorough bush, thorough brier" to come to Duke Senior's camp, and there were gasps of amazement and admiration for the wonderful scene they had achieved (design and costume by Neil Irish) spread out in the heart of the forest. The Duke might have been banished to live there, but they have no intention of slumming it. Top hat and tails are the order of the day and a large, tented construction, even it seems with rooms at the back, is their home—they have even brought a gramophone.
All performances are, in my opinion, faultless with Sarah Gobran and Corey Montague-Sholay each having three characters. Montague-Sholay is an officer to Duke Frederick and attendant to Duke Senior (switching allegiance) and also Audrey, a goat herder. What variety, what versatility, and a lovely singing voice to boot.
Gobran is brilliant as she struts and swaggers in her stormtrooper boots and red leather fitted jacket, and is formidable and vicious as Frederick. Quite frightening! As Jacques in the forest, she has the "all the world's a stage" speech and delivers it in a rather thoughtful, pensive manner, perfectly enunciated—and you just have to see her 'sexy', provocative dance with a clothes line when being a young shepherdess. Hilarious!
Finally, the goddess Hymen weaves her spell and blesses everyone with love, so the world is now "as you like it"... if only!
Caroline Devlin's production, with acute attention to detail, has produced a joyous gem of a show, and what better way could there be to enjoy a balmy summer evening. It's not on for long—don't miss it!
Reviewer: Sheila Connor