As You Like It
William Shakespeare
Shared Experience and Theatre by the Lake
Richmond Theatre
–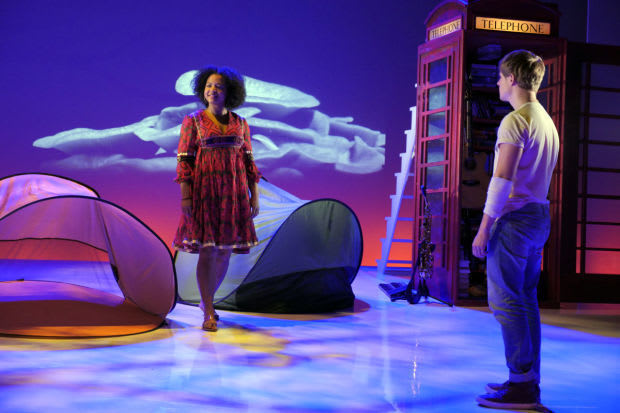 There is not much doubt about the corruption and cruelty of the court in Shared Experience's As You Like It. Even the set for the court is clinically cold and bleak.
A long business table in a narrow performing space is backed by a huge, high wall of what looks like metal panels with bolts running along each square. At times, characters enter via a section of the panels that slide open.
The slightly oppressive atmosphere is occasionally emphasised by a low humming sound.
Fight director Kevin McCurdy conveys real danger in two sequences in which characters wrestle violently on and off the long table.
Unfortunately, the show seems to lose focus, pace and direction when it shifts to the Forest of Ardenne.
The peculiar "forest" consists of a single bare tree, a red telephone box converted into shelves for books, a water cooler and a back screen which occasionally shows small pictures you could easily miss. The mostly white set is bathed in white light tinged with pale shades of pink, green and blue.
Later, small tents are scattered across the stage. At times, Celia (Layo-Christina Akinlude) lies in one of them watching the performance.
The story is regularly slowed with dancing. As a woman sat on top of the telephone box playing a musical instrument while people danced, I would not have been surprised if the Yellow Submarine had floated past.
The relaxed pacing of the story gives little opportunity to build dramatic tension. Moments of dance and the sudden appearance of characters carrying placards reading slogans such as "All stags have rights" and "Deers for Remain" add nothing to the show.
The actors speak their lines clearly though without always convincing us of their relationships to each other or conveying the humour.
As for the depiction of Touchstone (Matthew Mellalieu) chasing Audrey (Matthew Darcy) who looks and sounds like a man in a dress, I have no idea what was going on there. It generated puzzled looks rather than laughter. Had the characters escaped from a Christmas revue?
Shared Experience gives us the story but with none of the excitement we have come to expect from the company.
Somewhere in the second half of the show, I yearned to leave the mellow events of the forest and return to the solidity of the court. That can't have been anyone's intention.
Reviewer: Keith Mckenna