As You Like It
William Shakespeare
Transport Theatre in association with Les Théâtres de la Ville de Luxembourg and New Wolsey Theatre, Ipswich
The Albany
–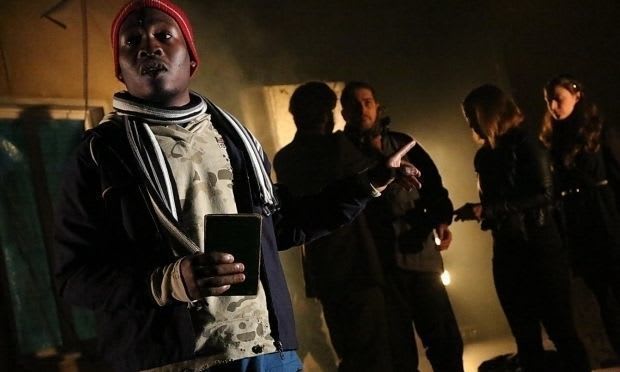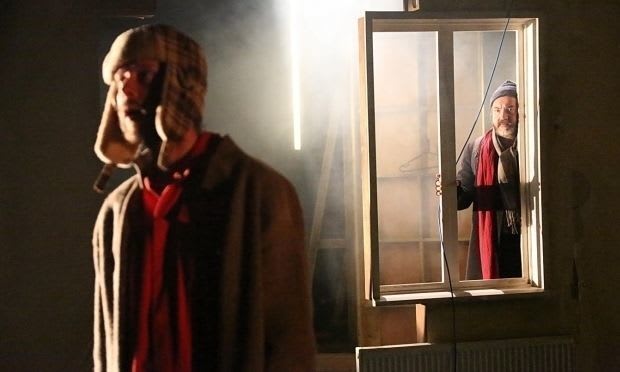 Inspired by Director Douglas Rintoul's involvement with the No Borders Network, Transport Theatre's bold and ambitious adaption of As You Like It attempts to re-examine the issues of displacement and self-discovery at the heart of Shakespeare's classic through the lens of the refugee experience.
The play opens with a migrant (Fisayo Akinade) reading from Shakespeare in a detention centre in Calais. Surrounded by peeling walls, sleeping bags and old mattresses, Akinade talks about his various ordeals and dreams of reaching the UK, inviting the audience to view the main narrative in light of his experiences.
Banishment and homelessness are indeed central to Shakespeare's pastoral comedy, as the play follows the usurped Duke's daughter Rosalind (Elisabet Johannesdottir) who disguises herself as a man and flees to the stateless and timeless Forest of Arden with her cousin Celia (Anna Elijasz) and the court jester (Colin Michael Carmichael).
Transport specialises in creating strong, visual images, and frequently uses physical theatre sequences alongside the action. The company's ensemble work is certainly slick, and background noises of whirring helicopter blades, barking dogs and emergency sirens add to the atmosphere of menace and remind the audience that danger is ever-present.
Johannesdottir is a particularly strong Rosalind, and embodies both a fiery independence and underlying vulnerability that is essential for any depiction of the forthright heroine. Elijasz gives a warm and playful quality to Celia, and Carmichael makes a hilarious Touchstone. He also doubles up as Amiens, and a recurring gag where he mimes along to the dulcet tones of a cassette tape has the audience in peals of laughter.
However the nature of multi-rolling means that some of the characters are under-developed and consequently lose the nuances in Shakespeare's text. Jacques (Mark Jax) has huge symbolic importance as the melancholic philosopher, but in this production his cynicism is under-explored and the famous "all the world's a stage" speech feels rushed and loses its pertinence.
Transport's adaption is generally exciting and innovative, but the relationship between the play and the real experiences of present-day refugees has the potential to be explored further. Aside from the occasional voiceover, Akinade's story is not revisited throughout the performance, and he only reappears at the end to read the play's epilogue.
The company has done a lot of research on the personal experiences of refugees and asylum seekers, so it is a shame that the only glimpse of these stories is in the initial framing device, which consequently comes across as a neat theatrical tool rather than the inspiration for the whole production.
Reviewer: Rhiannon Kelly