Asylum of Grace
Neil Ely
Three Minute Theatre
–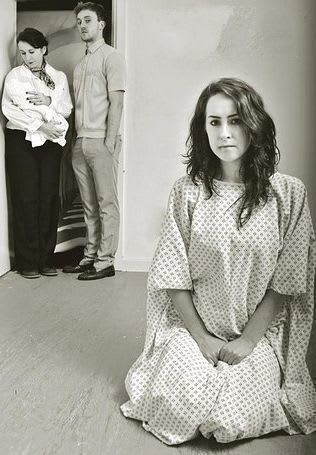 Asylum of Grace deals with powerful themes including domestic violence and misunderstood post-natal depression. Its style is what used to be known as "kitchen sink drama" and although clearly placed in the early 1980s it has very much of a 60s TV Play for Today feel about it.
Set in Eastbourne, it tells the story of Amber, a young Mancunian waitress, who finds herself pregnant after a one-night stand with Sean, an immature local lad.
As Amber is a Catholic and can't accept abortion, the two get married, but as the pregnancy develops the tensions in their relationship lead to violence and oppression. In order to escape Sean's drunken bullying and sexual abuse and the unhelpful control of his mother Ruth, Amber seeks solace from her friendship with Martin who is another tenant and also in her religion. When even that fails, she attempts to flee by jumping out of the window and that is where the piece reaches by the end of the first act.
The second act takes place almost entirely in the mental health unit where Amber is being treated and where she lives with her new baby—the Grace from the title.
Joining her there are a number of other residents who range from the manic depressive to the aggressive and just depressive. We see how the care she is given and the interactions with the other patients help Amber to understand her breakdown and begin to recover.
This is generally a very skilful piece of writing and well sustained over its 2-hour run time. Amber and Sean's relationship is deftly realised. Sian Hill gives a sensitively nuanced performance and Joseph Michael Watts is appropriately sometimes charming and sometimes thuggish. The audience is convinced by the growing bond between Amber and Michael. Rob Ward as Michael has a very pleasing stage presence and generally lightens the mood of the scenes in which he appears.
Janet Bamford offers us another from her stable of shrewish mothers at which she is so dextrous. Very nearly stealing the entire show is James Devlin as the manic depressive gay man Nine Bob. His character's prancing and preening, though somewhat overbearing, is very engaging for the audience and he has some great laugh lines.
Also effective are Kathryn MaColl and Emily Spowage as the two other women Cassie and Leanne. Both of these patients' conflicting personalities help Amber to rediscover herself.
Maddy Myles as Nurse Lennox shows a good balance between care and control of her patients. This reviewer from his own mental health work would suggest to the writer, however, that such a nurse would never be as free with patient histories as she is. This, along with another glitch, was one of the few places where the writing is not sharp enough. The other occasion is when the nurse breaks up a fight between Cassie and Leanne and carts the perpetrator off but leaves the injured woman to be comforted by Amber. It may make sense dramatically or from a stagecraft point of view, there not being another hospital staff character, but it didn't ring true for this reviewer.
The final scene between Amber and Michael, which is very moving, owes as much to the believability and commitment of the performances coaxed from director Lloyd Eyre Morgan as to the writing. This reviewer was totally convinced that, as Amber says to her estranged husband to whom she is not returning at the end of the play, yes she is ready.
It was another absorbing and great value evening at The 3 Minute Theatre. The piece has entirely credibly already been chosen for International Women's Week in Manchester in 2013. The venue is also to be congratulated on the comfort of its newly-installed seating and for its long awaited 2nd toilet facility.
Reviewer: Andrew Edwards