At Swim Two Boys
Earthfall in collaboration with author Jamie O'Neill
Earthfall
Riverside Studios and touring
–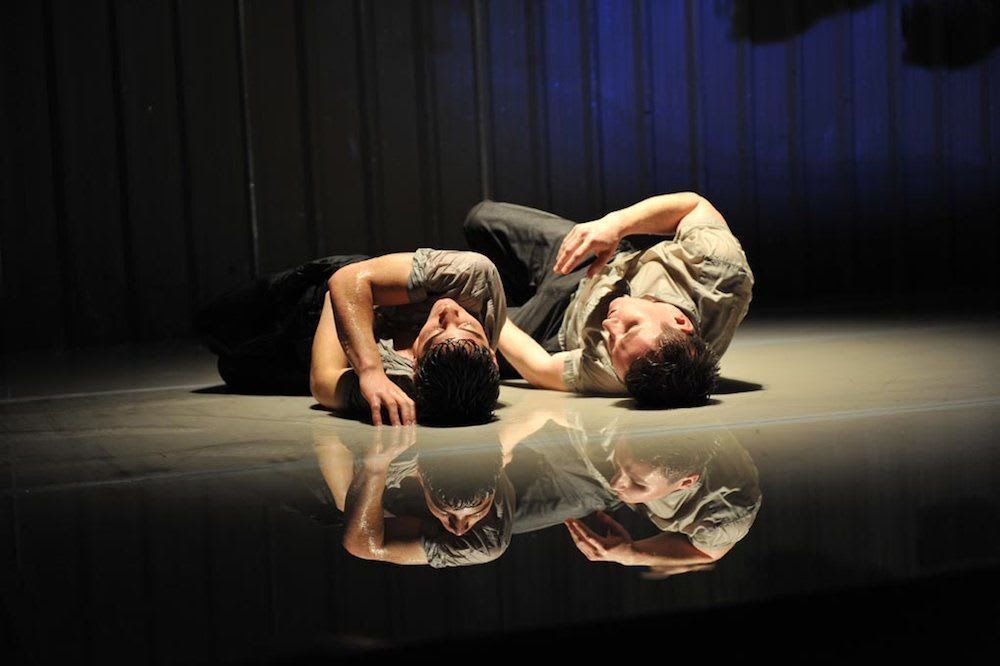 First seen in 2004 and now revived and adapted for a new cast, this exciting and moving piece of physical theatre has its origin in Jamie O'Neill's epic novel of the same name. It doesn't attempt to pack the book's 600 page narrative into its 60 minute performance but distils its emotional heart into a dance work packed with feeling.
It presents us with two adolescent lads and shows us their developing relationship against the background of the Easter Rising and the First World War. Those who know the novel may understand a much more detailed context but that makes no difference to its impact.
It is a dance work that achingly captures the fearful risk of expressing the visceral attraction of one person to another; that uncertainty of how an approach will be received, especially in a society which strictly codifies those between whom love is thought appropriate. Reaching out hesitantly to touch, one is affectionately rebuffed without harming their relaxed mateyness. It is heartbreakingly touching as the relationship develops until there is a momentary, almost stolen kiss.
Projections provide a reminder of what is happening in Ireland and in Europe in 1915 and 1916 as these events impinge upon their lives and they become more aware of them, but the narrative is about what is happening in their hearts not the public events of the novel. We meet none of the other characters in O'Neill's book, though a musician crosses the stage at one moment and comes between them, it is symbolical rather than part of the story. Nor is it as clear as in the book what their reaction to the republican movement is. Murilo Leite D'Imperio, as Jim, in one of only two lines of spoken dialogue in the work, declares "I don't know do I love the Irish. But I love him. I'm sure of that now. And he's my country."
When they appear in kilts, you don't need to know that it is the nationalistic uniform of the flute band they play in, for here it also suggests the greater freedom they have found in their relationship and, when Doyle (Daniel Connor) leaves and returns in khaki as a member of the Irish Citizen Army, it probably doesn't matter if the film showing men going over the top makes you think he's joined the British forces. It is not the politics of the book that are important here but what Doyle says: one line expressing his feeling, though away from Jim, that "He's always there... and I am desperate to hold him."
The boys meet at a Forty Foot, a rock where Dublin men bathed nude and where Jim learns to swim. They plan that a year ahead they will swim right out to Muglin's rock and claim it for themselves. When they make that swim it is Jim who has to save Doyle from drowning. All that is part of this performance, more importantly it is the reason for the way in which the work is presented and its startlingly choreography.
The set is a stage cloth and a backing from the top of which the floor can be reached by ladder. In the opening darkness one can hear the sound of cascading water and through the next hour over 1000 litres of water fall from the backing to the stage making a pool across the whole area through which the two dancers skim and slide like body-surfers on high octane fuel. This is not your "Singing in the Rain" splashing in puddles but something as dangerously exciting as the boys' emotions, full of risky lifts and leaps as they sometimes literally throw each other about. It is choreography that requires the same total confidence in the other that the boys in the story find.
At Swim Two Boys is stunningly performed by Connor and D'Imperios, directed by Jessica Connor and Jim Ennis who formed Earthfall back in 1989. It is danced to great music played live on accordion, guitar, pipes and electronics by Frank Naughton and Sion Orgon (composed by them and Roger Mills and Felix Oraola) Its minimalist design and atmospheric lighting are by Gerald Tyler. It all comes together as an extraordinarily effective and moving piece of theatre.
Touring dates announced are 2 March Plymouth University, Peninsula Arts, Plymouth; 6-10 March Chapter, Cardiff; 12-13 March Aberystwyth Arts Centre, Aberystwyth; 15 March Artrix, Worcester; 20-21 March The Lowry, Salford; 23 March Galeri, Caernarfon; 27-28 March Lincoln Drill Hall, Lincoln; 17-18 April The Nuffield Theatre, Southampton; 25 April Riverfront Arts Centre, Newport;
Reviewer: Howard Loxton