Atlantic: America and the Great War
Ryan Bersten, Desiree Stapels and composer Christopher Anselmo
Royal Conservotoire of Scotland and the American Music Theatre Project
Assembly Hall
–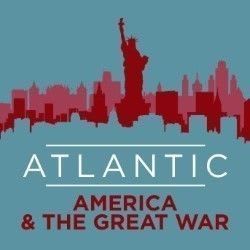 The Royal Conservatoire of Scotland has collaborated with the American Music Theatre Project at Northwestern University in Chicago to bring a remarkable story, Atlantic: America and the Great War.
It is set during the First World War and follows the story of two sisters, Jane (Mariah Copeland) and Annabelle (Abigail Stephenson), who are intrigued by their European ancestry.
Jane volunteers to become a Red Cross nurse and to travel to war-torn France. She writes every day to her sister but when the letters stop it is assumed that she has been killed.
But Annabelle has an inner feeling that her sister is simply "missing in action" and is determined to travel across the Atlantic to find her despite the fact that she has never left her home town and hates crowds and travel.
Her rugged determination to find the truth brings her to injured veteran Jesse (Neal Davidson) who has been sent back to America but may also have been the last soldier to have seen Jane alive.
He is reluctant to revisit the horrors of the war and his memory is blurred, but he decides to accompany Annabelle as far as New York where the Times newspaper is looking for a headline war story and provide tickets for the perilous journey across the Atlantic.
Once there, the quest begins in earnest to find the truth in a moving and dramatic piece of theatre.
It is simply but effectively staged by a large, impressive ensemble cast who convincingly create the train, ship and other settings using the minimum of props such as a rope, a trunk and small rostra.
They all sing beautifully and with passion from individual ballads to powerful chorus numbers and the solo numbers are excellently performed.
The small four-piece band provides a vibrant score and director David H Bell has created a stunning production. Don't miss this!
Reviewer: Robin Strapp