Audacious Mr Astley
Chris Barltrop
Pleasance Courtyard
–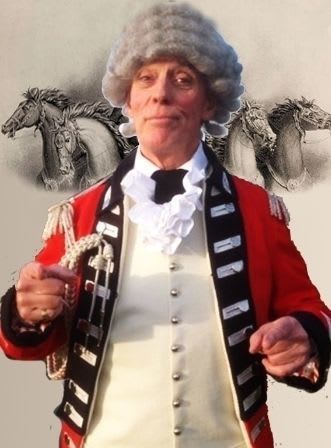 With the arrival of The Greatest Showman, interest in circuses has been revived. Yet P T Barnum was not the first to come up with the idea of a circus.
His was established in the middle 1800s in America. In England in 1760, 250 years ago, there was another man who was putting on what can be described as the original circus performances on Lambeth Marshes, one Mr Philip Astley, although he always decried the description of his performances as 'circus'. And his success every bit matched the man who would come along 100 years later and who seems to have grabbed all the modern-day glory for himself.
Actor Chris Barltrop was trained at East 15 theatre school in the '70s, but on graduation joined the circus 'temporarily', yet in doing so carved out for himself an illustrious career as a ringmaster over many years. He now brings that experience of circus life to the story of its founder, along with painstaking research, in an engaging one-man show about the life of this fascinating man.
Astley came from a relatively poor background: his father was a carpenter and moved the family from Newcastle to London in 1742. Father and son did not get on so at the age of 17 Philip left home to join the light cavalry and fight for the King. He had a rapport with horses which served him well and after a distinguished career in the army decided to use his skills with horses to put on shows showing off his riding skills—and those of his new wife.
He started off on Lambeth Marshes at the Halfpenny Hatch but seeking more comfortable premises soon expanded into a timber yard further into London where he recruited European jugglers and acrobats, who had been made redundant by Shakespearean actor David Garrick, to fill out his performances with a bit of humour in between the horse riding and sword skills. From there, he had success, bad luck, prison escapes and a move to Paris that gained him wealth and notoriety during a long life that established him as the greatest showman in Europe.
This is a fascinating story told in an engaging style by Chris, drawing us into the time and place and giving us a flavour of the life and times of this most interesting man.
I would urge you to go along. I learnt a huge amount about the origins of circus which put Barnum's story in the shade as Mr Astley did not exploit his performers or use 'freaks' in his shows as Barnum did and, unlike Barnum who basically just had the 'gift of the gab', he had a great amount of genuine talent and skill that he used in his own shows.
A delightful hour in the company of a fascinating man.
Reviewer: Suzanne Hawkes